Crassula ovata is the most well-known species and probably one of the most popular succulents in the genus Crassula. It is usually called Jade Plant or less frequently referred to as Money Plant or Friendship Plant. This plant is native to South Africa (Eastern Cape and KwaZulu-Natal), Mozambique, and Swaziland, usually found on rocky slopes.
This species was first described as Cotyledon ovata by Philip Miller in 1768 in his The Gardeners Dictionary. It was transferred to Crassula ovata by George Druce in 1917.
The specific epithet "ovata (oh-VAY-tuh)" is the feminine form of the Latin adjective "ovatus," meaning "ovate" or "egg-shaped," and refers to the shape of the leaves.
C. ovata is a much-branched succulent shrub or small tree that usually grows 3.3 to 8.2 feet (1 to 2.5 m), sometimes up to 16.4 feet (5 m) in its native habitat. It is usually sparingly branched at the base or has a single main stem up to 8 inches (20 cm) in diameter. Branches are short, fleshy, grey-green, becoming woody and brown as they mature, and marked with scars of the fallen leaves. The young bark is smooth and silvery, while it peels in horizontal brownish strips in older plants. Leaves are fleshy, green, often shiny, with or without reddish margins. They are obovate to elliptic, with entire, sharply edged margins and a distinctly pointed tip, up to up to 3.6 inches (9 cm) long, up to 1.6 inches (4 cm) wide, and arranged in opposite pairs, with one pair at right angles to the next. Old lower leaves are naturally deciduous. From mid-winter to early spring, the mature plants are covered in masses of white or pink, sweetly scented flowers in compact round-topped clusters. Flowers are star-shaped and up to 0.6 inches (1.5 cm) across. Fruits are oval, about 0.2 inches (0.5 cm) long, and hold 30 to 50 tiny seeds.
In South Africa, C. ovata can be confused with the similar species Crassula arborescens which has almost spherical blue-gray leaves with reddish spots and a distinct waxy bloom.
This succulent is a popular bonsai subject, and several attractive cultivars differing in leaf size, form, and color have been available for many years.
C. ovata is a popular good luck charm in Asia. The vibrant green leaves are symbolic of growth and renewal. Roots are a traditional food source of the Khoi and other African tribes. They are grated, cooked, and eaten with thick milk. Leaves are used medicinally. Boiled in milk, they are a remedy for diarrhea. They are also used to treat epilepsy and corns and as a purgative.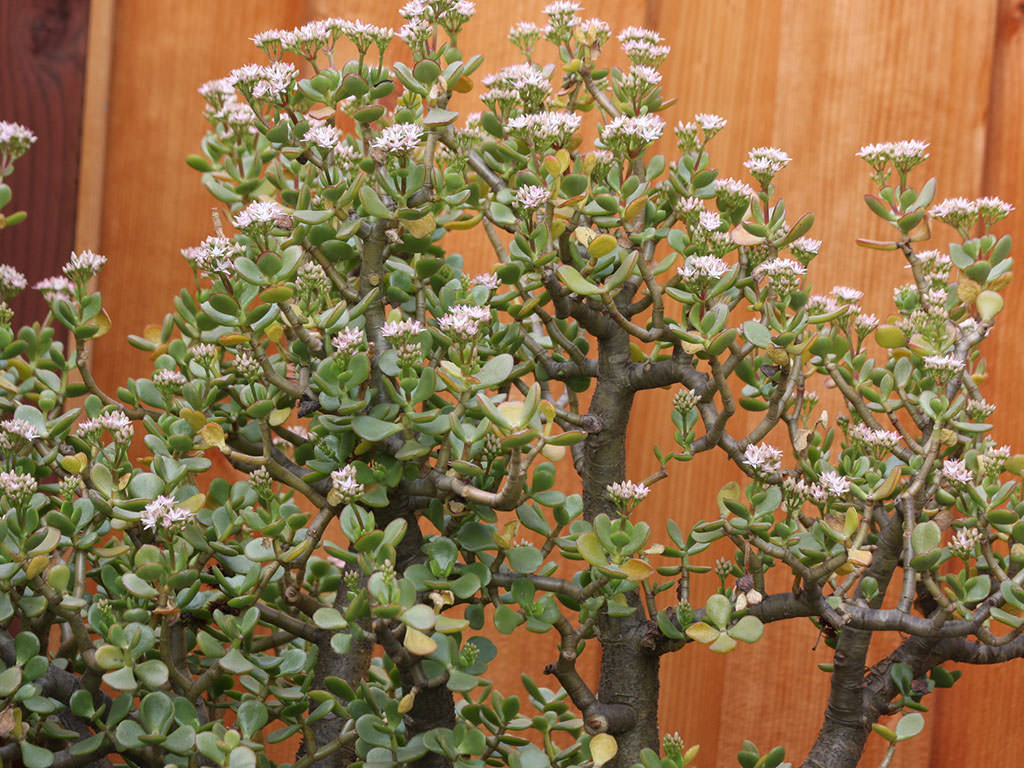 Growing Conditions for Crassula
C. ovata has been grown as an ornamental plant worldwide for over a hundred years. It is usually grown in pots indoors but can also be grown outdoors in warm, frost-free climates.
Light
This succulent thrives in full sun and requires about 4 to 6 hours of sun exposure daily. It will survive in partial to medium shade, but it needs direct sunlight for flowering. If kept indoors, find a bright spot in your home. Inadequate light will produce a plant with dark green leaves. If you are moving your plant outdoors for the summer, be sure to move it gradually to prevent sunburn. Overexposure to direct sun can scorch the leaves and lead to leaf drop.
Soil
C. ovata requires well-draining soil. It does best in potting mixes with perlite, sharp sand, pea gravel, chicken grit, and without moisture-retentive components. Use commercial potting soil mixes designated for succulents or mix your own.
Temperature
This plant is tolerant of a wide range of temperatures and may even tolerate light frost. However, prolonged cold is usually fatal. It can grow outdoors in USDA hardiness zones 10a to 11b, 30 to 50 °F (-1.1 to 10 °C). Elsewhere it is best to grow your C. ovata in a pot that can be brought indoors for the winter. Soaring summer temperatures may put this plant into dormancy. In its native habitat, it experiences a maximum temperature of 104 °F (40 °C).
General Care for Crassula
C. ovata is an easy-care succulent, making it a perfect plant for beginners.
Watering
One of the most important things when you care for C. ovata, is to make sure that it is properly watered. Although it is a succulent plant, it does need water. During active growth, it does best when the soil is allowed to dry out between deep waterings. In summer, it requires little water and even less in winter when it is semi-dormant.
The potted plant requires more frequent watering than that in the ground.
Fertilizing
C. ovata is a slow-growing plant and does not need much feeding. However, it will benefit from a small amount of organic fertilizer in mid-spring when it starts actively growing.
Repotting
This succulent does not mind being root-bound in a small pot, although it is best to repot it every 2 to 3 years or when the plant becomes top-heavy. The best time to repot is in spring, when the new growth starts. Make sure the soil is dry before you begin repotting, then gently remove the pot. Knock away the old soil from the roots and place the plant in a new pot with fresh soil. Leave your C. ovata dry for a week or so, then begin to water lightly until established in the new pot.
Pruning
This plant can benefit from occasional pruning. When it starts to get straggly or leggy, do not be afraid to cut it back. Pruning encourages the trunk to develop and also root growth. It is best done in spring or after the flowering.
C. ovata, including its cultivars, is a popular choice for bonsai lovers. Many who learn bonsai begin with this plant.
How to Propagate Crassula
The popularity as an ornamental plant of C. ovata arises primarily from its ease of propagation by cuttings. It is generally started by stem or leaf cuttings but can also be grown from seeds. In the wild, vegetative propagation is the main method of reproduction of this succulent. Branches and leaves regularly fall off the plants, and they may root and form new plants.
Stem Cuttings
The fastest way to get decent-sized C. ovata is to grow it from a stem cutting. Always take stem cuttings when the plant is growing. This process is most successful if done at the beginning of the active growth period. Select a healthy stem and remove it from the mother plant. Use a sterile sharp knife or pair of scissors. Allow the cutting to callus for several days before placing it in well-draining soil. Water sparingly so that the soil is only damp until the cutting takes root. It may take several weeks for roots to initiate, but once established, you can treat it as you would a mature plant.
Leaves
Like many succulents, C. ovata can be propagated from a single leaf. Choose a healthy leaf and twist it from the mother plant. Always take at least two leaves because not every leaf you try to propagate will grow a new plant. Allow the leaves to callous for several days and place them in or on a well-draining soil. Water or spray the soil every few days or when dry. The new plants appear about four weeks after being removed from the stem, usually soon after roots have formed.
Seeds
Propagating C. ovata from seeds is the slowest way to grow new plants. Sow the seeds in spring or summer. They germinate best at temperatures below 70° (21 °C). Do not cover the seeds with a top layer. Avoid direct sunlight exposure. Seedlings can be watered with a fungicide to prevent damping off.
Pests and Diseases of Crassula
C. ovata does not suffer from too many pests and diseases, but there are a couple you should watch for.
Pests
Mealybugs are the most common pest of C. ovata. They look like white puffs of cotton. Do not use insecticidal soap since it may damage the plant. Instead, wipe them off with a cotton swab dipped in rubbing alcohol. Repeat the process daily until all mealybugs have been eliminated. Spider mites can also occasionally infest C. ovata. They can cause leaves to lose their green color and appear dusty or speckled. Aphids are also common pests, but they tend to infest the stems of flowers.
Diseases
Plant diseases are very rarely a problem. Too much or too little water plus pests are the main problems. Watering excessively can cause black spots on leaves, leaf fall, and root rot. Prolonged drought and heat can result in dwarfing, spotting, and drop of leaves and even death of the plant. Powdery mildew is a fungus that causes scabby or corky areas to develop on the leaves and can be treated with horticultural oil.
Toxicity of Crassula
C. ovata is toxic to cats, dogs, and horses and mildly toxic to humans through ingestion or skin contact.
Links