Scientific Name
Crassula ovata 'Gollum'
Common Name(s)
Gollum Jade, ET's Fingers, Trumpet Jade, Finger Jade, Hobbit's Pipe Jade, Jade Plant, Jade Tree, Money Tree, Succulent Spoon Jade, Trumpet Jade
Show more
Synonym(s)
Crassula portulacea 'Gollum'
Scientific Classification
Family: Crassulaceae
Subfamily: Crassuloideae
Genus: Crassula
Origin
This succulent is one of the first two cultivars comprising the Tolkien Group, named after the characters in Tolkien's legendarium. The other one is Crassula ovata 'Hobbit'. They are monstrous forms of Crassula ovata.
Description
Crassula ovata 'Gollum' is an interesting succulent shrub or small tree with branches that bear odd tubular green leaves with flared but depressed in the center, often brilliant red tips. It is smaller than the normal species, usually growing about 12 inches (30 cm) tall. Branches are fleshy grey-green, becoming woody as they mature with scars of the fallen leaves. Flowers are white or pink, star-shaped, up to 0.6 inches (1.5 cm) across, and appear in compact terminal clusters from mid-winter to early spring.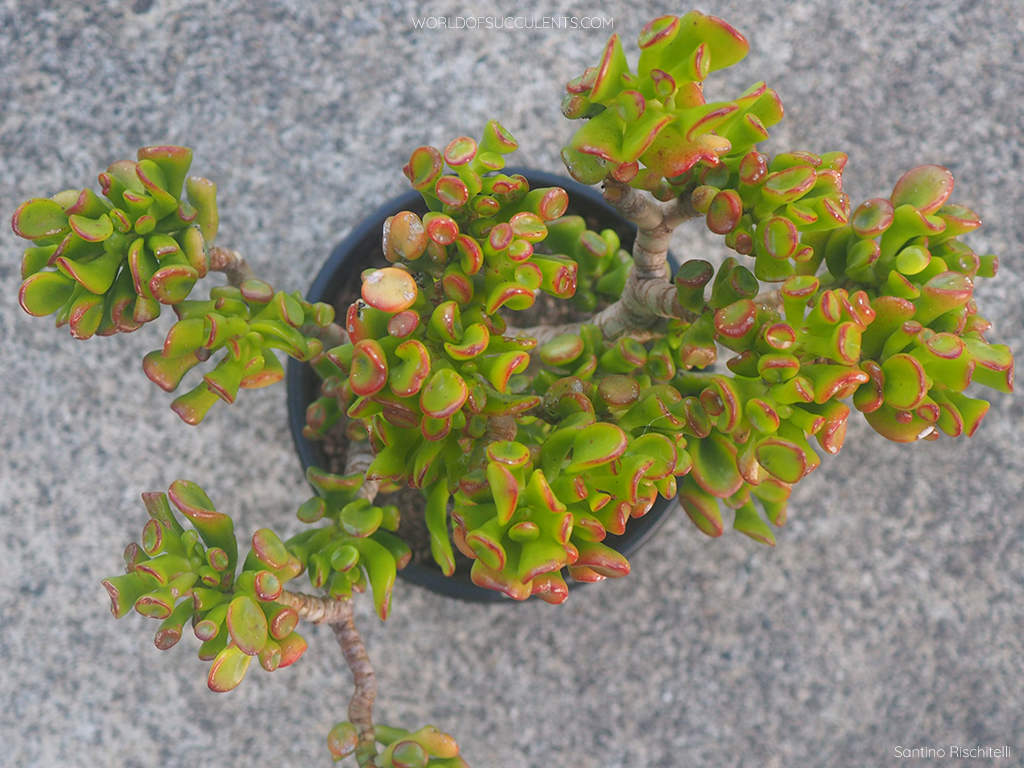 How to Grow and Care for Crassula ovata 'Gollum'
Light: This succulent thrives in full sun and requires about 4 to 6 hours of daily sun exposure. It will survive in partial to medium shade but needs direct sunlight for flowering. If kept indoors, find a bright spot in your home.
Soil: C. ovata 'Gollum' requires well-draining soil. Use commercial potting soil mixes designated for succulents, or mix your own.
Hardiness: This plant is tolerant of a wide range of temperatures and may even tolerate light frost. However, prolonged cold is usually fatal. C. ovata 'Gollum' can withstand temperatures as low as 30 °F (-1.1 °C). USDA Plant Hardiness Zones 10a to 11b, 30 to 50 °F (-1.1 to 10 °C).
Watering: One of the most important things when caring for C. ovata 'Gollum' is ensuring it is properly watered. Although it is a succulent plant, it does need water. During the growing season, it does best when the soil is allowed to dry out between deep waterings. In summer, it requires little water and even less in winter when it is semi-dormant.
Fertilizing: C. ovata 'Gollum' is a slow-growing plant and does not need much feeding. However, it will benefit from a small amount of organic fertilizer in mid-spring when it starts actively growing.
Repotting: This succulent does not mind being root-bound in a small pot, although it is best to repot it every 2 to 3 years or when the plant becomes top-heavy. The best time to repot is in spring when the new growth starts.
Propagation: C. ovata 'Gollum' is started by stem cuttings or leaves. Propagation from a stem cutting is the fastest way to get decent-sized C. ovata 'Gollum'. Always take cuttings when the plant is actively growing.
Learn more at How to Grow and Care for a Jade Plant.
Toxicity of Crassula ovata 'Gollum'
C. ovata 'Gollum' is toxic to cats, dogs, and horses and mildly toxic to humans through ingestion or skin contact.
 Forms
Links
Photo Gallery
Click on a photo to see a larger version.