Besides its attractive foliage and colorful flowers, Aloe arborescens is also valued for its medicinal properties.
Scientific Name
Aloe arborescens Mill.
Common Name(s)
Candelabra Aloe, Candelabra Plant, Krantz Aloe, Mountain Bush Aloe, Octopus Plant, Sword Aloe, Torch Aloe, Torch Plant, Tree Aloe
Synonym(s)
Aloe arborescens subsp. arborescens, Aloe perfoliata var. arborescens, Catevala arborescens
Scientific Classification
Family: Asphodelaceae
Subfamily: Asphodeloideae
Genus: Aloe
Description
Aloe arborescens is a much-branched succulent shrub with spreading to slightly reflexed leaves clustered at the branch tips. It can reach up to 10 feet (3 m) in height and width. The branches are up to 12 inches (30 cm) in diameter, branched and rebranched from the base or higher, and have old dried leaves persistent for 12 to 24 inches (30 to 60 cm) below the terminal rosettes. The leaves can grow up to 24 inches (60 cm) long and 2.8 inches (7 cm) wide at the base, gradually narrowing to the apex. They usually have a flat upper surface, a convex lower surface, and margins armed with firm, pale teeth usually curved forward. The leaf color varies depending on the location and amount of sunlight received, from dull green to yellow-green, reddish, and brownish, or sometimes gray-green and blue-green.
During the winter, conical, scarlet, orange-red, or rarely yellow flower spikes (racemes) rise in profusion above the foliage. The inflorescences are usually simple, sometimes with a short branch, about 32 inches (80 cm) tall, including the raceme, and appear 2 to 4 simultaneously from a rosette. The densely flowered racemes are up to 12 inches (30 cm) long and 4.8 inches (12 cm) in diameter, with flowers that are up to 1.6 inches (4 cm) long.
Origin
Aloe arborescens has an extensive natural distribution in southern Africa (Malawi, Mozambique, Zimbabwe, Botswana, South Africa, and Eswatini). It usually grows in pockets of rich soil on rocky outcrops from sea level to altitudes of over 6,000 feet (1,830 m).
Etymology
The specific epithet "arborescens (ar-bo-RES-senz)" means "becoming a tree; tree-like" and refers to the tree-like growth of older specimens.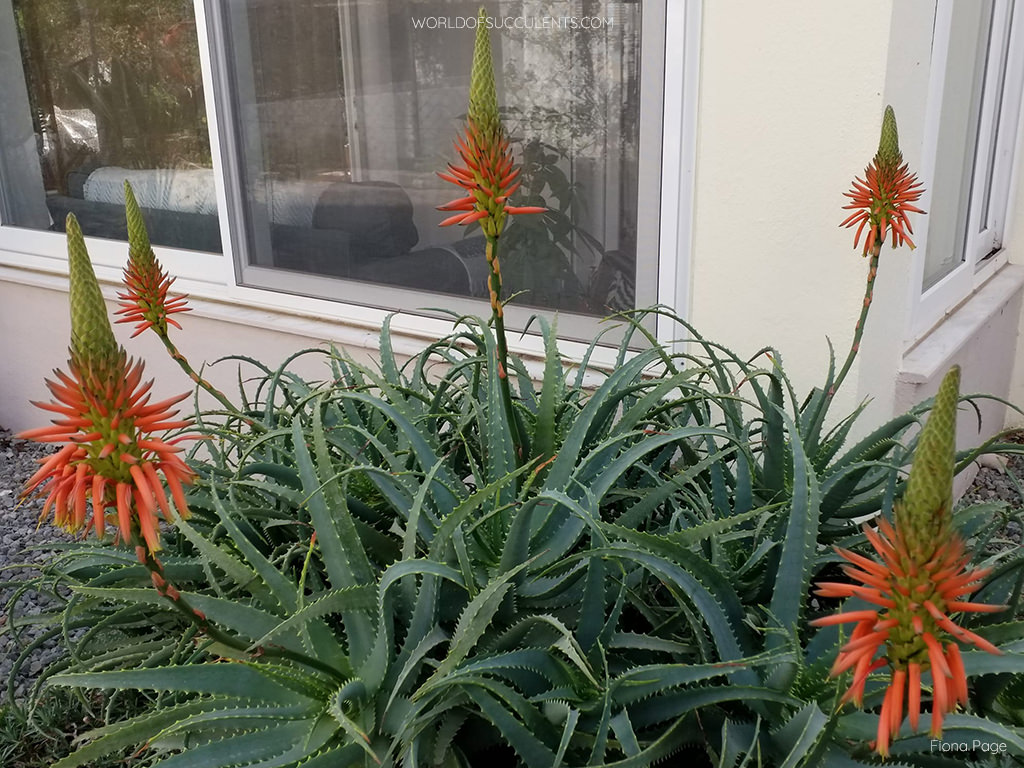 How to Grow and Care for Aloe arborescens
Light: When growing Aloe arborescens indoors, place it near a window with plenty of bright indirect light. Rotate the pot once or twice a week to ensure all sides of the plant receive equal lighting. Outdoors, the plant prefers light shade, especially during the hottest parts of the day.
Soil: Great drainage is essential for growing this plant because too much moisture for an extended period can cause root rot. Use commercial soil for succulents, or make your own well-draining mix.
Temperature: When temperatures shift below 50 °F (10 °C), it is time to bring this plant inside. It tolerates heat fairly well but will not survive a hard frost. Aloe arborescens grows best in USDA Plant Hardiness Zones 9b to 11b, with average minimum winter temperatures ranging from 25 to 50 °F (-3.9 to 10 °C).
Watering: This plant needs regular watering but can tolerate drought conditions for short periods. Water deeply, but only when the soil is completely dry to the touch, and do not let water stand in the rosettes. Cut back on watering during the winter months.
Fertilizing: Although it generally does not require fertilizer, Aloe arborescens will benefit from extra nutrients. Use a water-soluble fertilizer diluted to half the recommended strength.
Repotting: Repot only as needed during spring. Pick a container that is one size larger and with drainage holes.
Propagation: To propagate Aloe arborescens, remove the offsets from a mature plant from late spring to early summer. It is also easy to start from seeds. For best results, sow the seeds during the warm months.
Learn more at How to Grow and Care for Aloe.
Toxicity of Aloe arborescens
Although Aloe arborescens is known for its beneficial effects on human health, it can be mildly toxic to cats and dogs when ingested.
Forms, Cultivars, and Hybrids of Aloe arborescens
Links
Photo Gallery
Click on a photo to see a larger version.