Scientific Name
×Gasterhaworthia 'Royal Highness'
Synonym(s)
×Alworthia 'Royal Highness', ×Gasteraloe 'Royal Highness', ×Gastrolea 'Royal Highness', ×Gasworthia 'Royal Highness', Haworthia 'Royal Highness'
Scientific Classification
Family: Asphodelaceae
Subfamily: Asphodeloideae
Nothogenus: ×Gasterhaworthia
Origin
This succulent is an old intergeneric hybrid between unknown species of Gasteria and Haworthia distributed by Gordon Rowley. It is usually sold as ×Gasteraloe 'Royal Highness' and incorrectly described as a hybrid between Gasteria batesiana and Aristaloe aristata (formerly known as Aloe aristata). For more confusion, a different plant is also distributed with the same name.
Description
×Gasterhaworthia 'Royal Highness', also known as ×Gasteraloe 'Royal Highness', is a small succulent plant that forms compact rosettes of firm but brittle leaves covered with white tubercles. It is a slow-growing plant that produces offsets at the base. Leaves are dark green but become paler and take on an attractive purplish hue in full sun. They are triangular with a short, weak bristle tip, strongly convex below, up to 4 inches (10 cm) long, and 1.4 inches (3.5 cm) wide at the base. The hemispherical tubercles are solitary or decurrent. Flowers are tubular, slightly ventricose, up to 0.8 inches (2 cm) long, and appear on arching or sprawling, up to 3.3 feet (1 m) long inflorescences in summer. The flower buds are pink below and gray-green above. Tepals are white with green mid stripes.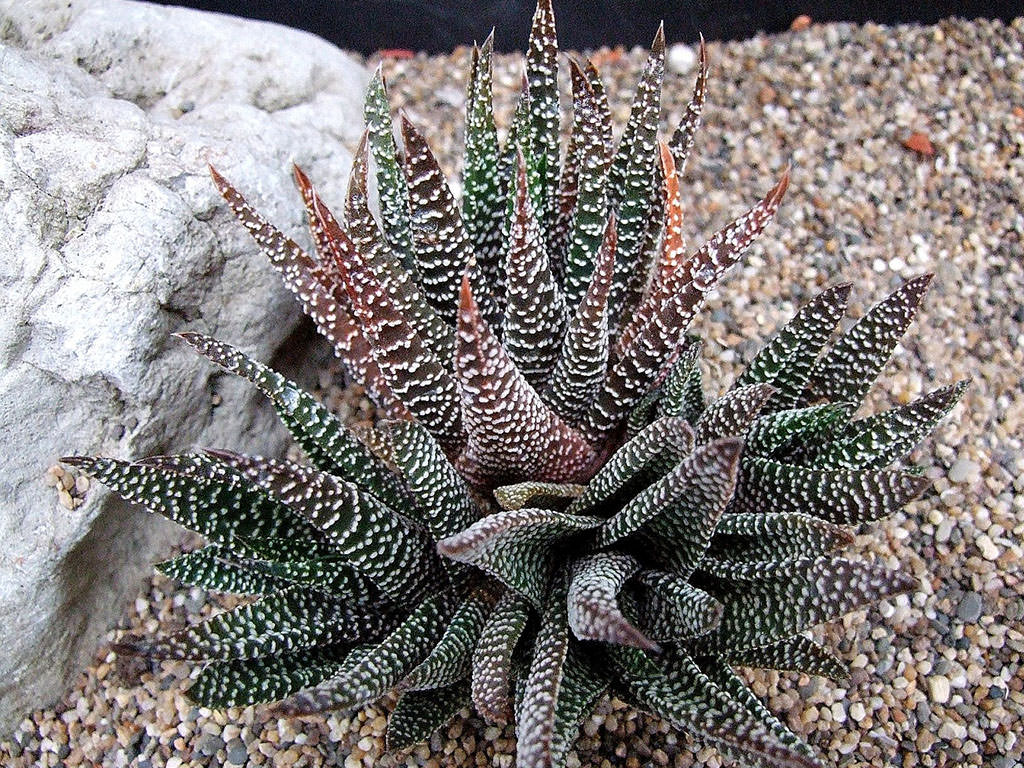 How to Grow and Care for ×Gasterhaworthia 'Royal Highness'
Light: Place the potted plant in a bright area with some protection from the hottest rays of the day. White, yellow, or red-tinged leaves usually indicate that your ×G. 'Royal Highness' receives too much sunlight. Deep shade tends to weaken the plant over a prolonged period. If your plant has spent the winter indoors, gradually move it outdoors into the bright sun to prevent sunburn.
Soil: This plant does not like its roots to remain wet for prolonged periods, so the soil should be well-drained. Use a commercial potting mix for succulents, or make your own.
Temperature: This succulent likes warmer in the summer but cool temperatures in the winter. However, it does not like being too cold. ×G. 'Royal Highness' can withstand temperatures as low as 30 °F (-1.1 °C). USDA Plant Hardiness Zones 10a to 11b, 30 to 50 °F (-1.1 to 10 °C).
Watering: In spring and fall, when the growth is most active, water ×G. 'Royal Highness' thoroughly, then wait until the top of the soil dries out before watering again. Water your plant less during the winter when its growth slows down significantly. During the hottest summer months, when this plant is mostly dormant, water just enough to keep the leaves from shriveling.
Fertilizing: ×G. 'Royal Highness' does not require much fertilizer. However, for optimum growth, fertilization is a good idea. Feed only with a dilute fertilizer and only during the active growing season.
Repotting: This slow-growing succulent can stay in the same pot for years. To keep your plant healthy and happy, repot ×G. 'Royal Highness' into fresh soil every two to three years in spring or fall. Repotting time is also the time to take offsets for propagation.
Propagation: The quickest and most common method of propagating ×G. 'Royal Highness' is by offsets. However, it can also be propagated by leaves and seeds. Remove the offsets when they have started developing their own roots. Sow the seeds in spring or fall in a well-draining soil mix.
Learn more at How to Grow and Care for Haworthia.
Toxicity of ×Gasterhaworthia 'Royal Highness'
×G. 'Royal Highness' is considered non-toxic to humans and animals.
Links
Photo Gallery
Click on a photo to see a larger version.