Scientific Name
Manfreda undulata 'Mint Chocolate Chip'
Common Names
Mint Chocolate Chip Manfreda
Synonyms
Manfreda 'Mint Chocolate Chip'
Scientific Classification
Family: Asparagaceae
Subfamily: Agavoideae
Genus: Manfreda
Description
Manfreda undulata 'Mint Chocolate Chip' is a unique-looking, low-growing, succulent plant up to 1 feet (30 cm) tall and up to 4 feet (1.2 m) wide. Long, silvery blue-green leaves are succulent, but not as rigid as Agave. Near-black spotting is present on both on the fronts and backsides of the leaves, and contrasts beautifully with the lighter colored leaves. A very fine, white margin lines the edges of the leaves with a serrated edge. Compared to Manfreda undulata 'Chocolate Chips', this plant has wider leaves, darker spotting and more silvery blue leaves. When it reaches mature size after several years, each clump will be topped with fascinating, up to 3 feet (90 cm) tall flower spikes with spidery flowers.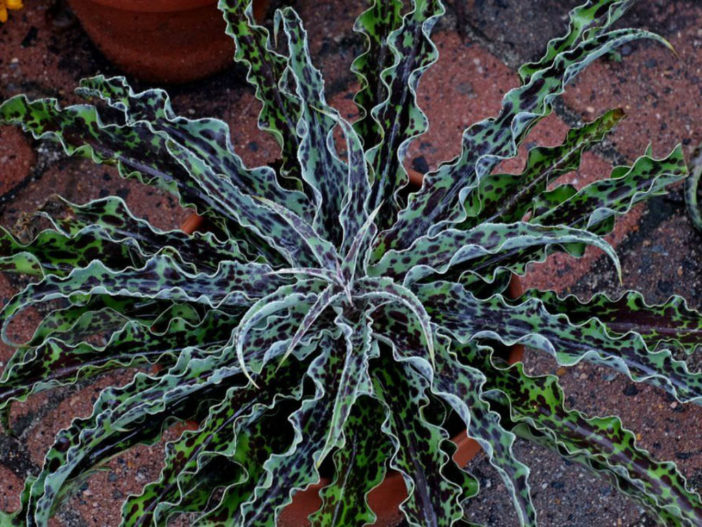 Hardiness
USDA hardiness zones 7b to 9b: from 5 °F (−15 °C) to 30 °F (−1.1 °C).
How to Grow and Care
Manfreda is a tender perennial or "temperennial" succulent plant that grows best in full sun. Plant in well-drained, dry to average soil in containers just slightly wider than the width of the rosette or plant directly in the ground. Since the plant has a rather large root system, the container should be at least 12 inches (30 cm) deep. Manfreda is a slower grower, so it will not quickly overtake the space it is allotted in the landscape.
In summer when the plants are actively growing, they appreciate a bit of supplemental watering and half-strength fertilizer. During the winter months, the plants should be allowed to dry and should be stored in a cold room at 48 °F (9 °C). Plants are watered only enough to keep the foliage from shriveling.
Manfredas are propagated by the removal of offsets and from fresh seed. Fresh seed germinate in 7 to 21 days at 68 to 72 °F (19 to 22 °C)… – See more at: How to Grow and Care for Manfreda
Origin
Manfreda undulata 'Mint Chocolate Chip' is a rare cultivar of Manfreda undulata.
Links
Photo Gallery