Scientific Name
Aloe aristata Haw.
Common Names
Lace Aloe, Torch Plant
Scientific Classification
Family: Xanthorrhoeaceae
Subfamily: Asphodeloideae
Genus: Aloe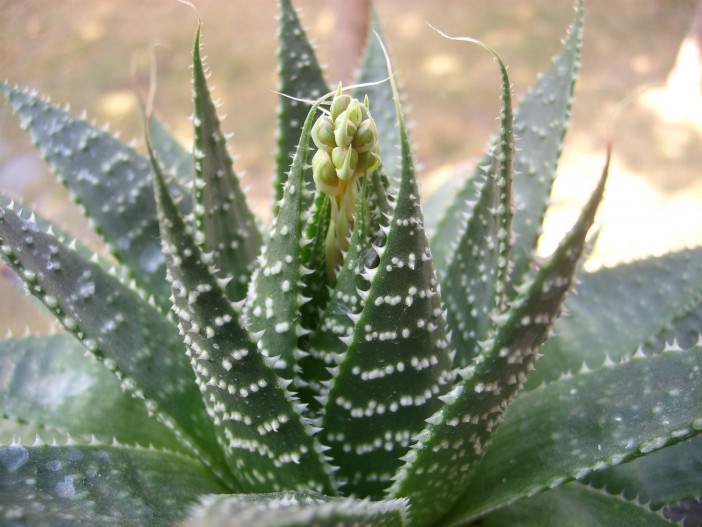 Description
Aloe aristata is a stemless, no more than 8 to 12 inches (20 to 30 cm) tall, clump-forming succulent with dense rosettes of stubby, lance-shaped, toothed, white-margined, dark green leaves, 3 to 4 inches (7.5 to 10 cm) long, with small white spots and soft white spines, particularly beneath. In the fall, produces terminal panicles, to 20 inches (50 cm) tall, 2 to 6 branched, bearing cylindrical, orange-red flowers, to 1 1/2 (4 cm) inches long.
How to Grow and Care
Easy to grow, requiring very little care, ideal choice for novice gardeners. Plant in well drained, rich soil in full sun or partial shade. Water and feed regularly during the growing season to prevent tip dieback and preserve its perfect form. Allow soil to dry out in between regular watering schedule. Water very sparingly during the dormant season… – See more at: How to Grow and Care for Aloe aristata.
Uses
Aloe aristata is indigenous to South Africa and Lesotho. The Pondo people use the juice of Lace Aloe mixed with water to wash their bodies… – See more at: Lace Aloe Juice to Refresh Body and Mind.
Origin
Native to Lesotho and South Africa (Northern Cape, Western Cape, Eastern Cape, Free State, KwaZulu-Natal).
Links
GO TO the list of succulents in the genus Aloe;
BROWSE succulents by Genus, Family, Scientific Name, Common Name or Origin, and cacti by Genus;
or SHOP NOW at Amazon.com
.
Photo Gallery