Scientific Name
Aloe aristata Haw.
Common Names
Lace Aloe, Torch Plant
Scientific Classification
Family: Xanthorrhoeaceae
Subfamily: Asphodeloideae
Genus: Aloe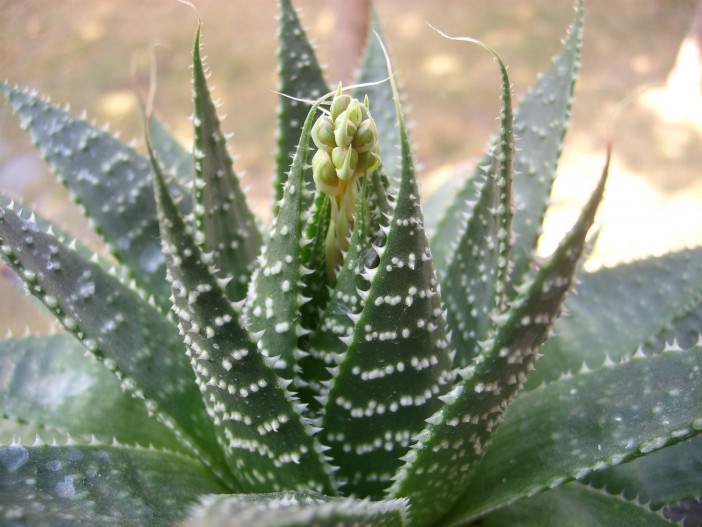 Description
Aloe aristata is a stemless, up to 12 inches (30 cm) tall, clump-forming succulent with dense rosettes of stubby, lance-shaped, toothed, white-margined, dark green leaves, up to 4 inches (10 cm) long, with small white spots and soft white spines, particularly beneath. In the fall, produces terminal panicles, up to 20 inches (50 cm) tall, 2 to 6 branched, bearing cylindrical, orange-red flowers, up to 1.5 inches (4 cm) long.
How to Grow and Care
In order to grow Aloe aristata in temperate climates they will need to be taken inside during the coldest weather and keep them in bright sunlight during the summer. This species is hardier than many other species within its genus, but will still appreciate the warmth. It requires very little maintenance, making it an ideal choice for novice gardeners.They flower freely in the summer and the soft-orange flowers are a wonderful addition to the arid garden. This genus is well known for its ease of cultivation, but they are sensitive to excessive irrigation… – See more at: How to Grow and Care for Aloe aristata.
Uses
The Pondo people use the juice of Lace Aloe mixed with water to wash their bodies for its tonic and refreshing effect.
Origin
Native to Lesotho and South Africa (Northern Cape, Western Cape, Eastern Cape, Free State, KwaZulu-Natal).
Links
GO TO the list of succulents in the genus Aloe;
BROWSE succulents by Genus, Family, Scientific Name, Common Name or Origin, and cacti by Genus;
or SHOP NOW at Amazon.com
.
Photo Gallery