This plant was discovered growing along the cliffs of Tiscalatengo Gorge in Mexico by Robert T. Clausen in 1959 but was known as an unnamed Sedum until 1975 when he described it as Sedum clavatum.
Scientific Name
Sedum clavatum R.T. Clausen
Common Name(s)
Tiscalatengo Gorge Sedum

Scientific Classification
Family: Crassulaceae
Subfamily: Sempervivoideae
Tribe: Sedeae
Genus: Sedum
Description
Sedum clavatum is a beautiful succulent with creeping, branched stems that terminate in small rosettes of fleshy, bluish-green leaves with thick, powdery coating and sometimes with red pointed tips. It is an excellent choice for a hanging basket because of its sprawling habit. The stems can grow up to 4 inches (10 cm) long, while the rosettes can reach a diameter of 2 inches (5 cm). As the stems grow, the lower leaves naturally wither and drop, producing new leaves from the center of the rosette. The leaves range from club-shaped to elliptic-oblanceolate or obovate, measuring up to 2.6 inches (2.6 cm) long and 1.2 inches (3 cm) wide.
The flowers of Sedum clavatum are star-shaped and appear in compact clusters on short axillary branches from late spring to early summer. They are usually 5-merous, with club-shaped sepals the same color as the leaves, white petals, and dark red anthers.
In addition to the variable shape of the leaves, there is a form of Sedum clavatum with more blue leaves.
Origin
Sedum clavatum is native to Mexico. It grows along the andesite cliffs in the valley of the Tiscalatengo River, an area in the Trans-Mexican Volcanic Belt near Villa Guerrero in the State of Mexico.
Etymology
The specific epithet "clavatum (KLAV-ah-tum)" means "club-shaped" and refers to the shape of the sepals.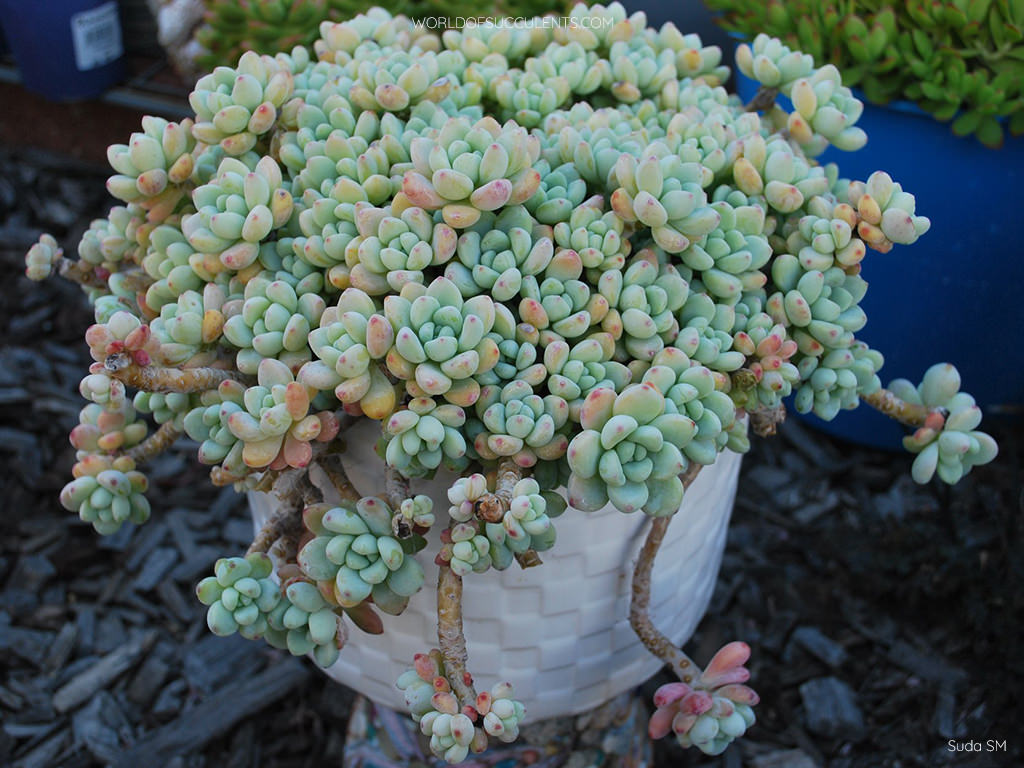 How to Grow and Care for Sedum clavatum
Light: Light: Sufficient light is most important to growing a healthy plant. Sedum clavatum grows best in locations where it will enjoy the full sun for at least six hours daily but will tolerate some shade. Place the plant near a sunny window or use artificial lights when growing indoors.
Soil: This plant does not like to sit in waterlogged soil, so drainage is essential to prevent root rot. Use a commercially available mix for succulents, or create your own.
Temperature: Sedum clavatum has a good tolerance to heat and low temperatures. It grows best in USDA Plant Hardiness Zones 9b to 11b, with average minimum winter temperatures ranging from 25 to 50 °F (-3.9 to 10 °C).
Watering: From spring through fall, water thoroughly and wait for the soil to dry out before watering again. During the winter, water the plant just enough to keep it from shriveling. When watering, avoid wetting the leaves, stems, and flowers.
Fertilizing: Feed a water-soluble fertilizer diluted to half the recommended strength during the growing season. However, feeding is unnecessary if you provide the plant with fresh soil annually.
Repotting: When Sedum clavatum outgrows its current pot, repot it into a larger one during the spring. Make sure the soil is dry before you begin repotting.
Propagation: Once you have one Sedum clavatum, it is easy to make more by taking leaves or stem cuttings and dividing the plant. It is also easy to start from seeds in spring or summer. Take cuttings in spring and divide the plant after it has finished flowering.
Learn more at How to Grow and Care for Sedum.
Toxicity of Sedum clavatum
Sedum clavatum is not listed as toxic for people but can be mildly toxic to pets and children.
Forms, Cultivars, and Hybrids of Sedum clavatum
Links
Photo Gallery
Click on a photo to see a larger version.