Scientific Name
Portulacaria afra 'Variegata'
Accepted Scientific Name
Portulacaria afra Jacq.
Common Name(s)
Rainbow Bush, Variegated Elephant Bush, Variegated Elephant Shrub, Variegated Elephant Food
Synonym(s)
Portulacaria afra f. variegata, Portulacaria afra 'Tricolor'
Scientific Classification
Family: Portulacaceae
Subfamily: Portulacarioideae
Genus: Portulacaria
Description
Portulacaria afra 'Variegata' is a much-branched succulent shrub with attractive reddish-brown stems and smooth glossy green leaves with cream-colored margins. It can grow up to 10 feet (3 m) tall. The branches become interwoven as the plant ages. The leaves are thick, fleshy, broadly obovate, and can reach up to 1 inch (2.5 cm) in length and 0.6 inches (1.5 cm) in width.
The flowers are small, star-shaped, lavender-pink and appear in clusters in late spring and early summer.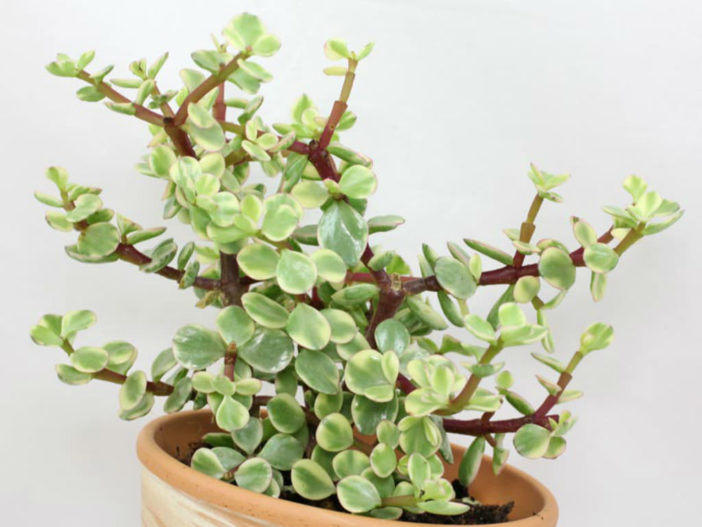 How to Grow and Care for Portulacaria afra 'Variegata'
Light: This plant requires at least 6 hours of direct sunlight daily but can tolerate partial shade. If grown indoors, place it in a sunny window.
Soil: It is very important to have well-draining soil for a healthy plant. While many growers make their own soil mix, commercial soil for succulents with extra perlite or another grit will also work fine.
Hardiness: Portulacaria afra 'Variegata' thrives in warm, sunny climates and can tolerate light frost. It grows best in USDA Plant Hardiness Zones 9b to 11b, with average minimum winter temperatures ranging from 25 to 50 °F (-3.9 to 10 °C).
Watering: In spring and fall, water thoroughly and wait until the top of the soil dries out before watering again. Water less during winter when growth slows down significantly. During the summer, when it is usually dormant, water the plant only enough to keep the leaves from shriveling.
Fertilizing: Portulacaria afra 'Variegata' is a slow-growing plant that does not need much feeding. However, it will benefit from a small amount of organic fertilizer during the growing season.
Repotting: It is best to repot this plant every 2 to 3 years or when it becomes top-heavy, even though it does not mind being root-bound. Repotting is recommended during summer.
Propagation: Portulacaria afra 'Variegata' is started by taking stem cuttings during the growing season.
Toxicity of Portulacaria afra 'Variegata'
Portulacaria afra 'Variegata' is a non-toxic plant with edible leaves rich in vitamin C and a pleasant sour taste.
Origin
Portulacaria afra 'Variegata' is a form of Portulacaria afra selected for its variegated foliage.
Links
Photo Gallery
Click on a photo to see a larger version.