Elephants have a symbiotic relationship with Portulacaria afra, which makes up 80% of their diet. They break off branches during feeding that later root and establish new plants.
Scientific Name
Portulacaria afra Jacq.
Common Name(s)
Dwarf Jade, Elephant Bush, Elephant's Food, Miniature Jade, Porkbush, Small Leaf Jade, Spekboom (Afrikaans)
Synonym(s)
Claytonia portulacaria, Crassula portulacaria, Crassula portulacastrum, Haenkea crassifolia, Portulaca fruticosa
Scientific Classification
Family: Portulacaceae
Subfamily: Portulacarioideae
Genus: Portulacaria
Description
Portulacaria afra is a densely branched succulent shrub or small tree with glossy green, opposite leaves on brittle, reddish-brown branches that mature to a wood grey color. It can grow up to 16.4 feet (5 m) tall. Its branches are initially fleshy but become woody as they age. The leaves are fleshy, obovate, and measure 1 inch (2.5 cm) in length and 0.6 inches (1.5 cm) in width.
The plant produces small, rosy pink to mauve flowers in dense clusters on terminal branches in late spring or early summer in its native habitat, but flowering is rare in cultivation. The fruits are translucent, glossy, pink, ellipsoid, 3-angled, and winged on the angles, measuring up to 0.2 inches (0.5 cm) long.
Although sometimes confused with Crassula ovata, the two plants are quite different. Portulacaria afra has smaller and rounder leaves and more compact growth. Both plants are relatively popular as bonsai subjects.
Origin
The native range of Portulacaria afra is from Eastern Cape northwards into Eastern Cape, Eswatini, KwaZulu-Natal, Mpumalanga, and the Limpopo province and further north into Mozambique. It grows in warm situations on rocky outcrops and slopes.
Etymology
The specific epithet "afra (AF-ruh)" means "from Africa" and refers to the origin of the species. The common name "Elephant Bush" refers to the fact elephants enjoy eating the leaves of this plant.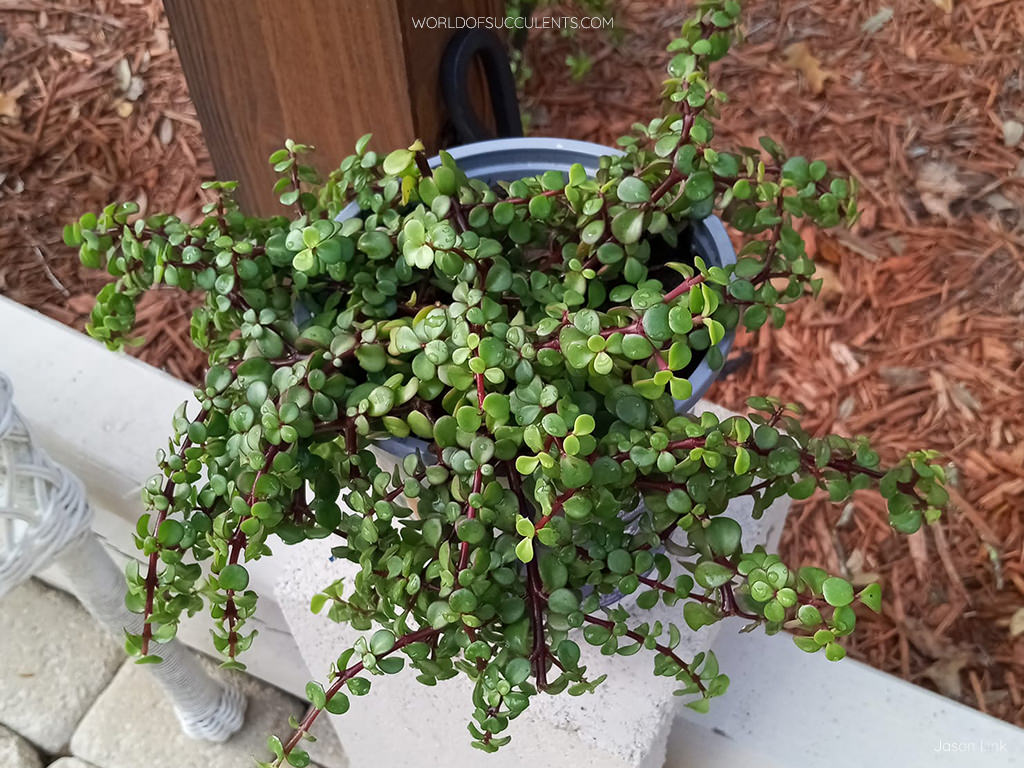 How to Grow and Care for Portulacaria afra
Light: This plant requires at least 6 hours of direct sunlight daily but can tolerate partial shade. If grown indoors, place it in a sunny window.
Soil: It is very important to have well-draining soil for a healthy plant. While many growers make their own soil mix, commercial soil for succulents with extra perlite or another grit will also work fine.
Hardiness: Portulacaria afra thrives in warm, sunny climates and can tolerate light frost. It grows best in USDA Plant Hardiness Zones 9b to 11b, with average minimum winter temperatures ranging from 25 to 50 °F (-3.9 to 10 °C).
Watering: In spring and fall, water thoroughly and wait until the top of the soil dries out before watering again. Water less during winter when growth slows down significantly. During the summer, when it is usually dormant, water the plant only enough to keep the leaves from shriveling.
Fertilizing: Portulacaria afra is a slow-growing plant that does not need much feeding. However, it will benefit from a small amount of organic fertilizer during the growing season.
Repotting: It is best to repot this plant every 2 to 3 years or when it becomes top-heavy, even though it does not mind being root-bound. Repotting is recommended during summer.
Propagation: Although it can be grown from seeds, Portulacaria afra is usually started by stem cuttings. Always take cuttings when the plant is actively growing.
Toxicity of Portulacaria afra
Portulacaria afra is a non-toxic plant with edible leaves rich in vitamin C and a pleasant sour taste.
Forms and Cultivars of Portulacaria afra
Links
Photo Gallery
Click on a photo to see a larger version.