Scientific Name
Portulaca umbraticola Kunth
Common Name(s)
Chinese Hat, Crownpod Purslane, Wingpod Purslane
Synonym(s)
Portulaca denudata, Portulaca lanceolata var. minor, Portulaca lanceolata var. versicolor, Portulaca plano-operculata, Portulaca umbraticola subsp. umbraticola
Scientific Classification
Family: Portulacaceae
Subfamily: Portulacarioideae
Genus: Portulaca
Description
Portulaca umbraticola is an annual or short-lived perennial succulent with prostrate to suberect stems, fleshy leaves, and big showy flowers. Stems are fleshy, hairless, green, often reddish, and can reach up to 8 inches (20 cm) in length. The green leaves are obovate to spatulate, sometimes lanceolate.
The flowers are yellow or yellow with red or copper tips, up to 0.6 inches (1.5 cm) across, and appear in summer. The fruits are obovoid or turbinate capsules with gray seeds. They are up to 0.2 inches (0.5 cm) in diameter.
This plant is often incorrectly sold under the name of Portulaca oleracea. The uncultivated species is usually considered a weed but is the hybrid parent to many ornamental Purslanes.
Origin
The native range of this species is both North America and South America. It grows in sandy soils of granitic and sandstone outcrops at elevations that range from 3000 to 6000 feet (915 to 1830 m).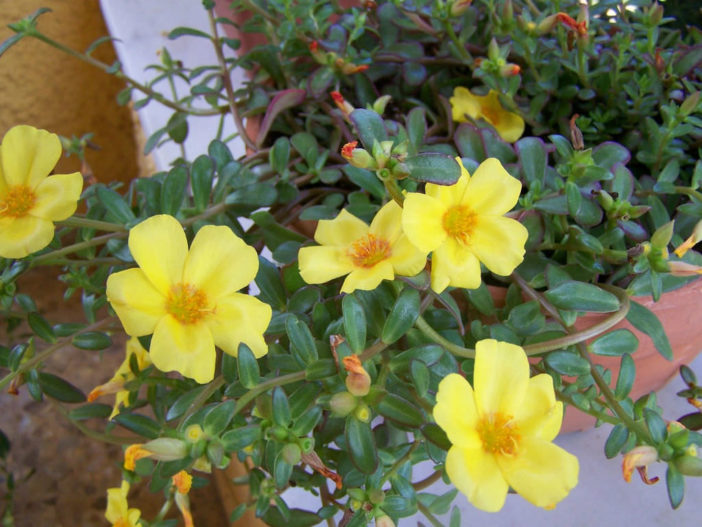 How to Grow and Care
Portulaca plants tolerate many kinds of soil but prefer sandy, well-drained soil and love full sunlight. These plants are excellent for high heat and drought tolerance and will grow and spread themselves well. Some control methods may be needed to keep Portulacas from becoming invasive in areas they are not wanted. However, these beautiful plants do spread easily and very well.
These succulents require no attention at all when growing and flowering. However, you should remove them from the garden before Portulacas can set seeds, as they may take over the garden. You do not need to water often for proper Portulaca care. The cylindrical foliage of the plants retains moisture very well. Thus, regular watering is not needed. When they are watered, just a light watering will do, as their root zone is very shallow.
The seeds of Portulacas should be sown on the soil surface following the last frost of spring. Ideally, these plants should be grown in a sunny part of the garden. If starting Portulaca indoors, then start about one and a half months in advance.
See more at How to Grow and Care for Portulaca.
Links
Photo Gallery
Click on a photo to see a larger version.