Scientific Name
×Graptosedum 'California Sunset'
Synonym(s)
×Graptosedum 'Peachblossom'
Scientific Classification
Family: Crassulaceae
Subfamily: Sempervivoideae
Tribe: Sedeae
Nothogenus: ×Graptosedum
Description
×Graptosedum 'California Sunset' is a beautiful succulent with unique orangish-pink leaves at first clustered in compact rosettes, later more or less distant and only in the upper part of the stems lying along the ground or bending downwards. The new growth is grayish-green but soon takes on its distinctive coloration enhanced by drought and cool winter temperatures.
The durability and the color of the new leaves of this hybrid are imparted by Graptopetalum paraguayense. The pastel coloration and white flowers come from the other parent, Sedum adolphi.
Origin
×Graptosedum 'California Sunset' is a hybrid most probably created by Bob Grim as a result of a cross between Graptopetalum paraguayensis and Sedum adolphi.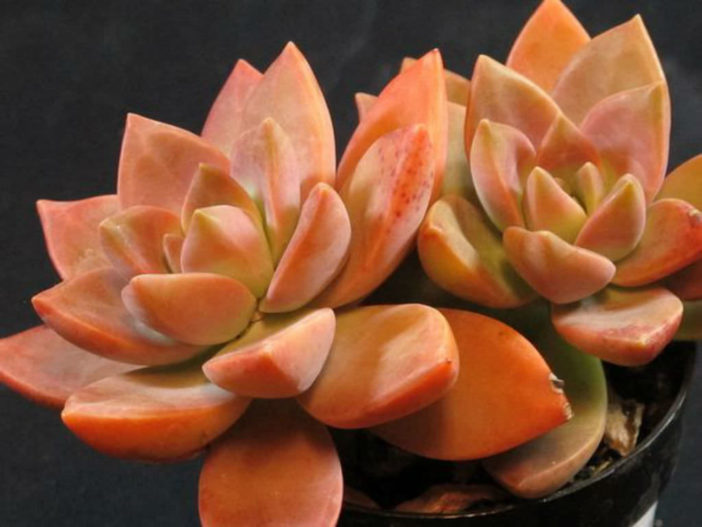 Hardiness
USDA hardiness zones 10a to 11b: from 30 °F (−1.1 °C) to 50 °F (+10 °C).
How to Grow and Care
The rules for Graptopetalums care are similar to those for most succulents. All require lots of sunlight to look their best. They require gritty porous soil with excellent drainage. Water the plants regularly over summer, letting the soil dry out between waterings. Minimal water is required over winter. Overwatering is a cause of root rots, and the plant can get several pest infestations. Fertilize once during the growing season with a balanced fertilizer diluted to 1/4 strength.
Graptopetalums are generally easily propagated by seeds, leaf cuttings, or offsets. Any rosette that breaks off has the potential to root and start a new plant. Even a leaf that drops off will root below the parent plant and produce a new rosette quickly. The new plant feeds off the leaf until it shrivels and falls off. By then, the new little plant had rooted and sprouted new leaves.
Learn more at How to Grow and Care for Graptopetalum.
Links
Photo Gallery
Click on a photo to see a larger version.