Scientific Name
Dudleya farinosa (Lindl.) Britton & Rose
Common Names
Bluff Lettuce, Powdery Liveforever, Powdery Dudleya, North Coast Dudleya, Sea Lettuce
Synonyms
Echeveria farinosa, Cotyledon compacta, Cotyledon eastwoodiae, Cotyledon farinosa, Cotyledon lingula, Cotyledon septentrionalis, Dudleya compacta, Dudleya eastwoodiae, Dudleya lingula, Dudleya septentrionalis, Echeveria compacta, Echeveria eastwoodiae, Echeveria farinosa, Echeveria lingula, Echeveria septentrionalis
Scientific Classification
Family: Crassulaceae
Subfamily: Sedoideae
Tribe: Sedeae
Subtribe: Sedinae
Genus: Dudleya
Description
Dudleya farinosa is a succulent plant that grows from a branching caudex and forms rosettes of spade-shaped leaves. It is variable in appearance, from drab to spectacular. The rosettes grow up to 4 inches (10 cm) in diameter. Leaves are usually strongly farinose or green, but they often have bright red edges and tips. They are up to 2.4 inches (6 cm) long and up to 1 inch (2.5 cm) wide. In summer, the rosettes produce erect pale green flower stalks with pink or red tinting. They have a few tiny leaflets at intervals and are topped by a branched cluster of pale yellow flowers.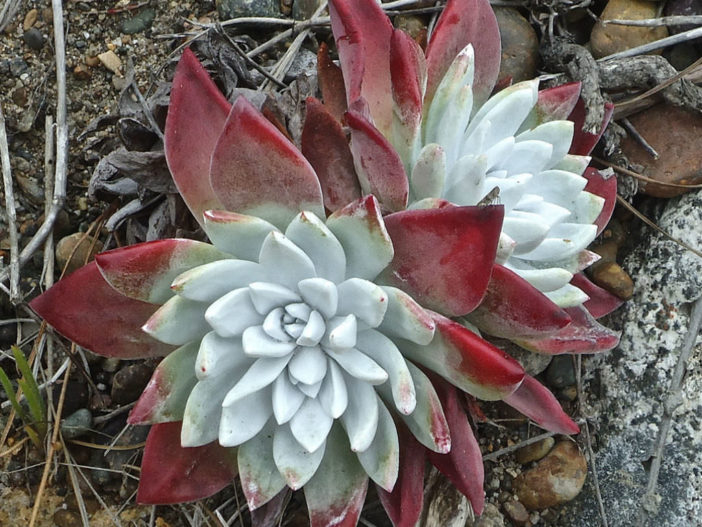 Hardiness
USDA hardiness zones 9a to 11b: from 20 °F (−6.7 °C) to 50 °F (+10 °C).
How to Grow and Care
Most of the myriad habitats Dudleyas occupy become dry in summer. Therefore, it is important to cut off water to Dudleyas in your garden during the summer. Plants grown in sandy soils or containers are exceptions. They will accept infrequent summer watering as long as the soil drains well. The onset of fall or winter rains reawakens Dudleyas from drought-induced dormancy. Their shriveled leaves plump up quickly, growth resumes, and flowering occurs during the next spring or summer. These plants are amazingly resilient. If a portion of a colony sloughs off a cliff face or is uprooted by a burrowing animal, it can persist for months until soil contact is reestablished. Species that naturally grow on ocean bluffs are also salt-spray tolerant.
Dudleyas have their share of disease and pest problems. If you can prevent Argentine Ants from introducing mealybugs or aphids to your Dudleyas, they will be healthier. Mealybugs nestle in the deep recesses of the leaves, and their feeding weakens the plants. See more at How to Grow and Care for Dudleya.
Origin
Dudleya farinosa is native to the coastline of Oregon and northern California, where it is commonly found on bluffs and coastal hillsides.
Links
Photo Gallery