Scientific Name
Coryphantha ramillosa Cutak
Common Name(s)
Bunched Cory Cactus, Big Bend Cory Cactus, Big Bend Mammillaria, Whiskerbush, Whiskerbush Pincushion Cactus
Synonym(s)
Coryphantha ramillosa subsp. ramillosa, Mammillaria ramillosa
Scientific Classification
Family: Cactaceae
Subfamily: Cactoideae
Tribe: Cacteae
Genus: Coryphantha
Origin
The native range of Coryphantha ramillosa is the border region between Texas in the United States and Coahuila in Mexico. It grows on rocky limestone flats, hills, and mesas of the Chihuahuan Desert.
Description
Coryphantha ramillosa is a small cactus with deep-seated stems with the aerial portion usually hemispheric or more or less flat-topped. The stems can grow up to 3.6 inches (9 cm) tall and 3.8 inches (9.5 cm) in diameter, usually solitary or rarely forming clumps of up to 25 heads. They have conical tubercles tipped with areoles that bear a cluster of needle-like spines. Each areole bears 9 to 20 radial and 2 to 5 central spines. The radial spines are white and up to 1.2 inches (3 cm) long, while the central spines are up to 1.7 inches (4.3 cm) long, dull white to dark gray or reddish brown to dark brown, usually with dark brown to purplish black tips.
The showy flowers can reach up to 2.6 inches (6.5 cm) long and 2 inches (5 cm) in diameter and appear at the tip of the stem in summer. Its tepals are pale pink to deep rose-purple, grading to nearly white, with darker mid-stripes at least near the tip. The fruits are dark green to pale gray-green, varying from obovoid, spherical, or ellipsoid, and measure up to 1 inch (2.5 cm) long and 0.6 inches (1.5 cm) in diameter. They contain reddish-brown seeds.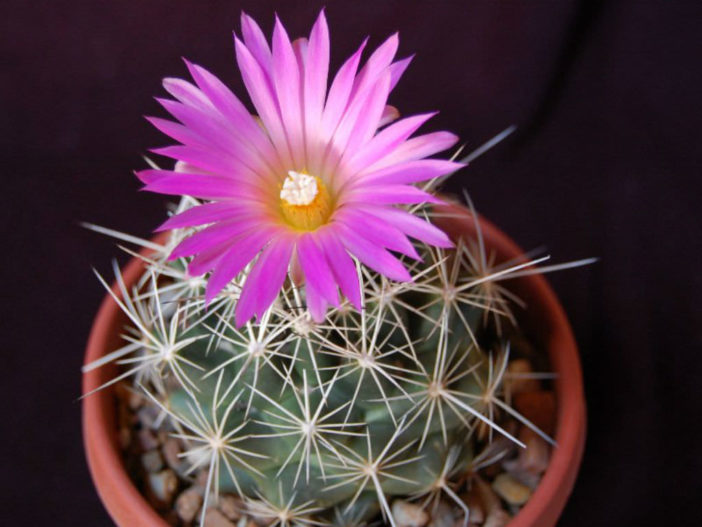 Hardiness
USDA hardiness zones 9b to 11b: from 25 °F (−3.9 °C to 50 °F (+10 °C).
How to Grow and Care
If you can grow cacti and succulents successfully, you can likely grow Coryphanthas without too much trouble. They love to be in a very bright exposure, but generally not to direct the light of the sun. The risk, especially during the summer hottest hours of the day, is to get sunburned.
The average winter minimum temperature, in general, should not fall below 40 °F (5 °C), unless individual exceptions. Adult plants (at least two years old) can withstand intense frosts, but only if the temperature rises quickly. To encourage better flowering, allow the plants to enjoy a cooling period in the winter and suspend watering.
Allow the soil to dry nearly between waterings, but then water thoroughly. Immaculate drainage is essential, so never let the pots sit in water. Suspend watering in the winter, but mist occasionally.
These cacti are very susceptible to rot and, therefore, require well-drained soil. Use a potting mix that is labeled for cacti or succulents.
See more at How to Grow and Care for Coryphantha.
Links
Photo Gallery