At some point, every gardener searches for just the right ground cover for a particular spot. This area can be as little as a couple of square feet or as large as a hillside. The reasons are as varied as ground covers themselves: filling in a bare spot, providing an attractive understory for a perennial bed, covering a large unsightly area, or, in some cases, providing its own focal point. And while there will always be uses for thyme, Baby's Tears and Dichondra – proven ground cover staples – recently, succulents have come into their own as a major contributor. From this extensive list, one of my favorites is Mesembryanthemum 'Red Apple', formerly known as Aptenia 'Red Apple'.
You rarely look at a ground cover and your first thought is, "Wow, that's gorgeous!" but this succulent in the Aizoaceae family, which includes the Ice Plant genera Lampranthus and Delosperma, inspires those kinds of thoughts. In 2007 the genus Aptenia was included in the genus Mesembryanthemum and reduced to synonymy. The species feature an inch long (2.5 cm), lime green, thick, fleshy leaves bordered handsomely in milky white. The grayish stems will easily spread to 2 feet (60 cm) in length.
In summer, scores of fuchsia-red, half-inch (1.2 cm) ice plant flowers pop open from the centers of the small rosette clusters, evoking the plant's common name, Red Apple. Flowering often continues until late fall.
Aptenia does not develop woody stems and thus becomes straggly and unattractive. It will eventually form a 2-inch (5 cm) high blanket, creating a sea of cool green for gardeners to showcase on its own or to use in a supporting role. This species can also be used to grow over low walls, making for a very distinctive cascading plant.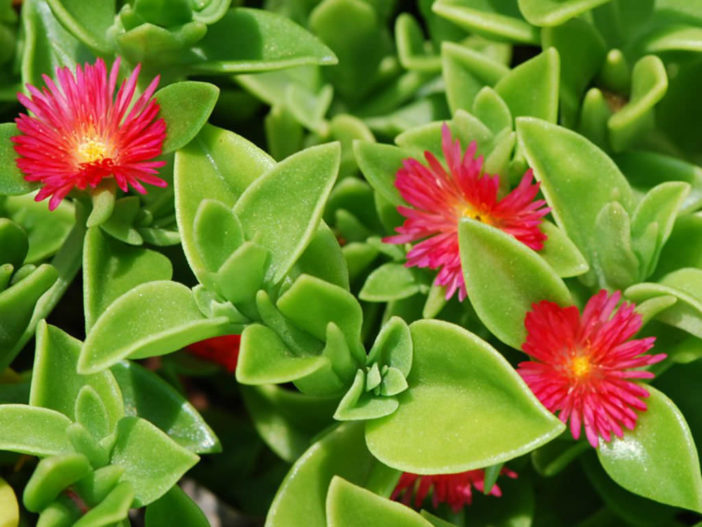 Did you know?
Aptenias are attractive to bees and butterflies. However, they do have to wait for the arrival of blue skies, as the flowers need the sun to open.
Cultivation
Grow in well-drained, sandy, or loamy soil in full sun or partial shade in hotter zones. Avoid watering in the winter so roots will not rot. Given a little summer water, Aptenia is quick to spread and is easily shaped by pinching the soft stems. It can withstand 100 degrees Fahrenheit (38 degrees Celsius) but is sensitive to freezes. As with other succulents, new plants can be rooted from cuttings. Plant plugs from six packs 10-20 inches (4-8 cm) apart. USDA Hardiness Zones 10 – 11.
Pests and Diseases
Susceptible to fungal rot if the soil is consistently too moist. Some scabbing may afflict leaves, but generally, this is a very hardy genus.
Availability
The good news for Aptenia fans is that it is commonly available at most full-service nurseries as a ground cover six-pack.
Source: sfgate.com
Links