Aloe polyphylla is one of the most ornamental Aloes but is extremely difficult to grow. It was discovered in 1915 by F. H. Holland on the southwestern slopes of Furumela Mountain in Lesotho. However, the species was not formally described until 1934 by the South African botanist Neville Pillans. Aloe polyphylla has gained the Award of Garden Merit of the Royal Horticultural Society.
Scientific Name
Aloe polyphylla Pillans
Common Name(s)
Spiral Aloe
Scientific Classification
Family: Asphodelaceae
Subfamily: Asphodeloideae
Genus: Aloe
Description
Aloe polyphylla is a beautiful succulent that forms stemless rosettes of fleshy leaves arranged in a distinctive spiral pattern that can be clockwise or counterclockwise. The rosettes have 75 to 150 leaves, always in 5 rows, and can reach a diameter of 3 feet (90 cm). While the rosettes do not produce offsets, the plant usually forms dense clumps from the germination of its seeds. Spiraling begins when the rosette is at least 8 inches (20 cm) in diameter or about two years old. The gray-green leaves are broadly triangular with margins armed with rather soft white teeth with irregular arrangement. As they age, the tips become dark purplish-brown.
In spring and early summer, the mature rosette produces red to salmon pink or occasionally yellow flowers that measure up to 2.2 inches (5.5 cm) long. The flowers appear in tight head-like racemes on inflorescences that are branched very low down and about 2 feet (60 cm) above the foliage. The flower of this species is the national flower of Lesotho.
Removing plants or seeds of Aloe polyphylla from their native habitat or buying them from roadside vendors is a criminal offense. The plants removed from their native habitat typically do not survive for more than a few years.
Origin
Aloe polyphylla is native to Lesotho (Maloti Mountains) and South Africa (KwaZulu-Natal). It grows in basalt rock crevices in mountainous, grassy slopes ranging from 6,560 to 8,200 feet (2,000 to 2,500 m) above sea level and sometimes higher on east-facing slopes.
Etymology
The specific epithet "polyphylla (pol-ee-FIL-uh)" means "many-lived" and refers to the rosettes that may have 75 to 15 leaves.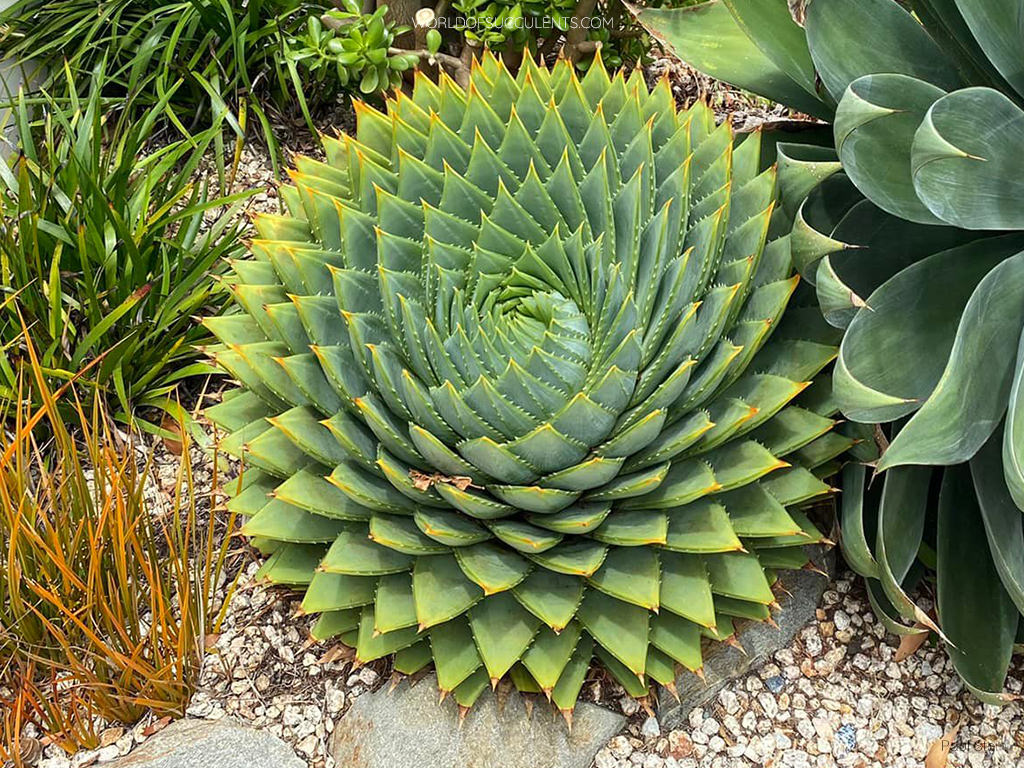 How to Grow and Care for Aloe polyphylla
Light: When growing Aloe polyphylla indoors, place it near a window with plenty of bright indirect light. Rotate the pot once or twice a week to ensure all sides of the plant receive equal lighting. Outdoors, the plant prefers light shade, especially during the hottest parts of the day.
Soil: Great drainage is essential for growing this plant because too much moisture for an extended period can cause root rot. Use commercial soil for succulents, or make your own well-draining mix.
Temperature: This plant does not do well in extremely high temperatures. If you live in consistently hot areas, especially one with warm nights, it might not thrive. While mature plants can handle 10°F (-12°C) and snow, younger plants should be protected from hard freezes. Aloe polyphylla grows best in USDA Plant Hardiness Zones 9b to 11b, with average minimum winter temperatures ranging from 25 to 50 °F (-3.9 to 10 °C).
Watering: This plant needs regular watering but can tolerate drought conditions for short periods. Water deeply, but only when the soil is completely dry to the touch, and do not let water stand in the rosettes. Cut back on watering during the winter months.
Fertilizing: Although it generally does not require fertilizer, Aloe polyphylla will benefit from extra nutrients. Use a water-soluble fertilizer diluted to half the recommended strength.
Repotting: Repot only as needed during spring. Pick a container that is one size larger and with drainage holes.
Propagation: Since it rarely produces offsets, Aloe polyphylla is usually propagated by seeds. For best results, sow the seeds during the warm months.
Learn more at How to Grow and Care for Aloe.
Toxicity of Aloe polyphylla
Aloe polyphylla is non-toxic to people but is mild to moderately toxic to pets.
Links
Photo Gallery
Click on a photo to see a larger version.