Scientific Name
Aloe vera (L.) Burm.f.
Common Names
Aloe Vera, Medicinal Aloe, Barbados Aloe, Chinese Aloe, Indian Aloe, Medicine Plant, True Aloe, Burn Aloe, First Aid Plant, Bitter Aloe, Wand of Heaven, Miracle Plant, Savila
Synonyms 
Aloe vera var. chinensis, Aloe vulgaris, Aloe vera var. lanzae, Aloe indica, Aloe barbadensis var. chinensis, Aloe vera var. wratislaviensis, Aloe elongata, Aloe vera var. littoralis, Aloe perfoliata var. vera, Aloe perfoliata var. barbadensis, Aloe flava, Aloe chinensis, Aloe barbadensis, Aloe lanzae
Scientific Classification
Family: Xanthorrhoeaceae
Subfamily: Asphodeloideae
Genus: Aloe
Description
Aloe vera is a stemless or very short-stemmed succulent plant growing up to 40 inches (1 m) tall, spreading by offsets. The leaves are thick and fleshy, green to grey-green, with some varieties showing white flecks on the upper and lower stem surfaces. The margin of the leaf is serrated and has small white teeth. The flowers are produced in summer on a spike up to 35 inches (90 cm) tall, each flower being pendulous, with a yellow tubular corolla up to 1.2 inches (3 cm) long.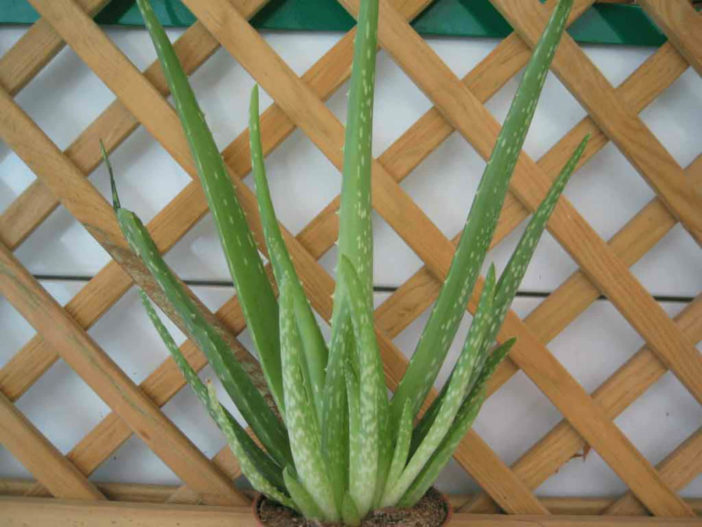 How to Grow and Care
Aloe is a very forgiving plant, and a well-grown plant can be quite beautiful. As with all succulents, it's essential that Aloe is never allowed to sit in stagnant water, and the plant should be carefully monitored to watch for signs of overwatering. Aloe are not particularly fast-growing and will only rarely need repotting. Repot plants in the spring that are tipping over their pots or have ceased growing. Use a fast-draining potting mix with one-third sand or pebbles… – See more at: How to Grow and Care for Aloe.
Uses
Aloe vera has been used for medicinal purposes for centuries. Native to North Africa, Southern Europe, and the Canary Islands, today it is grown in tropical climates worldwide. From relieving heartburn to slowing the spread of cancer, researchers are only first beginning to unlock all of the powerful uses of this universal plant and its many amazing byproducts… – See more at: 7 Amazing Uses for Aloe Vera.
Origin
Native to the arid regions of north-eastern and southern parts of Africa and Madagascar.
Links
BACK TO genus Aloe
SUCCULENTOPEDIA: Browse succulents by Genus, Family, Scientific Name, Common Name, Origin, or cacti by Genus
Photo Gallery
Subscribe to Receive News and Updates from World of Succulents: