Scientific Name
Sedum 'Golden Glow'
Synonym(s)
Sedum adolphi 'Golden Glow', x Graptosedum 'Golden Glow'
Scientific Classification
Family: Crassulaceae
Subfamily: Sedoideae
Tribe: Sedeae
Subtribe: Sedinae
Genus: Sedum
Origin
This succulent is a hybrid of unknown parentage that has been erroneously considered Sedum adolphi, and it is still found with this name in many collections. At the same time, it has also been distributed as ×Graptosedum 'Golden Glow'. However, the flowers do not show any trait of Graptopetalum, so the plant is most likely a Sedum hybrid.
Description
Sedum 'Golden Glow' is a small succulent shrub that forms loosely clustered rosettes atop arching stems. It grows up to 12 inches (30 cm) tall. The rosettes are up to 2.4 inches (6 cm) in diameter. Leaves are thick, fleshy, and boat-shaped, with a color that ranges from green and golden yellow to coppery orange. Their tips turn red when exposed to bright sunlight. Flowers are white, star-shaped, and appear in clusters at the end of the stems in spring.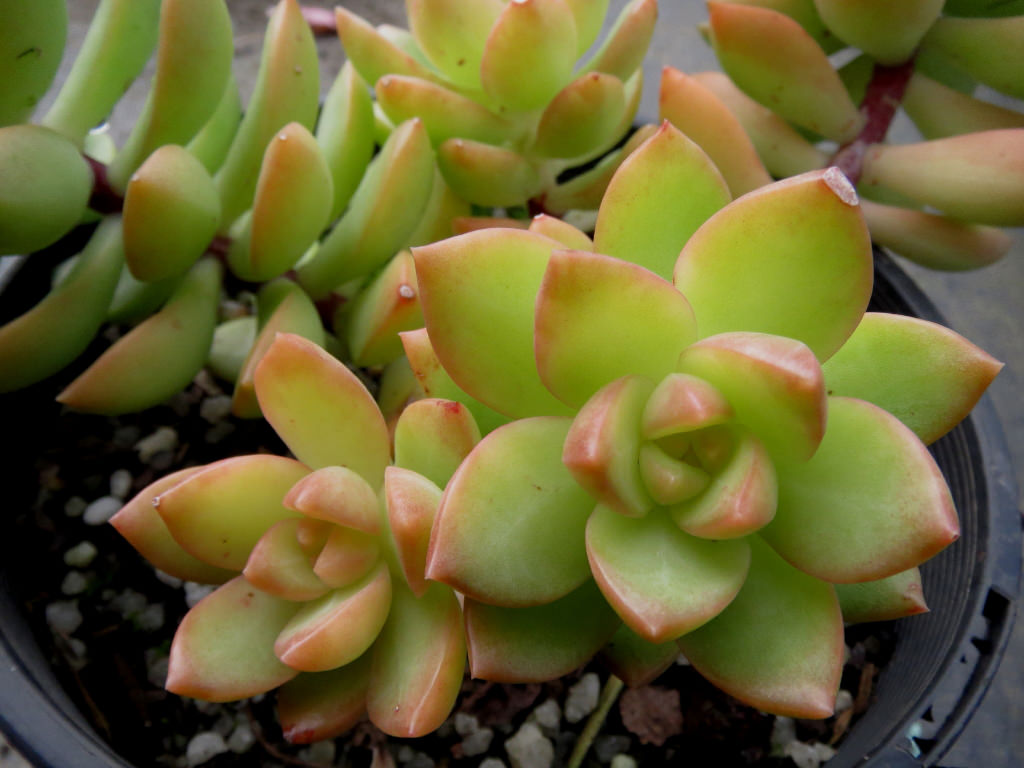 How to Grow and Care for Sedum 'Golden Glow'
Light: This succulent grows best in locations where it will enjoy the full sun for at least six hours per day. It will tolerate partial shade but will not thrive in deep shade. Keep your indoor plant in a sunny window or under artificial lights.
Soil: S. 'Golden Glow' does not like to sit in waterlogged soil, so drainage is essential to prevent root rot. Choose a well-draining soil mix.
Hardiness: This plant is tolerant of heat and freezing temperatures. S. 'Golden Glow' can withstand temperatures as low as -40 to 30 °F (-40 to -1.1 °C), USDA hardiness zones 3a to 9b.
Watering: From spring through fall, water thoroughly and wait for the soil to dry out before watering again. In winter, water just enough to keep your plant from shriveling. Avoid wetting the leaves, stems, and flowers when watering.
Fertilizing: Feed with a balanced organic fertilizer in spring. Feeding is unnecessary as long the plant is divided annually and provided with fresh soil.
Repotting: Repot your plant when it outgrows its current pot by moving it out to a larger container to hold the plant better. Spring is the best time to repot S. 'Golden Glow'. Make sure the soil is dry before you begin repotting.
Propagation: Once you have one S. 'Golden Glow', it is easy to make more by taking stems or leaf cuttings and dividing the plant. It is also easy to grow from seed. Take cuttings in spring when the plant is in active growth. Once it has finished flowering, it is the right time for division. Spring or summer is the best time to sow the seeds.
Learn more at How to Grow and Care for Sedum.
Toxicity of Sedum 'Golden Glow'
S. 'Golden Glow' is not listed as toxic for people but can be mildly toxic to pets and children.
Links
Photo Gallery
Click on a photo to see a larger version.