Salicornia europaea, commonly known as Glasswort, Marsh Samphire, Sea Pickle, and Sea Asparagus, traditionally grows along the coast.
Once described as the poor man's Asparagus, this is now fast becoming a trendy garnish in many of the gourmet restaurants. That said, this is a fantastic vegetable in its own right or can be made into a wonderful pickled vegetable.
This is not something "new," in his writings, Shakespeare referred Salicornia europaea growing on the White Cliffs of Dover, and the workings of the Channel Tunnel were reclaimed into a new area of land called Samphire Hoe.
Growing Conditions
Grow it in a container on your window sill or in the open ground
Best watered with a saline solution (1 teaspoon of proper sea salt in a pint of water)
Prefers a light sandy soil (or well-drained) and a sunny position
Has a salty taste (surprise surprise!)
Culinary Uses
A great accompaniment to fish
Added to salad
Nice pickled or in vinegar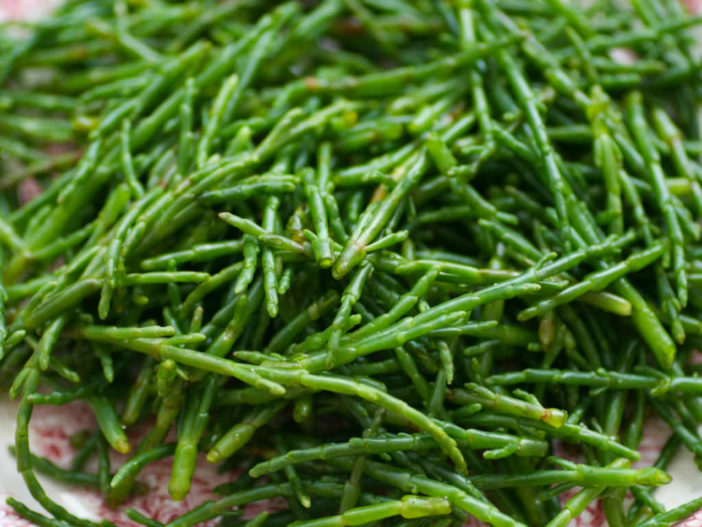 Medicinal Uses
A natural carminative, depurative and diuretic
A natural treatment for obesity
High in Vitamin C
Can aid digestion
Can relieve flatulence
It is thought to help kidney complaints
Other Uses
In the 14th Century, the ashes were used to make glass and soap.
Disclaimer
As with all alternative medicines and plants with purported medicinal benefits, it is important to inform your health care providers that you are using them. This helps to ensure safe and coordinated care. We can accept no liability for any side effect or contingency from any allergy or any other cause or harm that may arise. If in doubt, please do consult a medical practitioner before using it.
Source: victoriananursery.co.uk
Links