Scientific Name
Pachycereus schottii (Engelm.) D.R.Hunt
Common Name(s)
Old Man Cactus, Senita Cactus, Totem Pole Cactus, Whisker Cactus
Synonym(s)
Cereus schottii, Lophocereus schottii, Pilocereus schottii
Scientific Classification
Family: Cactaceae
Subfamily: Cactoideae
Tribe: Pachycereeae
Genus: Pachycereus
Description
Pachycereus schottii, also known as Lophocereus schottii, is a slow-growing, usually trunkless cactus that forms clumps of numerous columnar stems with 5 to 8 ribs, mainly branching at or near the base. The stems are green with red around young areoles, aging gray-green, and with faint waxy chevrons. They grow up to 13.1 feet (4 m) tall and 6.4 inches (16 cm) in diameter. The top portion of the mature stems is covered with hairlike, strongly twisted, and up to 4 inches (10 cm) long bristles. In contrast to the long spines at the top of mature stems, the young plants have only about five short conical spines.
The nocturnal flowers are short funnelform, up to 1.8 inches (4.5 cm) long and 1.2 inches (3 cm) in diameter, and often appear several per areole, usually in summer. Outer tepals are white with a greenish center. Inner tepals are white with a pink-orange center. The fruits are greenish when immature, turn candy apple red when they are ripe, and contain tiny blackish seeds. They are egg-shaped to subspherical and up to 1.6 inches (4 cm) in diameter.
Origin
Pachycereus schottii is native to the southwest United States (southern Arizona) and northwestern Mexico (Baja California and Sonora).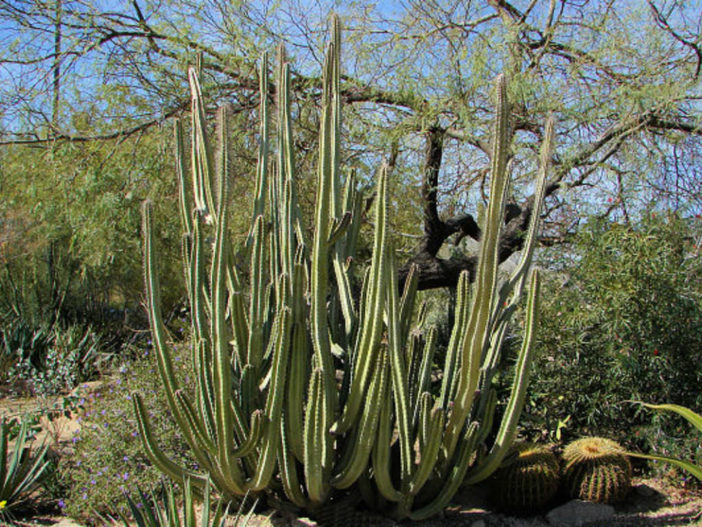 Hardiness
USDA hardiness zones 8b to 11b: from 15 °F (−9.4 °C) to 50 °F (+10 °C).
How to Grow and Care
These extraordinarily low-maintenance plants can grow untouched for decades, so there is not much you need to worry about. However, they must receive adequate sun and heat and be careful around their spines. If grown in containers, ensure they are being repotted, and their soil isn't too moist. Other than that, these plants are about as simple and hands-off as it gets.
If you cultivate a small specimen in a container, repotting it can be helpful. If so, repot it as you would any other cactus by removing it from the pot, removing any dead material from the roots, and replanting. Watch out for the plant's spines, as they can ruin your day.
Like most cacti and succulents, these plants propagate by cuttings. Sever a branch and replant in well-drained soil. Make sure to stand the cactus up in an empty container to let its ends heal off before you replant it. This will keep its stems shaped right, and cacti with dried ends form roots more easily after planting.
Learn more at How to Grow and Care for Pachycereus.
Forms and Cultivars
Links
Photo Gallery
Click on a photo to see a larger version.