Scientific Name
Opuntia macrocentra Engelm.
Common Name(s)
Black-spined Prickly Pear, Long-spined Purplish Prickly Pear, Purple Prickly Pear, Black-spine Prickly Pear, Blunt-spine Prickly Pear, Long-spined Prickly Pear, Long-spine Prickly Pear, Martin's Blunt-spine Prickly Pear, Purple-tinged Prickly Pear, Reddish-purple Prickly Pear
Synonym(s)
Opuntia violacea var. macrocentra

Scientific Classification
Family: Cactaceae
Subfamily: Opuntioideae
Tribe: Opuntieae
Genus: Opuntia
Description
Opuntia macrocentra is a shrubby cactus with erect to decumbent branches composed of flat green pads with purple near areoles and margins and long dark spines, usually only on the uppermost areoles. It grows up to 3.3 feet (1 m) tall. The purple color becomes more evident under drought or cold stress. The pads are rounded, up to 8 inches (20 cm) in diameter, and usually slightly wider than long. The areoles bear 1 to 4 reddish-brown to almost black, at least basally, central spines and many reddish-brown to yellow glochids. The spines are up to 4.8 inches (12 cm) long.
Flowers are yellow with a bright red center and appear in spring and summer. They are up to 3.2 inches (8 cm) long and nearly equal in diameter. Fruits are spineless, red to purplish, obovoid to barrel-shaped, up to 1.6 inches (4 cm) long and up to 1.2 inches (3 cm) in diameter, and contain pale purple pulp and yellowish seeds.
Origin
Opuntia macrocentra is native to native to the United States (Arizona, New Mexico, Texas) and northern Mexico (Sonora, Chihuahua, Coahuila, and Durango). It grows on sandy desert flats, rocky hills, or valley grasslands at elevations from 2,000 to 5,000 feet (610 to 1,520 m).
Etymology
The specific epithet "macrocentra (mak-roh-SEN-truh)" means "large centers" and refers to the long central spines in areoles on the upper one-fourth to one-half of the pads or only on the upper margin.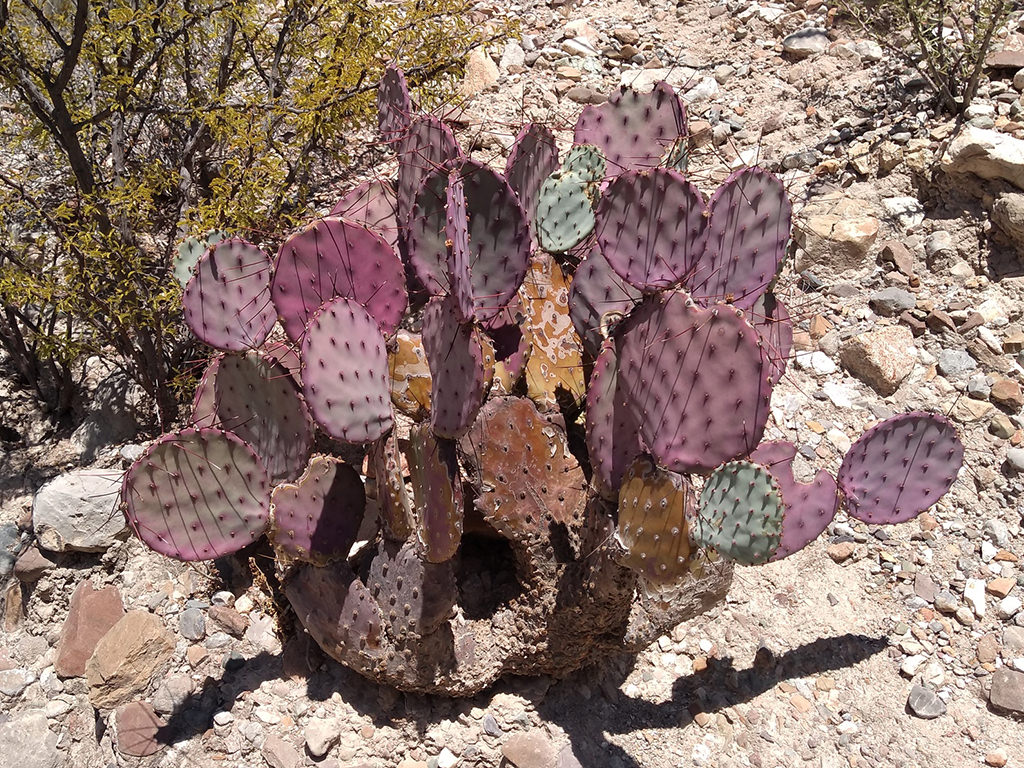 How to Grow and Care for Opuntia macrocentra
Light: O. macrocentra thrives in full sun. Indoors, a window with access to sunlight for 6 hours a day works best. Some shade during midday and afternoon can prevent sunburn in very hot climates.
Soil: This cactus requires a soil mix that drains well. It prefers sandy or gravelly soil, but it can tolerate other soil types as long as there is good drainage. Use a commercial cactus potting mix, or create your own.
Temperature: Extremely tolerant of high temperatures, this cactus prefers cooler temperatures in winter. O. macrocentra can withstand temperatures as low as 10 °F (-12.2 °C). USDA Plant Hardiness Zones 8a to 10b, 10 to 40 °F (-12.2 to 4.4 °C).
Watering: From spring to fall, water moderately and let the soil dry out completely before watering again. In most areas, rainfall will be enough for established plants. For a potted plant, never let the container sit in water. Suspend watering in winter.
Fertilizing: O. macrocentra does not need fertilizer when planted in the ground. However, in a container, the plant will benefit from fertilization during the growing season. Apply a water-soluble fertilizer. Suspend feeding during the winter when the plant goes dormant.
Repotting: Repot only when your O. macrocentra becomes potbound or is too large and unstable in its container. Choose a slightly larger container with drainage holes at the bottom. The best time for repotting is late winter or early spring.
Propagation: You can propagate O. macrocentra by stem cuttings (pads) or seeds. Starting this cactus from seeds is a slow process, and it may take 3 to 4 years before you have a substantial plant. Propagation by pads is the easiest method and yields faster results. The best time to take cuttings is early summer. Sow the seeds in late spring.
Learn more at How to Grow and Care for Opuntia.
Toxicity of Opuntia macrocentra
O. macrocentra is not toxic to humans or pets. However, keep it away from pets and children as it has glochids that may cause moderate skin irritation.
Links
Photo Gallery
Click on a photo to see a larger version.