Scientific Name
Jatropha integerrima Jacq.

Common Name(s)
Chaya, Cotton-leafed Jatropha, Firecracker, Peregrina, Rose-flowered Jatropha, Spicy Jatropha
Synonym(s)
Adenoropium hastatum, Adenoropium integerrimum, Adenoropium pandurifolium, Jatropha acuminata, Jatropha coccinea, Jatropha diversifolia, Jatropha diversifolia var. pandurifolia, Jatropha hastata, Jatropha integerrima var. coccinea, Jatropha integerrima var. hastata, Jatropha integerrima var. integerrima, Jatropha integerrima var. latifolia, Jatropha moluensis, Jatropha pandurifolia, Jatropha pandurifolia var. coccinea, Jatropha pandurifolia var. latifolia
Scientific Classification
Family: Euphorbiaceae
Subfamily: Crotonoideae
Tribe: Jatropheae
Genus: Jatropha
Origin
This species is native to the West Indies, mainly known from Cuba, and has become naturalized in many tropical and subtropical areas, including Africa, India, and North America.
Description
Jatropha integerrima is a dense shrub or small tree with erect, much-branched, dark brown, and somewhat striated stems with oblong to obovate leaves or often with a pair of small sharp lobes below the middle. It grows up to 16.4 feet (5 m) tall. Leaves are bronze colored with a brownish underside when young, becoming green and velvety on the upper surface and flecked with purple below. They are up to 6.1 inches (15.3 cm) long and 5 inches (12.5 cm) wide. Flowers are star-shaped, five-petaled, up to 1 inch (2.5 cm) across, deep red with yellow stamens, and appear in many-flowered clusters at ends of the branches almost all year round. Fruits are greenish-red, egg-shaped, explosively dehiscent capsules with cream seeds, mottled with red and black spots. They are up to 0.5 inches (1.3 cm) long and about 0.4 inches (1 cm) in diameter.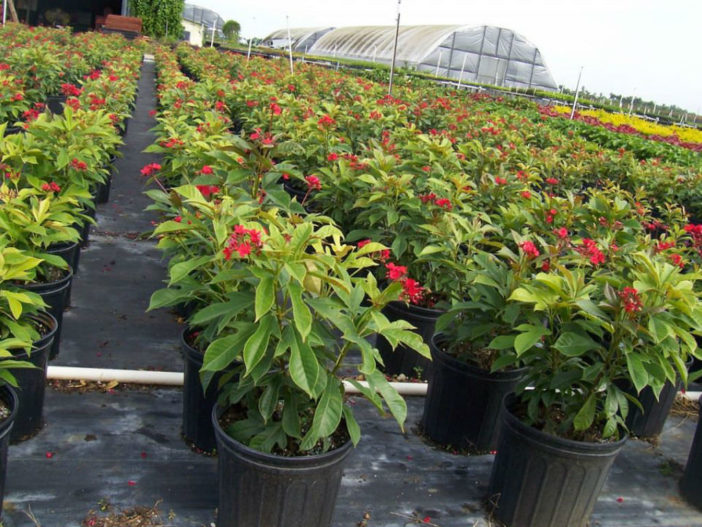 Hardiness
USDA hardiness zones 9b to 11b: from 25 °F (−3.9 °C) to 45 °F (+7.2 °C).
How to Grow and Care
The key to growing successful Jatropha is to achieve the proper balance between moisture and drainage. They typically appreciate a steady water supply, but the most popular species cannot tolerate being submerged or soaked and quickly succumb to root rot. Many popular species make excellent small trees for a conservatory or sunny corner. Keep them well-pruned, so they don't outgrow their space too soon. Jatrophas are vulnerable to pests, including aphids, mealy bugs, scale, and whitefly. If possible, identify the infestation as early as possible and treat it with the leave toxic option.
Jatropha can be propagated by seed or by stem cuttings. To take stem cuttings, remove a small piece of stem, dip it in rooting hormone, then put it into a small pot with seedling starter soil. Place in a warm, bright place and wait for new growth to emerge.
Repot Jatropha annually at the beginning of the growing season. Many species are naturally small shrubs that grow up to 15 feet (4.5 m) tall. To keep your indoor container plant manageable, trim it to size and possibly root prune older plants. The larger plants should be refreshed occasionally by removing the top several inches of potting soil and replacing it with fresh potting soil.
See more at How to Grow and Care for Jatropha.
Links
Photo Gallery
Click on a photo to see a larger version.