Scientific Name
Graptopetalum pentandrum Moran
Common Name(s)
Five-stamen Graptopetalum
Scientific Classification
Family: Crassulaceae
Subfamily: Sedoideae
Tribe: Sedeae
Subtribe: Sedinae
Genus: Graptopetalum
Origin
This species is native to Mexico. It grows on shady rock cliffs in Michoacán at 3,940 feet (1,200 m) above sea level. Graptopetalum pentandrum was described by Reid Moran in 1971 from material obtained by Myron Kimnach and Fred Boutin purchased in January 1970 at a nursery in Guadalajara in Jalisco from unknown provenance. In May 1973, Alfred B. Lau found the first wild population at El Salto, a waterfall 4 km north of Aguililla in Michoacan.
Description
Graptopetalum pentandrum is a succulent shrublet that forms rosettes of fleshy, pointed leaves at the ends of dull green, strongly woody stems branched mainly from the base. The rosettes are up to 3.2 inches (8 cm) in diameter. Stems are erect at first, later slightly decumbent, up to 6 inches (15 cm) long and 0.25 inches (0.6 cm) in diameter. Leaves are bluish-green, becoming yellowish-grey, and mainly with a lavender hue. They are up to 2.2 inches (5.5 cm) long and 0.8 inches (2 cm) wide.
Flowers are star-shaped, 5-merous, and have yellowish-white petals, basally with dark red markings and the upper half almost entirely dark red. They appear in thyrses with 3 to 4 slender, spreading, simple or scorpioid branches with 7 to 10 flowers each from late winter to early spring.
Etymology
The specific epithet "pentandrum (pen-TAN-drum)" means "five stamens" and refers to the flowers having only five stamens in clear contrast to the ten stamens of the others species of the genus Graptopetalum.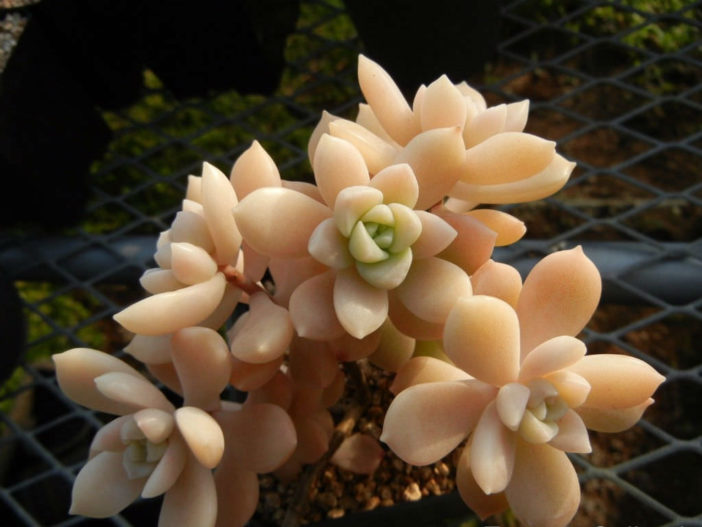 Hardiness
USDA hardiness zones 9b to 11b: from 25 °F (−3.9 °C) to 50 °F (+10 °C).
How to Grow and Care
The rules for Graptopetalum care are similar to those for most succulents. All require lots of sunlight to look their best. They require gritty, porous soil with excellent drainage. Water regularly over summer, letting the soil dry out between waterings. Minimal water is required over winter. Overwatering is a cause of root rots, and the plant can get several pest infestations. Fertilize once during the growing season with a balanced fertilizer diluted to 1/4 strength.
Graptopetalums are generally easily propagated by seeds, leaf cuttings, or offsets. Any rosette that breaks off can root and start a new plant. Even a leaf that drops off will quickly root below the parent plant and produce a new rosette. The new plant feeds off the leaf until it shrivels and falls off. By then, the new little plant had rooted and sprouted new leaves.
Learn more at How to Grow and Care for Graptopetalum.
Links
Photo Gallery
Click on a photo to see a larger version.