Glottiphyllum regium is the largest species of the genus. It is known locally as "koeispene," which means "cow nipples" in Afrikaans.
Scientific Name
Glottiphyllum regium N.E.Br.
Common Name(s)
Royal Tonguefig, Tongue-leaved Mesemb
Synonym(s)
Glottiphyllum compressum
Scientific Classification
Family: Aizoaceae
Subfamily: Ruschioideae
Tribe: Ruschieae
Genus: Glottiphyllum
Description
Glottiphyllum regium is a small succulent that forms a compact clump of leaves on short, branched stems. It can grow up to 5.2 inches (13 cm) tall and 6 inches (15 cm) in diameter. The leaves are bright green to yellowish-green, often with hints of red at the tips. They are erect, straight to slightly incurved, oblong to tongue-shaped, up to 4 inches (10 cm) long and 0.6 inches (1.5 cm) wide, and fused in pairs at the base. Each leaf pair is attached at a right angle above the previous one on the branch. The leaf tips vary from rounded to pointed.
In the fall and winter, the plant produces yellow flowers with up to 1.2 inches (3 cm) long stalk and narrow petals that spread up to 1.4 inches (3.5 cm) in diameter. The fruits are capsules with about seven to ten locules.
Origin
Glottiphyllum regium is native to South Africa. It grows on sandstone slopes or sandy loams in eastern Little Karoo from Calitzdorp to Oudtshoorn in the Western Cape province.
Etymology
The specific epithet "regium (REE-jee-um)" means "of or pertaining to a king; kingly, regal, royal."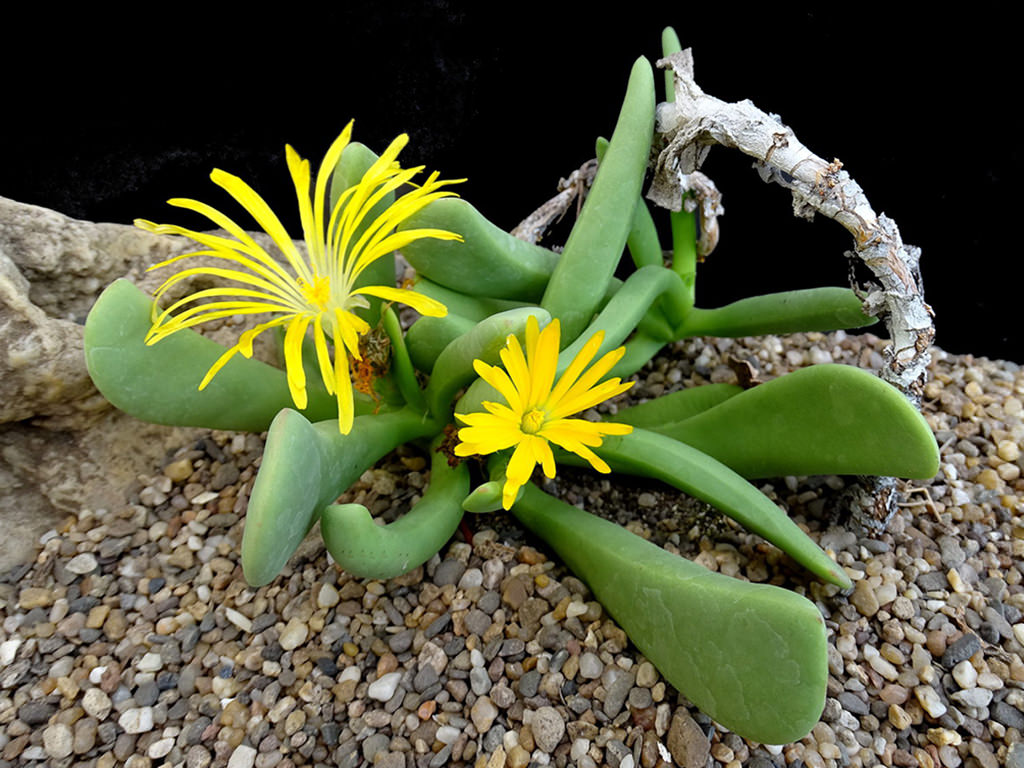 How to Grow and Care for Glottiphyllum regium
Light: Glottiphyllum regium requires bright light but not too much direct sunlight. So, a windowsill that receives 4 to 5 hours of direct sunlight in the morning and partial shade in the afternoon will be a perfect spot for indoor growing.
Soil: The plant thrives in porous soil, allowing the water to drain away quickly. Therefore, use commercial soil for succulents or make your own well-draining mix.
Temperature: High temperatures are not a problem as long as there is plenty of fresh air, but this plant is not cold-hardy. It grows best in USDA Plant Hardiness Zones 9b to 11b, with average minimum winter temperatures ranging from 25 to 50 °F (-3.9 to 10 °C).
Watering: To keep Glottiphyllum regium healthy, it is most important to know when, how much, and how often to water. During the dormant period, usually in summer, the plant requires little or no water. In the fall, once it grows again, water thoroughly but allow the soil to dry between waterings.
Fertilizing: As long as you repot this plant every two years, it does not need fertilizer.
Repotting: Even if it can stay happy in the same pot for years, once in a while, you can repot your plant to give it more space anytime during the growing season. However, the best time is at the beginning of the growing season.
Propagation: Although it is usually started from seeds, Glottiphyllum regium also can be easily propagated from stem cuttings during the growing season.
Learn more at How to Grow and Care for Mesembs.
Toxicity of Glottiphyllum regium
Glottiphyllum regium is considered non-toxic, so having it around kids and pets is safe.
Links
Photo Gallery
Click on a photo to see a larger version.