Echinocereus polyacanthus is a variable species, and there is confusion about recognizing infraspecific taxa or not.
Scientific Name
Echinocereus polyacanthus Engelm.
Common Name(s)
Giant Claret Cup Cactus, Mojave Mound Cactus, Salmon-flowered Hedgehog
Synonym(s)
Cereus polyacanthus, Echinocereus triglochidiatus subsp. polyacanthus, Echinocereus triglochidiatus var. polyacanthus
Scientific Classification
Family: Cactaceae
Subfamily: Cactoideae
Tribe: Pachycereeae
Genus: Echinocereus
Description
Echinocereus polyacanthus is a small cactus that can grow as a solitary stem or branched, often forming a clump of up to 400 stems in its native habitat. The stems are bright to dark green, upright, cylindrical, and have 9 to 13 well-defined ribs lined with clusters of stout spines. They can grow up to 12 inches (30 cm) tall and 0.3 inches (7.5 cm) in diameter, tapering toward the tips and bases. Each areole bears 1 to 7 central and 6 to 17 radial spines. The central spines are brown to yellow-brown, becoming ashy gray or darkened as they age, and can grow up to 2 inches (5 cm) long. The radial spines are whitish or reddish, often overlapping, and up to 0.8 inches (2 cm) long.
During spring, tubular to funnel-shaped flowers appear near stem tips. The flowers can reach a length of 5.6 inches (14 cm) and a diameter of 3.2 inches (8 cm). They have crimson, scarlet, pink, or orange tepals with yellow to white centers. The fruits are egg-shaped, green with white pulp, and remain closed at maturity.
Origin
The native range of Echinocereus polyacanthus is from Arizona and New Mexico in the United States, south through northern and central Mexico (Chihuahua, Coahuila, and Durango) and into the Baja California Peninsula.
Etymology
The specific epithet "polyacanthus (pol-lee-uh-KAN-thus)" means "having many spines or thorns; polyacanthous" and refers to the distribution of the spines on the stems.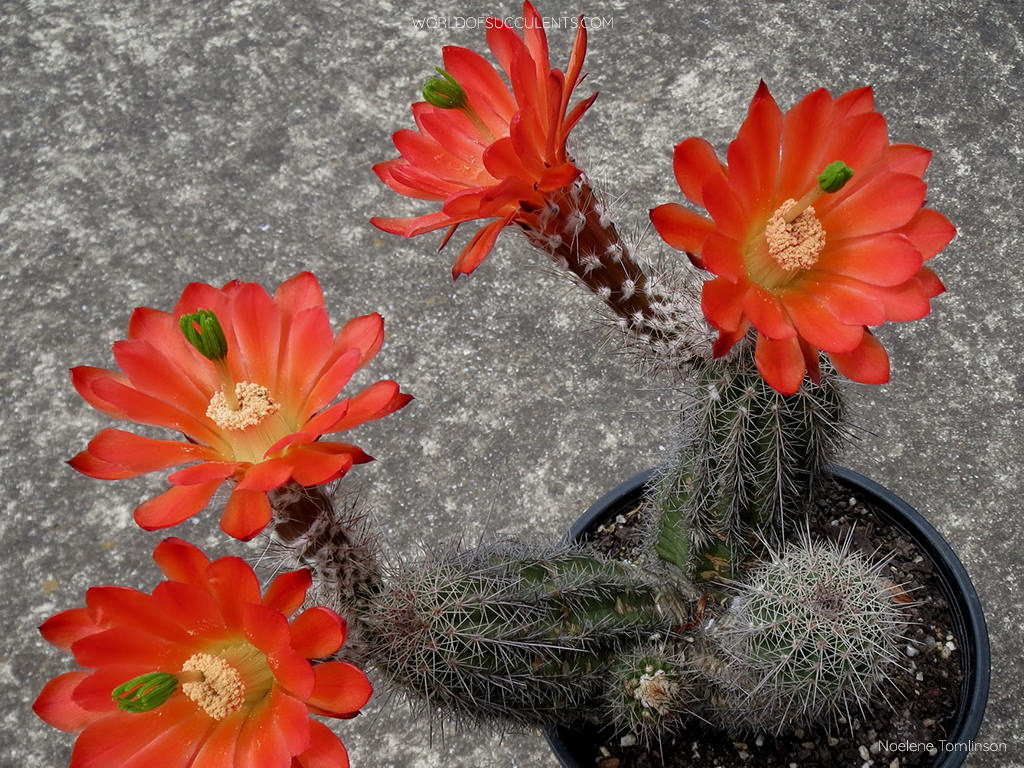 How to Grow and Care for Echinocereus polyacanthus
Light: Although it can tolerate partial shade, Echinocereus polyacanthus thrives in full sun. If growing indoors, place it on a sunny window and rotate the pot a quarter turn every week or two to ensure balanced growth. If possible, move the plant outdoors from spring to fall.
Soil: Good drainage is essential for the health of this cactus as it does not like to have "wet feet." Use commercial soil mixes for cacti or make your own well-draining soil.
Hardiness: Echinocereus polyacanthus prefers warmer temperatures during its growing season and cooler temperatures during winter when it is dormant. It grows best in USDA Plant Hardiness Zones 9b to 11b, with average minimum winter temperatures ranging from 25 to 50 °F (-3.9 to 10 °C).
Watering: Water thoroughly from spring to fall, allowing the soil to dry out between waterings. Gradually reduce the watering frequency in the fall. When it is dormant in winter, water the plant only enough to prevent shrinking.
Fertilizing: For optimal growth, use water-soluble fertilizer diluted to 1/4 strength, ideally a balanced 10-10-10 formula. Do not fertilize in the winter.
Repotting: When young, repot Echinocereus polyacanthus each year in early spring. Once mature, repot it only when it outgrows its pot.
Propagation: This cactus can be propagated either by offsets or seed. The best time to remove offsets is spring and summer, while late spring and early summer are ideal for sowing seeds.
Learn more at How to Grow and Care for Echinocereus.
Toxicity of Echinocereus polyacanthus
Echinocereus polyacanthus is considered non-toxic to humans or animals.
Links
Photo Gallery
Click on a photo to see a larger version.