Scientific Name
Conophytum calculus (A. Berger) N. E. Br.
Common Name(s)
Button Plants, Cone Plants, Dumplings, Living Pebbles, Marble Buttons
Synonym(s)
Conophytum calculus subsp. calculus, Mesembryanthemum calculus
Scientific Classification
Family: Aizoaceae
Subfamily: Ruschioideae
Tribe: Ruschieae
Genus: Conophytum
Description
Conophytum calculus is a dwarf succulent with two leaves fused into a spherical body that multiplies with age to form a dense clump. The bodies are up to 1 inch (2.5 cm) in diameter. They are smooth, chalky-green to pale yellowish-green, and always without any spot. New leaves are formed inside the existing ones, and when, after a year, the leaf body starts to die, a new one emerges from inside. The old leaf becomes a thin, dry, smooth, beige-colored, sometimes black sheath that persists on the body before it is split open by the new leaf pair.
The flowers are up to 0.5 inches (1.2 cm) in diameter, with golden yellow to dark orange petals, and appear in fall, opening at night.
Origin
Conophytum calculus is endemic to the winter rainfall regions of the Cape provinces of South Africa and the southern part of Namibia.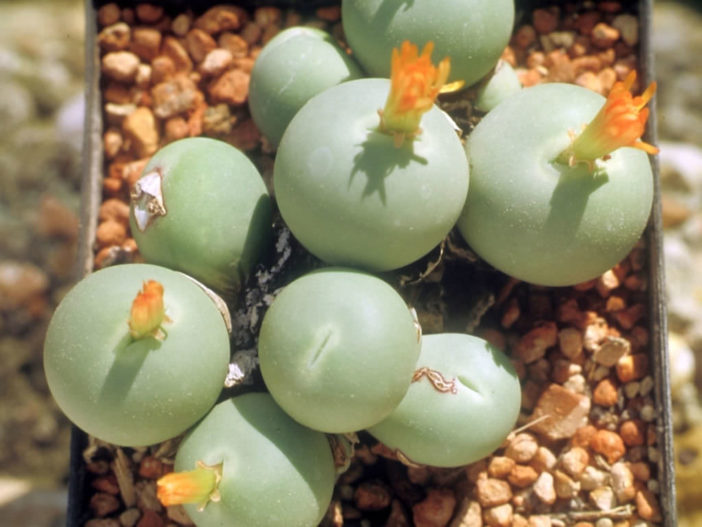 Hardiness
USDA hardiness zones 10b to 11b: from 35 °F (+1.7 °C) to 50 °F (+10 °C).
How to Grow and Care
Most Conophytums need bright light but do not like too much intense sunlight. To avoid sunburn, place them in a position to receive a few hours of full sun in cooler periods of the day.
These plants thrive best in a porous growing medium that will drain quickly. Use commercial succulent soil mix specially designed for growing succulents, or make your own.
When Conophytums go dormant in the spring, they require little or no water. When plants begin growing in the fall, it is safe to water deeply, allowing the soil to dry before watering again.
Conophytums are light feeders and do not need fertilizer if repotted every two years. It is best to feed at the beginning of the growth period and just before flowering.
These succulents will benefit from repotting. Depending on the pot's size and growth rate, they typically need to be repotted every 2 to 4 years. The best time to repot a Conophytum is at the beginning of the growing season.
Conophytums are easily propagated by division. They can also be grown from seeds.
Learn more at How to Grow and Care for Conophytum.
Links
Photo Gallery