Scientific Name
Cereus fernambucensis Lem.
Synonym(s)
Cactus undulosus, Cereus affinis, Cereus brandii, Cereus caesius, Cereus cognatus, Cereus fernambucensis subsp. fernambucensis, Cereus fernambuscensis, Cereus glaucus, Cereus glaucus var. speciosus, Cereus hexangularis, Cereus laetevirens, Cereus laetevirens var. caesius, Cereus laetus, Cereus pernambucensis, Cereus pitajaya, Cereus prismatiformis, Cereus pseudocaesius, Cereus quadrangularis, Cereus salm-dyckianus, Cereus trigonus, Cereus variabilis var. glaucescens, Cereus variabilis var. laetevirens, Cereus variabilis var. micracanthus, Cereus variabilis var. obtusus, Cereus variabilis var. salm-dyckianus
Scientific Classification
Family: Cactaceae
Subfamily: Cactoideae
Tribe: Cereeae
Genus: Cereus
Origin
This species is native to eastern and northeastern Brazil.
Description
Cereus fernambucensis, also known as Cereus pernambucensis, is a cactus with thick, fleshy, erect or semi-prostrate stems with 3 to 8, usually 5, ribs lined with clusters of stout spines. It grows up to 6.6 feet (2 m) tall with a spread of 16.4 feet (5 m). Each areole bears one up to 2.2 inches (5.5 cm) long central spine and 4 to 7 shorter radial spines. The big sweet-scented flowers are white and funnel-shaped with a long tube and many petals. They appear in summer and open at night. The edible fruits are red and have a waxy and thick peel with no spines.
Etymology
The specific epithet "fernambucensis (fer-nahm-boo-KEN-sees)" has an uncertain meaning. Apparently, it was mistakenly applied when the plant name was first published. Theoretically, "fernambucensis" is a typo of what was originally meant to be "pernambucensis," which means "from Pernambuco" and refers to the state of Pernambuco in northeastern Brazil. To complicate matters further, the name of this species has also been misspelled as Cereus fernambuscensis.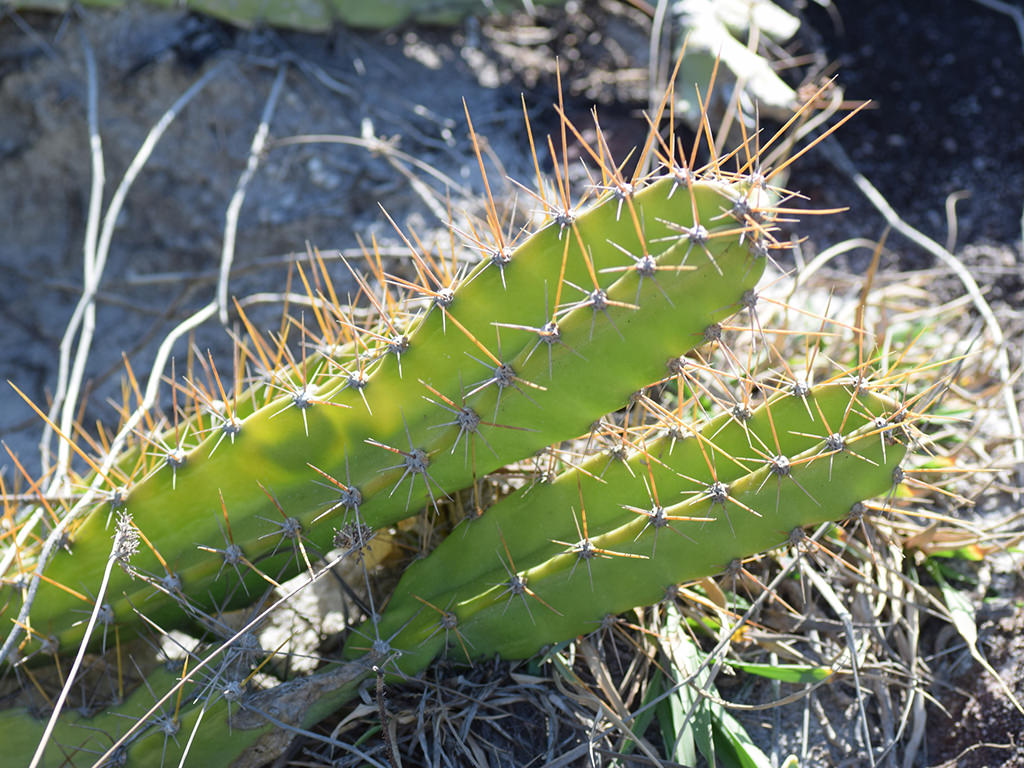 How to Grow and Care for Cereus fernambucensis
Light: This cactus likes full sun. It can handle partial shade but thrives in direct sunlight during the summer. A sunny window is a good spot to grow C. fernambucensis indoors. Rotate the pot a quarter turn every week or two to encourage balanced growth. If possible, get your cactus outdoors from spring to fall.
Soil: C. fernambucensis does not like to have "wet feet" and needs to be grown in well-draining soil. Use commercial soil mixes for cacti or make your own mix.
Hardiness: During the active growth period, this cactus likes warm temperatures, while in winter, it likes cooler temperatures. C. fernambucensis can withstand temperatures as low as 25 to 50 °F (-3.9 to 10 °C), USDA hardiness zones 9b to 11b.
Watering: From spring to fall, water thoroughly, but allow the soil to dry out before watering again. With the arrival of fall, gradually reduce the watering frequency. During the winter, when C. fernambucensis is dormant, give it just enough water to prevent shrinking.
Fertilizing: During its growing season, this cactus likes regular fertilizing. A balanced, water-soluble fertilizer, diluted to 1/4 strength, can be added to the water for each watering. A 10-10-10 fertilizer is ideal. Instead of making a solution of water and fertilizer, there are also dry fertilizers. Do not fertilize during the winter.
Repotting: While C. fernambucensis is young, it is recommended to repot each year in early spring. Once it matures, repot when your cactus is outgrowing its pot.
Propagation: Using stem cuttings is the easiest method to propagate C. fernambucensis because seed propagation is a slow process. Planting of the cuttings is best done when the cactus is actively growing. Spring and summer is the best time to sow the seeds.
Learn more at How to Grow and Care for Cereus.
Toxicity of Cereus fernambucensis
C. fernambucensis is non-toxic to humans or animals.
Links
Photo Gallery
Click on a photo to see a larger version.