Scientific Name
Blossfeldia liliputana Werderm.
Based on the rules and recommendations of the International Code of Botanical Nomenclature, the spelling of the species name "liliputana" is an orthographic error and needs to be corrected to "liliputiana." No official change has been made for now.
Synonyms
Blossfeldia atroviridis, Blossfeldia campaniflora, Blossfeldia cryptocarpa, Blossfeldia fechseri, Blossfeldia liliputiana, Blossfeldia minima, Blossfeldia pedicellata, Parodia liliputana 
Scientific Classification
Family: Cactaceae
Subfamily: Cactoideae
Tribe: Notocacteae
Genus: Blossfeldia
Description
Blossfeldia liliputana, also known as Blossfeldia liliputiana, is the world's smallest known cactus. Its species name is a reference to the imaginary country of tiny inhabitants in Swift's Gulliver's Travels. It is a solitary or clumping cactus with stems that typically grow to only 0.5 inches (1.3 cm) in diameter. The stems are grey-green, disk-shaped, with tufts of wool and without ribs and spines. Flowers are white or pink, up to 0.6 inches (1.5 cm) long and up to 0.3 inches (0.7 cm) diameter.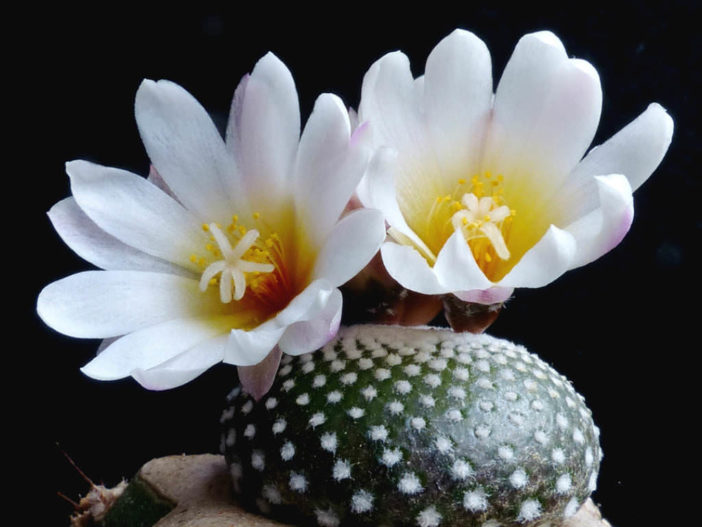 Hardiness
USDA hardiness zone 8b to 10b: from 15 °F (−9.4 °C) to 40 °F (+4.4 °C).
How to Grow and Care
The Blossfeldia is much easier to grow when grafted. Because of their slow growth rate, Blossfeldias are often grafted, which causes them to grow very fast and offset heavily but lose their characteristic disc-like shape, becoming quite globular and bloated. In this case, the minimum temperatures acceptable should take into account the requirements for the rootstock.
Water during the growing period. The thin, fibrous roots suffer if there is humidity. Therefore, the plant should be watered when the surrounding terrain is dry. But avoid wetting the bodies of these plants while they are in sunlight. A wet plant in the sunlight can cause sun burning, which can lead to scars or even fungal infections and death. Keep dry as soon as the temperature starts dropping in October and keep it perfectly dry in winter at temperatures from 40 to 60 °F (5 to 15 °C). Preferable not to water on overcast days, humid days, or cold winter days. See more at: How to Grow and Care for Blossfeldia
Origin
Native to South America in northwestern Argentina (Jujuy, Salta, Tucumán and Catamarca Provinces) and southern Bolivia (Potosí Department).
Links
Photo Gallery
Photo via pinterest.com
Subscribe now and be up to date with our latest news and updates.