Scientific Name
Agave obscura Schiede ex Schltdl.
Common Name(s)
Century Plant, Dark-flowered Agave, Hardy Century Plant, Red-flowered Hardy Agave, Whale's Tongue Agave
Synonym(s)
Agave densiflora, Agave polyacantha var. densiflora, Agave polyacantha var. xalapensis, Agave xalapensis
Scientific Classification
Family: Asparagaceae
Subfamily: Agavoideae
Genus: Agave
Origin
This subspecies is native to Mexico Mexico (from San Luis Potosí to Oaxaca). It grows mainly in oak and pine-oak forests or on volcanic lava flows with pines at elevations from 4,000 to 8850 feet (1,200 – 2,700 m).
Description
Agave obscura is a stemless succulent that forms a large rosette of broad green leaves with red toothed margins and an extended apical spine. The rosette grows up to 3.3 feet (1 m) in diameter. Leaves are broadly linear to ovate, up to 16 inches (40 cm) long and 3.2 inches (8 cm) wide. Flowers are dark purple, red, or yellow, up to 1.6 inches (4 cm) long, and appear densely arranged in a spiral at the upper fourth of a slender, up to 16.4 feet (5 m) tall inflorescence. The rosette dies after flowering. However, it sometimes produces several young rosettes around its base that will develop as new plants.
Etymology
The subspecific epithet "obscura (ob-SKEW-ruh)" is the feminine form of the Latin adjective "obscurus," meaning "dark, dusky, shadowy," and refers to the dark purple or red flowers of the species.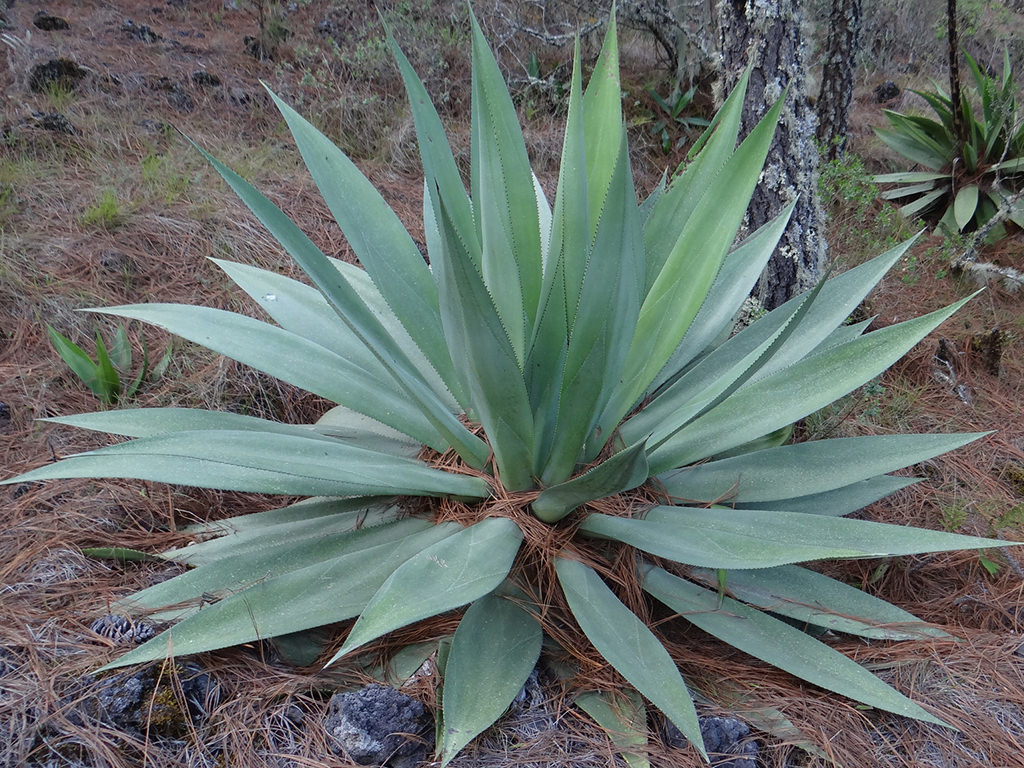 How to Grow and Care for Agave obscura
Light: Like all Agaves, this plant requires full sun to partial shade. If growing A. obscura indoors, choose a bright, sunny window with as much sun as possible. From spring to fall, it loves going outside.
Soil: A. obscura will tolerate most soils as long as they have good drainage, but its preference is sandy or rocky soil.
Temperature: During the growing season, it likes warm temperatures, while in winter, when resting, this succulent enjoys cooler temperatures. A. obscura can withstand temperatures as low as 5 °F (-15 °C). USDA Plant Hardiness Zones 7b to 11b, 5 to 50 °F (-15 to 10 °C).
Watering: From spring to fall, water thoroughly when the soil becomes dry. In winter, water sparingly about once a month. Plants in containers require more frequent watering than those in the ground.
Fertilizing: Give your A. obscura a small amount of fertilizer in the spring during the first two years. After that, established plants seem to take care of themselves.
Repotting: If you notice your A. obscura becoming pot-bound, repot it with fresh soil in a new pot that is just slightly larger than the old one. Give the plant a week or so to readjust before you water it again.
Propagation: A. obscura is usually propagated by seeds, or offsets sometimes produced during the flowering process. Sow the seeds in spring. The best time to remove the offsets is in spring and summer.
Learn more at How to Grow and Care for Agave.
Toxicity of Agave obscura
A. obscura is not toxic to humans, but it may be mildly poisonous to children and pets.
Links
Photo Gallery
Click on a photo to see a larger version.