Scientific Name
Agave chiapensis Jacobi
Synonym(s)
Agave teopiscana
Scientific Classification
Family: Asparagaceae
Subfamily: Agavoideae
Genus: Agave
Origin
This species is native to Mexico. It occurs in Oaxaca and Chiapas, growing on limestone cliffs in pine-oak forests at elevations from 2,950 to 8,200 feet (900 to 2500 m).
Description
Agave chiapensis is a succulent plant that forms rosettes of bright green to glaucous green leaves with dark brown to greyish, deltoid teeth along the margins and a strong terminal spine. The rosettes grow up to 2 feet (60 cm) tall and 3.3 feet (1 m) in diameter. Leaves are variable in shape but tend toward the ovate. They are up to 20 inches (50 cm) long and 6.4 inches (16 cm) wide. The marginal teeth are either small, about 0.15 inches (0.4 cm) long, and closely spaced, or larger, up to 0.4 inches (1 cm) long, and further apart. The terminal spine is up to 1.4 inches (3.5 cm) long. Flowers are up to 3.8 inches (7 cm) long, yellow or green, flushed with red or purple, and appear densely clustered on an unbranched, up to 6 feet (1.8 m) tall stalk, usually in spring or summer.
Etymology
The specific epithet "chiapensis (chee-ah-PEN-sis)" means "of or from Chiapas" and refers to Chiapas, the southernmost state in Mexico.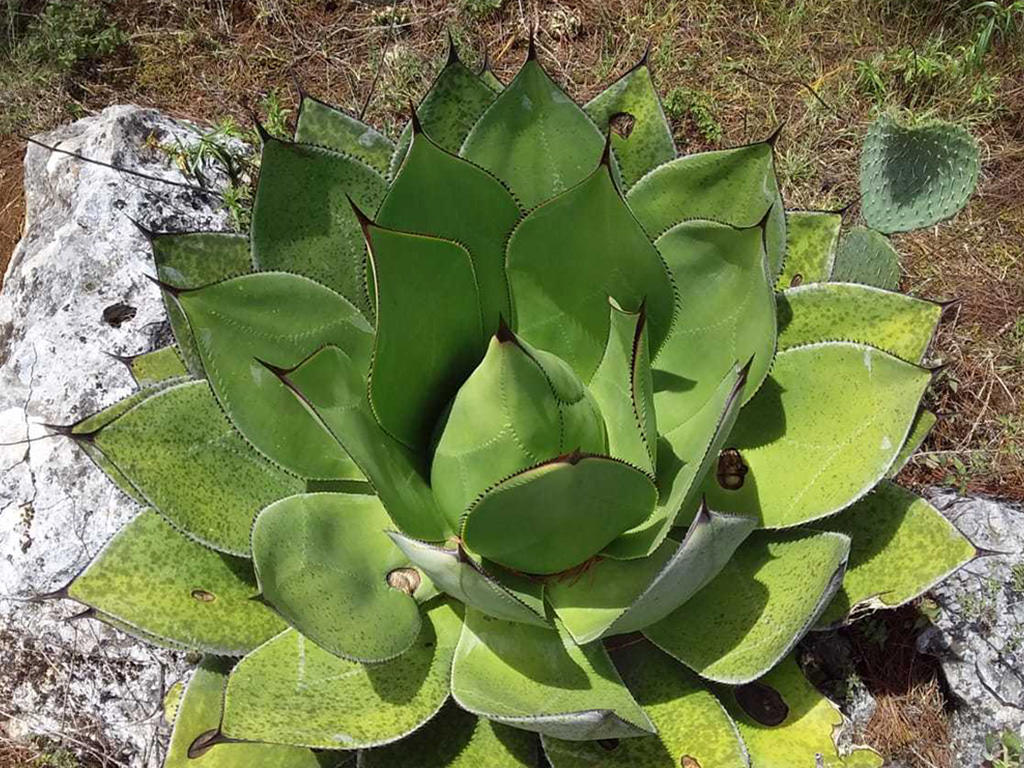 How to Grow and Care for Agave chiapensis
Light: Like all Agaves, this plant requires full sun to partial shade. If growing A. chiapensis indoors, choose a bright, sunny window with as much sun as possible. From spring to fall, it loves going outside.
Soil: A. chiapensis will tolerate most soils as long as they have good drainage, but its preference is sandy or rocky soil.
Temperature: During the growing season, it likes warm temperatures, while in winter, when resting, this succulent enjoys cooler temperatures. A. chiapensis can withstand temperatures as low as 30 °F (-1.1 °C). USDA Plant Hardiness Zones 10a to 11b, 30 to 50 °F (-1.1 to 10 °C).
Watering: From spring to fall, water thoroughly when the soil becomes dry. In winter, water sparingly about once a month. Plants in containers require more frequent watering than those in the ground.
Fertilizing: Give your A. chiapensis a small amount of fertilizer in the spring during the first two years. After that, established plants seem to take care of themselves.
Repotting: If you notice your A. chiapensis becoming pot-bound, repot it with fresh soil in a new pot that is just slightly larger than the old one. Give the plant a week or so to readjust before you water it again.
Propagation: Since it can take years to produce seeds, A. chiapensis is usually propagated by offsets. The best time to remove the offsets is in spring and summer. Sow the seeds in spring.
Learn more at How to Grow and Care for Agave.
Toxicity of Agave chiapensis
A. chiapensis is not toxic to humans, but it may be mildly poisonous to children and pets.
Links
Photo Gallery
Click on a photo to see a larger version.