Scientific Name
Yucca thompsoniana Trel.
Common Name(s)
Beaked Yucca, Thompson's Yucca, Trans Pecos Yucca
Synonym(s)
Yucca rostrata var. integra
Scientific Classification
Family: Asparagaceae
Subfamily: Agavoideae
Genus: Yucca
Origin
Yucca thompsoniana is native to Mexico and the United States. It occurs on limestone hills, rocky slopes, and plains at about 5,900 feet (1,000 m) above sea level, mainly in the Mexican states of Coahuila and Chihuahua but also north of the border in the United States (Texas).
Description
Yucca thompsoniana is a slow-growing plant with dagger-like leaves arranged in a rosette at the top of an erect trunk that reaches 3.3 feet (1 m) in height and 8 inches (20 cm) in diameter. The trunk is usually unbranched but may have 1 to 3 branches. The greenish-blue, a bit glaucous leaves have fine teeth along the edges. They are up to 14 inches (35 cm) long and up to 0.4 inches (1 cm) wide. The older leaves hangs down neatly like a coat around the trunk.
The plant bloom before there is any trunk. Flowers are creamy-white, bell-shaped, and up to 1.6 inches (4 cm) long. They appear in dense panicles on slender, up to about 3.3 feet (1 m) tall stalks in spring. Fruits are dry, egg-shaped capsules with dull black seeds.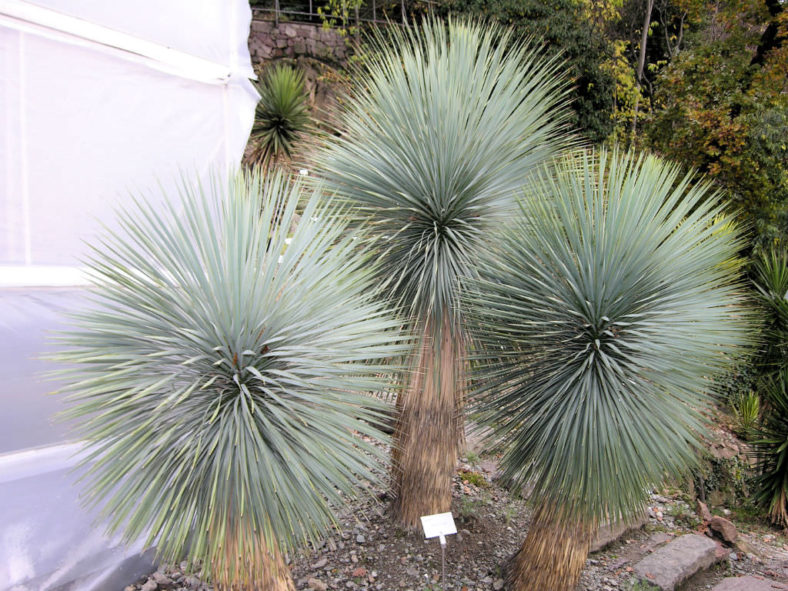 Hardiness
USDA hardiness zone 7b to 11b: from 5 °F (−15 °C) to 40 °F (+4.4 °C).
How to Grow and Care
Under the right conditions, Yuccas are not difficult plants to grow. They tend to thrive on a bit of neglect rather than too much attention. They are especially easy to overwater, and soggy stems are a sign of too much water. The best conditions for Yucca include a sunny corner with relatively low humidity. They are not prone to many pests, although scale can be an issue. Over time, plants will typically lose their lower leaves (in nature, they droop, forming a skirt around the trunk), giving the plant a pleasant "tree-like" appearance.
Yuccas are relatively slow-growing plants that should only need to be repotted every other year. They do well, slightly pot-bound, as long as they don't become heavy enough to tip over their containers.
See more at How to Grow and Care for Yucca.
Links
Photo Gallery
Click on a photo to see a larger version.