Scientific Name
Sedum aetnense Tineo
Synonym(s)
Macrosepalum aetnense, Macrosepalum tetramerum, Macrosepalum turkestanicum, Sedum aetnense subsp. aetnense, Sedum aetnense subsp. tetramerum, Sedum aetnense var. tetramerum, Sedum albanicum, Sedum ekimianum, Sedum erythrocarpum, Sedum skorpilii, Sedum tetramerum, Sedum turkestanicum
Scientific Classification
Family: Crassulaceae
Subfamily: Sempervivoideae
Tribe: Sedeae
Genus: Sedum
Origin
Native to southern Europe, Turkey (Anatolia), Iran, and Near East. It occurs on basaltic rocks, mainly at elevations between 2,300 and 4,600 feet (700 and 1,400 m).
Description
Sedum aetnense is a small annual succulent with erect or ascending, usually simple stems covered with fleshy erect-appressed leaves. It grows up to 2.4 inches (6 cm) tall. Leaves are glaucous, dark green, or red-tinged. They are conical-oblong, up to 0.2 inches (0.5 cm) long, and often with ciliate or finely dentate margins. Flowers are 4- to 5-merous with white, sometimes red-tinged petals and yellowish or red anthers. They appear in summer in cymose inflorescences, usually consisting of one or in large specimens, often two or more cincinni.
Etymology
The specific epithet "aetnense (AN-yoo-um)" means "of or from Etna" and refers to Mount Etna, or simply Etna, one of the world's most active volcanoes on the east coast of Sicily in Italy, which is the type locality of the species.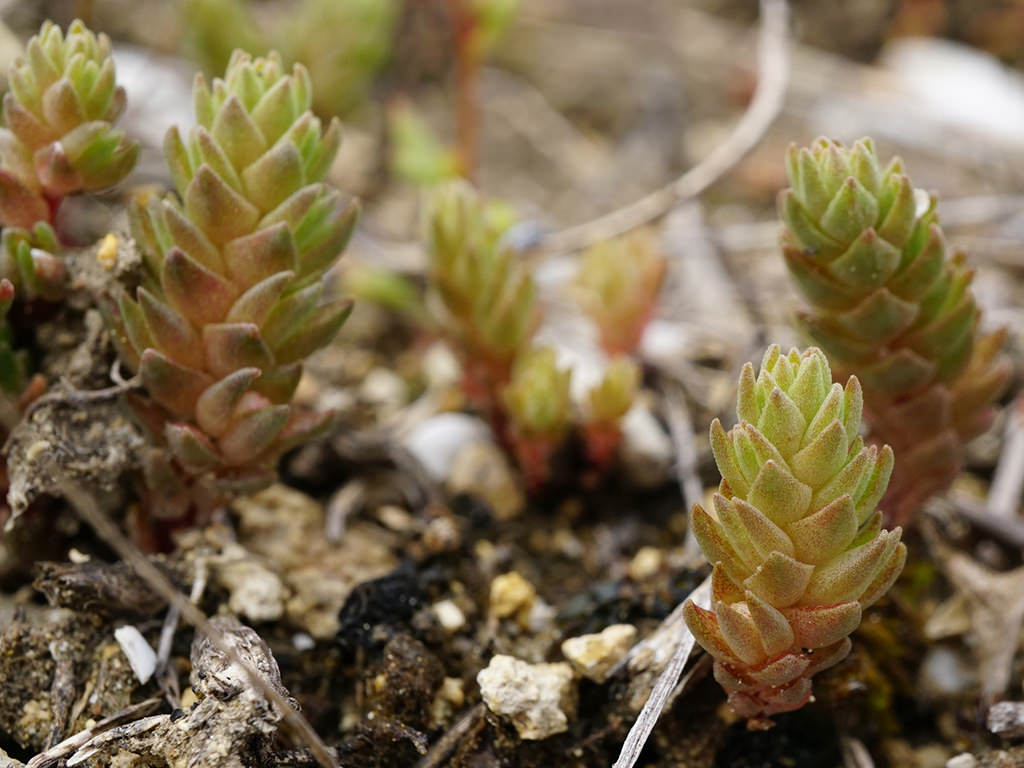 How to Grow and Care for Sedum aetnense
Light: Although widespread in the wild, S. annuum is not cultivated much. It grows best in locations where it will enjoy the full sun for at least six hours daily.
Soil: S. aetnense does not like to sit in waterlogged soil, so drainage is essential to prevent root rot. Choose a well-draining soil mix.
Watering: From spring through fall, water thoroughly and wait for the soil to dry out before watering again. Avoid wetting the leaves, stems, and flowers when watering.
Propagation: Since it grows as an annual plant, S. aetnense can be propagated only from seeds.
Learn more at How to Grow and Care for Sedum.
Toxicity of Sedum annuum
S. aetnense is not listed as toxic for people but can be mildly toxic to pets and children.
Links
Photo Gallery
Click on a photo to see a larger version.