Scientific Name
Phedimus subcapitatus (Hayata) S.S.Ying
Synonym(s)
Hylotelephium subcapitatum, Phedimus subcapitatum (incorrect name), Sedum subcapitatum
Scientific Classification
Family: Crassulaceae
Subfamily: Sempervivoideae
Tribe: Umbiliceae
Genus: Phedimus
Origin
This succulent is endemic to the high mountains of Taiwan at elevations of 9,800 to 12,800 feet (3,000–3,900 m).
Description
Phedimus subcapitatus, formerly known as Hylotelephium subcapitatum or Sedum subcapitatum, is a succulent plant with a woody rootstock and upright non-branching stems with thick fleshy gray-green leaves with a purple-maroon underside. The slender stems are up to 5.6 inches (14 cm) tall. Leaves are ovate to obovate, irregularly crenate to nearly entire, up to 1.1 inches (2.8 cm) long and up to 0.8 inches (2 cm) wide. Flowers are white with red anthers and appear in terminal clusters in summer.
Etymology
The specific epithet "subcapitatus (sub-kap-ih-TAY-tus)" is a Latin adjective meaning "having or forming a loose head" and refers to the flower clusters.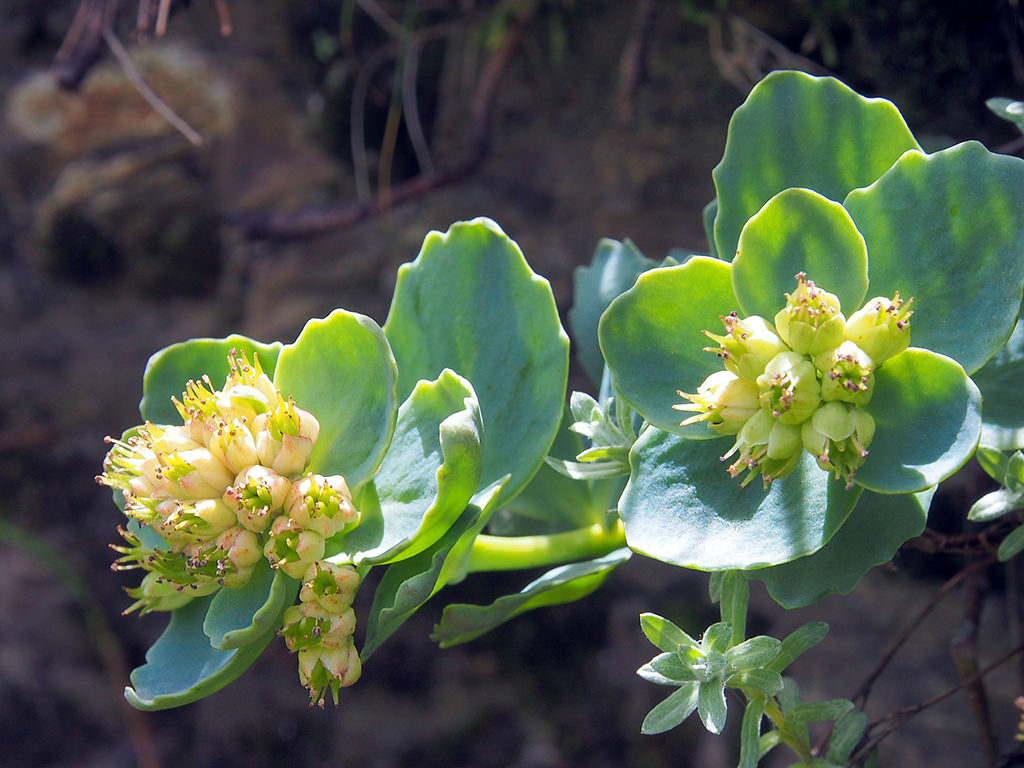 How to Grow and Care for Phedimus subcapitatus
Light: This light-loving plant will tolerate partial shade, but it prefers full sun and grows best in warmer environments. Plant P. subcapitatus in an area of your garden that gets at least 6 hours of sunlight a day.
Soil: This succulent thrives in any well-drained soil. Good drainage is critical for preventing root rot or fungal diseases.
Temperature: P. subcapitatus tolerates frost and can stay outdoors when the temperature drops below freezing. It can withstand temperatures as low as -20 (-28.9 ). USDA Plant Hardiness Zones 5a to 9b, -20 to 30 °F (-28.9 to -1.1 °C).
Watering: The best way to water your P. subcapitatus is to use the "soak and dry" method. Get the soil completely wet, and then wait until the soil is dry before watering again.
Fertilizing: Feed with low-balanced fertilizer to keep your plant happy and healthy. Use a diluted dose of half the strength recommended on the package.
Repotting: Repot your plant when it outgrows its current pot by moving it out to a larger container to hold the plant better. Spring is the best time to repot P. subcapitatus. Make sure the soil is dry before you begin the repotting process.
Propagation: Like all members of the genus Phedimus, this succulent can be grown from seeds, division, or stem cuttings. Dividing your P. subcapitatus is the best method to propagate because it is easy and usually very successful. Divide in spring when new shoots are seen. P. subcapitatus is also easily propagated from cuttings. Sow seeds in spring in well-drained soil in a sunny position.
Learn more at How to Grow and Care for Phedimus.
Toxicity of Phedimus subcapitatus
P. subcapitatus can be mildly toxic to humans and animals.
Links
Photo Gallery
Click on a photo to see a larger version.