This cactus was discovered by Friedrich Ritter in 1955 and described as Matucana celendinensis in 1966. While some authors believe that it may be a hybrid between Matucana aurantiaca and Matucana intertexta, it is now listed as a synonym of the latter. Nevertheless, recent research has found it deserves the status of a separate species.
Scientific Name
Matucana celendinensis F.Ritter
Accepted Scientific Name
Matucana intertexta F.Ritter
Synonym(s)
Borzicactus intertextus var. celendinensis, Matucana intertexta var. celendinensis
Scientific Classification
Family: Cactaceae
Subfamily: Cactoideae
Tribe: Trichocereeae
Genus: Matucana
Description
Matucana celendinensis, also known as Matucana intertexta var. celendinensis, is a small cactus with green, spherical to cylindrical stems with 12 to 18 ribs divided into tubercles tipped with clusters of straight to curved spines. The stems can grow up to 16 inches (40 cm) tall and 3.8 inches (9.5 cm) in diameter, producing offsets at the base. Each areole bears 8 to 18 radial and 2 to 5 central spines. At the apex of the stems, there are false deciduous spines. The radial spines are white, darken with age, and up to 0.6 inches (1.5 cm) long, while the central spines are brown with black tips, turning grey with age and up to 1.2 inches (3 cm) long.
Funnel-shaped flowers appear at the top of the stems in spring and early summer. The flowers are orange to reddish and have white to orange or pale pink filaments and pale yellow anthers. They can reach up to 3 inches (7.5 cm) in length and 3.2 inches (8 cm) in diameter. The fruits are egg-shaped, dark green, and contain numerous black seeds. They can grow up to 0.6 inches (1.5 cm) long and 0.4 inches (1 cm) in diameter.
Origin
Matucana celendinensis is native to northern Peru. It grows in very steep and rocky terrain between Celendín and Balsas in the Celendín Province of the Cajamarca Region at an elevation of about 7,550 feet (2,300 m).
Etymology
The specific epithet "celendinensis (selen-din-EN-sis)" refers to Celendín Province, where this cactus is native.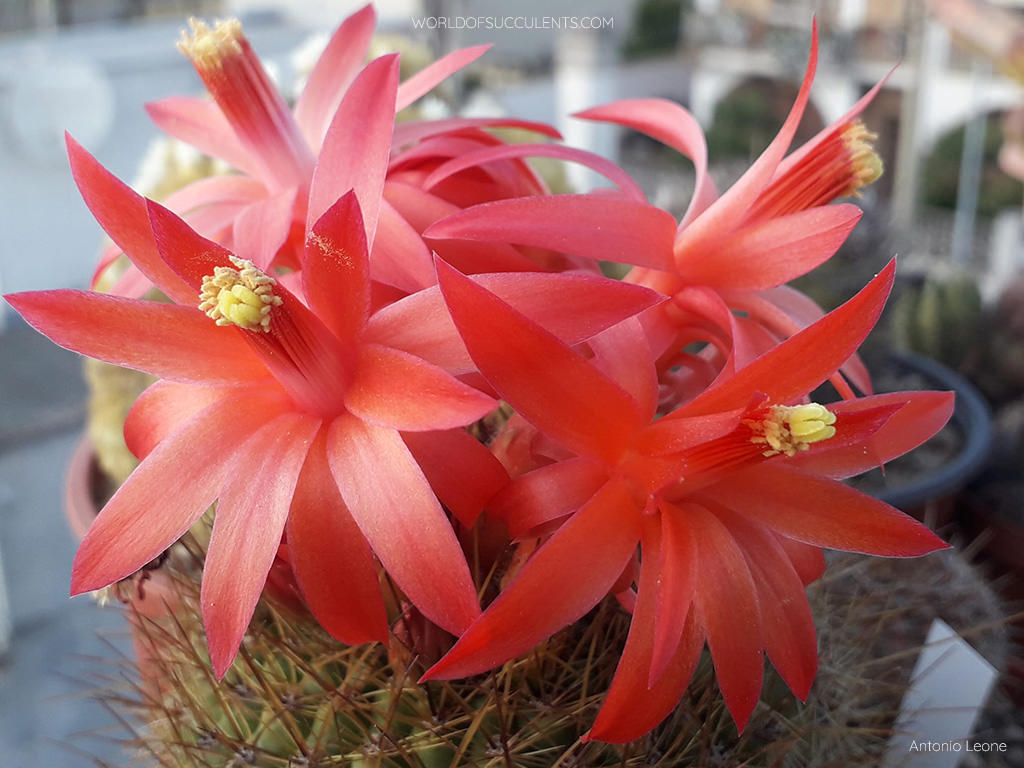 How to Grow and Care for Matucana celendinensis
Light: Although it thrives in direct sunlight, Matucana celendinensis prefers partial shade during the summer midday. If grown indoors, a sunny window is an ideal spot.
Soil: Having soil with good drainage is most important for a healthy Matucana celendinensis. You can either use a commercial cactus soil mix or make your own.
Temperature: This cactus requires warm temperatures, even in winter. It grows best in USDA Plant Hardiness Zones 9b to 11b, with average minimum winter temperatures ranging from 25 to 50 °F (-3.9 to 10 °C).
Watering: Since the roots of Matucana celendinensis are very delicate and subject to rot, the soil should be kept as dry as possible. During the growing season, water your plant frequently, but allow the soil to completely dry out before watering again. In the winter, when it goes dormant, stop the watering.
Fertilizing: While it does not require much fertilizer, giving it some extra nutrients occasionally keeps this cactus healthy and prolongs the time for repotting. When it is not actively growing in winter, fertilization is unnecessary.
Repotting: The keep your Matucana celendinensis happy and thriving, repot it every two years into a slightly larger pot with drainage holes. The best time for repotting is in late winter or early spring.
Propagation: Since it is a plant with a solitary growth habit, it can be propagated only from seeds. Late spring and early summer are ideal for sowing the seeds.
Learn more at How to Grow and Care for Matucana.
Toxicity of Matucana celendinensis
Matucana celendinensis has no toxic effects reported. However, keep it away from pets and children as it has sharp spines.
Links
Photo Gallery
Click on a photo to see a larger version.