Scientific Name
Kalanchoe marmorata Baker
Common Name(s)
Penwiper, Penwiper Plant, Spotted Kalanchoe
Synonym(s)
Kalanchoe grandiflora, Kalanchoe grandiflora var. angustipetala, Kalanchoe kelleriana, Kalanchoe macrantha, Kalanchoe macrantha f. somaliensis, Kalanchoe macrantha var. marmorata, Kalanchoe macrantha var. richardiana, Kalanchoe macrantha var. somaliensis, Kalanchoe marmorata var. maculata, Kalanchoe marmorata var. maculata, Kalanchoe rutshuruensis, Kalanchoe somaliensis, Kalanchoe stuhlmannii
Scientific Classification
Family: Crassulaceae
Subfamily: Sedoideae
Tribe: Kalanchoeae
Genus: Kalanchoe
Origin
This species is native to central and eastern Africa, from Congo to Ethiopia, Sudan, and Somalia. It occurs on rocky slopes and cultivated lands at elevations from 3,940 to 7,880 feet (1,200 to 2,400 m).
Description
Kalanchoe marmorata is an attractive succulent with erect or decumbent stems with beautiful glaucous grey-green leaves often spotted purple. It grows up to 4.3 feet (1.3 m) tall. Leaves are obovate or subcircular, up to 8 inches (20 cm) long and 5 inches (12.5 cm) wide. Margins of the leaves are entire, undulate, crenate or serrate. The flowers with slender tubes and spreading lobes are up to 1 inch (2.5 cm) long and up to 0.5 inches (1.3 cm) across and appear arranged in up to 1 foot (30 cm) long paniculate cymes from winter to early spring. They are pure white, rarely cream-colored, sometimes flushed pale pink, and the lower parts greenish.
Etymology
The specific epithet "marmorata (mar-mor-RAY-tuh)" is the feminine form of "marmoratus," meaning "marbled, covered or encrusted with marble, having been marbled." It is the perfect passive participle of "marmoro" and refers to the marbled surface of the leaves.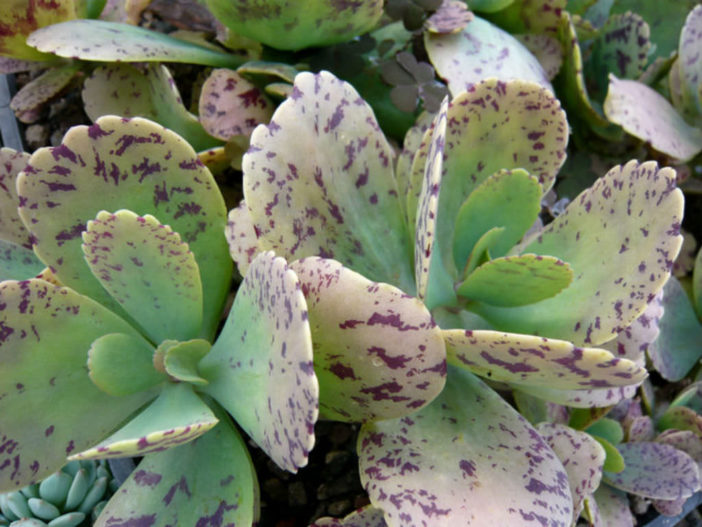 Hardiness
USDA hardiness zones 10b to 11b: from 35 °F (+1.7 °C) to 50 °F (+10 °C).
How to Grow and Care
Kalanchoe care is minimal but be cautious about light levels. Intense sunlight can burn the tips of the leaves. Place pots in partial sun to light shade areas when growing Kalanchoes.
The flowering varieties are highly rewarding for their colorful and long-lasting flowers. They prefer bright, sunny locations, especially in the growing season. Water moderately from fall to winter when the growth is most active. Reduce watering during the hottest summer months when the plants are mostly dormant and winter when the growth slows down significantly. Let the soil surface dry out between waterings. Watch the fleshy leaves for signs of water distress. An ordinary potting soil mix is fine. Feed bi-weekly during the growing season with a liquid fertilizer, or use slow-release pellets.
These small plants require repotting every few years. When repotting, take additional care in handling as the leaves are somewhat brittle and can snap easily. Clay pots work exceptionally well for planting Kalanchoes. Ensure pots can drain well and saucers can empty easily.
Learn more at How to Grow and Care for Kalanchoe.
Links
Photo Gallery
Click on a photo to see a larger version.