Gymnocalycium spegazzinii is a small and slow-growing cactus that is low maintenance and easy to care for.
Scientific Name
Gymnocalycium spegazzinii Britton & Rose
Synonym(s)
Echinocactus loricatus, Gymnocalycium loricatum, Gymnocalycium spegazzinii subsp. spegazzinii
Scientific Classification
Family: Cactaceae
Subfamily: Cactoideae
Tribe: Trichocereeae
Genus: Gymnocalycium
Description
Gymnocalycium spegazzinii is a small unique cactus with a gray-green to brownish or almost black stem that cages itself in its long stiff spines, typically pointed downwards, curved, and adpressed towards the stem. The stem is globose with a woolly, somewhat sunken apex and can grow up to 4.8 inches (12 cm) tall and 8 inches (20 cm) in diameter. It usually has 10 to 33 wide ribs somewhat furrowed between the woolly areoles. The spines are up to 2.2 inches (5.5 cm) long, initially yellowish or blackish, becoming brownish-gray with age. Each areole bears 5 to 9 radial spines. The central spines are absent. In the wild, the plants grow partially buried.
The flowers are funnel-shaped, up to 2.8 inches (7 cm) long and 2 inches (5 cm) in diameter, and appear from the areoles near the apex of the stem in late spring and last for about two weeks. They have almost spoon-shaped, whitish to rosy outer tepals with an olive green midstripe and smaller, lance-shaped, white inner tepals with a pink midstripe and a carmine base. The fruits are oblong, up to 1.4 inches (3.5 cm) long, powdery blue with a few rounded scales, and contain dark brown to black seeds.
Origin
Gymnocalycium spegazzinii is native to northwestern Argentina and Bolivia. It grows at elevations between 4,920 and 9,840 feet (1,500 and 3,000 m).
Etymology
The specific epithet "spegazzinii (speg-uh-ZIN-ee-eye)" honors Carlo Luigi Spegazzini (1858-1926), an Italian-born Argentinian botanist and mycologist who discovered the species.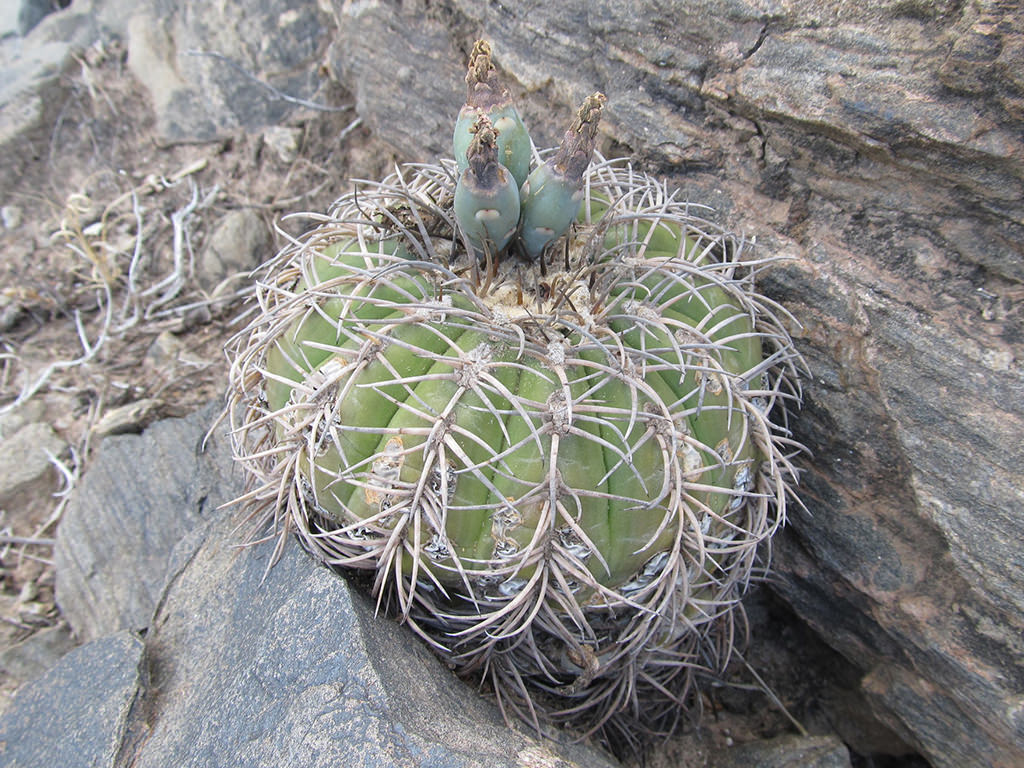 How to Grow and Care for Gymnocalycium spegazzinii
Light: During the hottest months, this cactus needs some protection from direct sunlight. However, excessive shading will result in the loss of flowers.
Soil: Having soil with good drainage is most important for a healthy Gymnocalycium spegazzinii. You can use commercial soil for cacti or make your own mix.
Temperature: This cactus can tolerate high temperatures but is not a cold-hardy plant. So, if there is a risk of freezing temperatures, bring it indoors. It grows best in USDA Plant Hardiness Zones 9b to 11b, with average minimum winter temperatures ranging from 25 to 50 °F (-3.9 to 10 °C).
Watering: During the growing season, water Gymnocalycium spegazzinii frequently, but allow the soil to completely dry out before watering again. In the winter, when it goes dormant, cut back on watering.
Fertilizing: While it does not need much fertilizing, giving it some extra nutrients occasionally keeps the plant healthy and prolongs the time for repotting. During the winter, there is no need to fertilize, as the plant is not actively growing.
Repotting: Repot it every two years into a pot that is the same size or slightly larger. The best time for repotting is in late winter or early spring.
Propagation: Since it rarely produces offsets, Gymnocalycium spegazzinii is usually propagated by seed. Late spring and early summer is the ideal time for sowing seeds.
Learn more at How to Grow and Care for Gymnocalycium.
Toxicity of Gymnocalycium spegazzinii
Gymnocalycium spegazzinii has no toxic effects reported. However, keep it away from pets and children as it has sharp spines.
Forms of Gymnocalycium spegazzinii
Links
Photo Gallery
Click on a photo to see a larger version.