Scientific Name
Gymnocalycium eurypleurum F.Ritter ex Plesník
Scientific Classification
Family: Cactaceae
Subfamily: Cactoideae
Tribe: Trichocereeae
Genus: Gymnocalycium
Origin
This species is native to Paraguay. It occurs in the Defensores del Chaco (Defenders of the Chaco) National Park and adjacent areas north of the Alto Paraguay Department, reaching the border with Bolivia.
Description
Gymnocalycium eurypleurum is a small, slow-growing cactus with a spherical or slightly flattened, almost always solitary stem with usually 7 to 12 flat, wide, somewhat tubercled ribs with clusters of stout spines. The stem is glossy green, dull olive-green to brownish. It grows up to 6 inches (15 cm) in diameter. Each areole bears about seven white to light brown, usually between 0.4 and 1.2 inches (1 to 3 cm) long radial spines. They tend to curve upwards, away from the stem. The central spines are usually absent. This species has quite variable spination. Some specimens have minimal spination, while others seem quite heavily armed.
Flowers are funnel-shaped, up to 1.2 inches (3 cm) long, and nearly equal in diameter. They are pure white or white with shades of pink and purple and appear near the apex of the stem in summer. Fruits are spherical or barrel-shaped, up to 0.8 inches (2 cm) in diameter, red with scales in the same color, and contain yellowish-brown seeds.
Etymology
The specific epithet "eurypleurum (yoor-ee-PLOOR-um)" means "broad ribs" and refers to the ribs of the stem.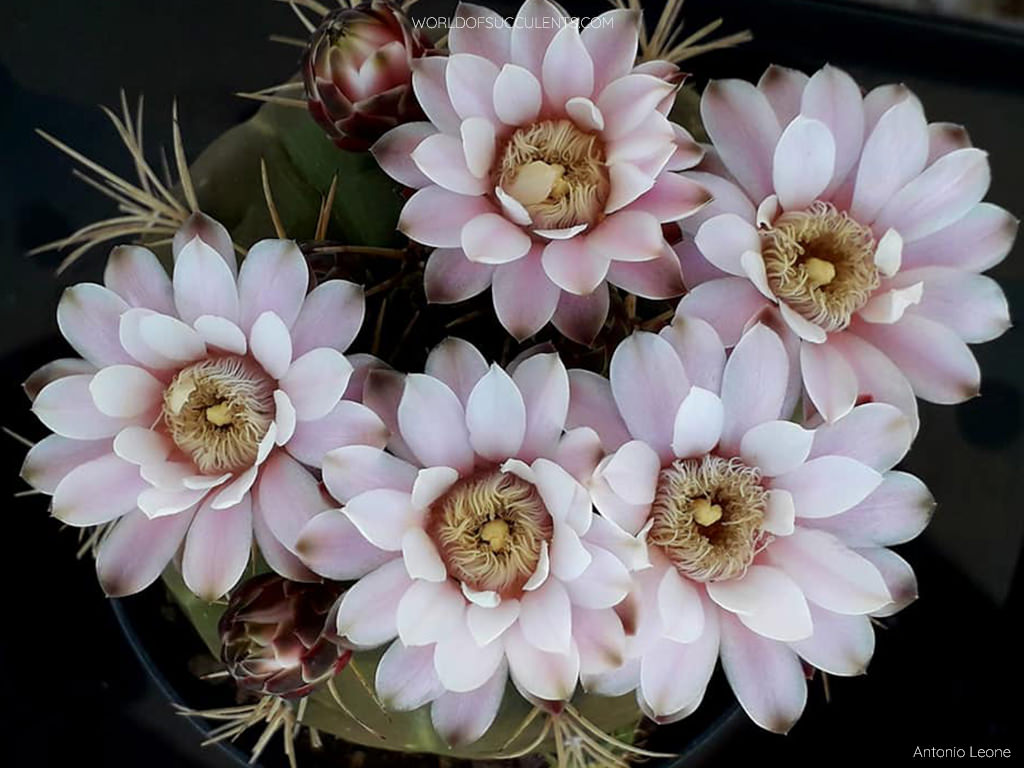 How to Grow and Care for Gymnocalycium eurypleurum
Light: This cactus needs light shading from the sun in the hottest months, but overdoing this will result in the loss of flowers.
Soil: The balance of the potting mix should be sufficient to allow good drainage so that G. eurypleurum does not sit in soggy soil for more than a day or two after watering. Use a commercial cactus potting mix, or create your own.
Temperature: This cactus is heat tolerant but is not a cold-hardy plant, and if there is a risk of freezing temperatures, it must be brought indoors. G. eurypleurum can withstand temperatures as low as 25 °F (-3.9 °C). USDA Plant Hardiness Zones 9b to 11b, 25 to 50 °F (-3.9 to 10 °C).
Watering: Watering during the growing season, from spring to fall, can be frequent, but always allow the soil to dry out nearly before rewatering. Cut back on the water during winter as G. eurypleurum becomes dormant.
Fertilizing: G. eurypleurum does not need much fertilizing, but giving it some extra nutrients occasionally helps keep the plant healthy and prolong the time when you need to repot again. Suspend feeding during the winter when the plant goes dormant.
Repotting: Repot every two years into the same (or one that is the same size) or a slightly larger pot. The best time to repot your G. eurypleurum is late winter or early spring.
Propagation: Since it rarely produces offsets, G. eurypleurum is usually propagated by seed. Sow the seeds in late spring or summer.
Learn more at How to Grow and Care for Gymnocalycium.
Toxicity of Gymnocalycium eurypleurum
G. eurypleurum has no toxic effects reported.
Links
Photo Gallery
Click on a photo to see a larger version.