Copiapoa is a genus of cacti from the dry coastal deserts, particularly the Atacama Desert of northern Chile. It comprises 32 morphologically defined species and 5 heterotypic subspecies. They are widely popular in cultivation.
The species vary from spherical to slightly columnar and have well-defined ribs and a wooly apex. The flowers are usually yellow, funnel-shaped, mostly between 1 and 2 inches (2.5 and 5 cm) in diameter, and pretty similar from one plant to the next. Spines are usually absent but may be long and strong. The roots are fibrous or large tubers, larger than the portions above the ground. The plants grow solitary, in clumps, or form mounds of several feet across with hundreds of stems. Coloration is also a variable even within the same species, from glaucous blue-green to deep green and brown.
The plants in the habitat get their moisture from coastal fogs. Despite the extreme and specific conditions in their natural habitat, Copiapoas are surprisingly easy to cultivate. From seed sowing to the care of mature plants, the species of this genus are very forgiving. They will flower from a young age.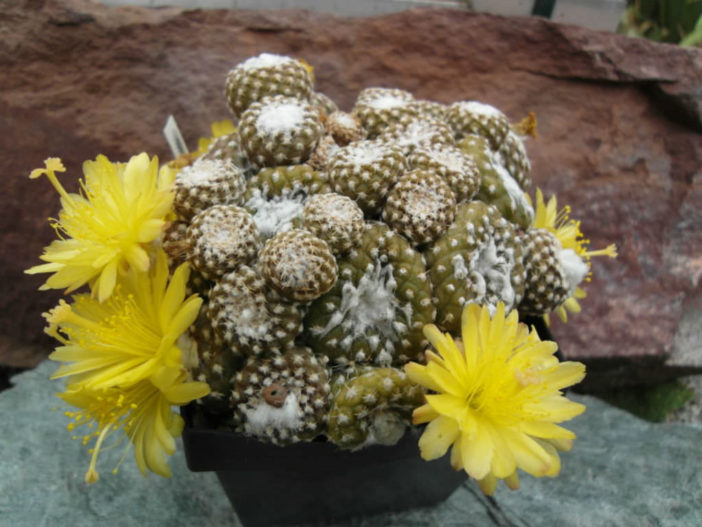 Growing Conditions and General Care
Copiapoas prefer full sun or partial shade. If grown in full sun, they must be in a position with good air circulation to prevent sunburn.
Watering should be extremely poor, and the soil must dry out completely between waterings. The watering should be suspended during the summer months. In this period, instead of watering, it will be appropriate to spray the plant early in the morning, before the temperature warms up, to simulate the conditions they would have in their natural environment.
Copiapoas need a coarse mineral cactus soil mix but can become too elongated if compost is too rich.
Feed with a high potassium fertilizer in summer.
Repotting
Considering that Copiapoas are very slow-growing plants, you can repot them every 3 to 4 years.
Propagation
The propagation by seed is possible but very difficult and slow. These cacti typically produce few seeds that must be planted very fresh and have a very slow development.
The most widely used method to propagate Copiapoas is the division of clumps created at the base of the stem. They can be picked up and planted separately.
Source: giromagicactus.com
Links