This succulent is an old hybrid that has recently been called ×Graptoveria 'Citrina'.
Scientific Name
×Graptoveria 'Citrina'
Scientific Classification
Family: Crassulaceae
Subfamily: Sempervivoideae
Tribe: Sedeae
Nothogenus: ×Graptoveria
Description
×Graptoveria 'Citrina' is a succulent shrublet that forms compact rosettes of green to yellowish-green leaves at the end of short branches. The rosettes can grow up to 9.2 inches (23 cm) in diameter. Since Echeveria agavoides does not develop stems, they are the influence of the Graptopetalum parent of this hybrid. The plant can also form crests.
During the spring, the plant produces bell-shaped, pale yellow flowers well spaced in the upper part of erect stalks with a few bracts.
This hybrid is also sold as Echeveria 'Citrina'.
Origin
×Graptoveria 'Citrina' is an intergeneric hybrid that results from a cross between Graptopetalum paraguayense and Echeveria agavoides. The origin is unknown.
Etymology
The hybrid epithet "citrina (sit-REE-nuh)" means "citric, citrus" and refers to the pale yellow flowers and the leaves that often turn yellowish.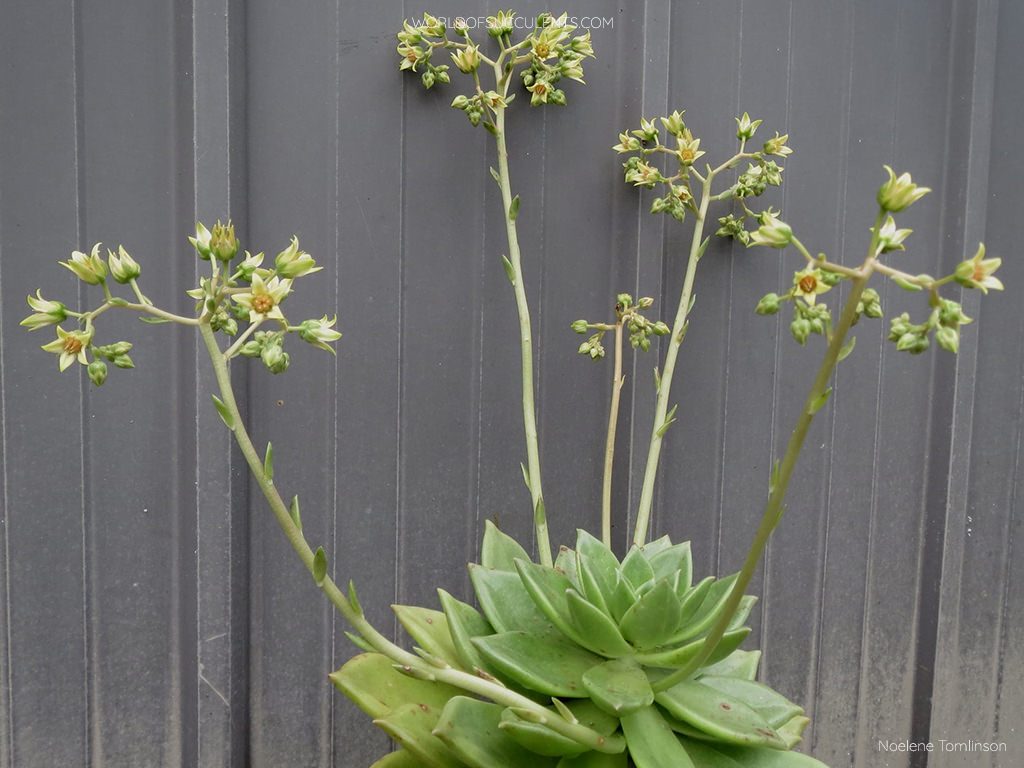 How to Grow and Care for ×Graptoveria 'Citrina'
Light: If you want your ×Graptoveria 'Citrina' to thrive, ensure it gets plenty of sunlight. However, it can also tolerate partial shade but may look slightly rangy. Therefore, when growing indoors, it is best to keep it near a sunny window.
Soil: Good drainage is most important for a healthy plant, so when growing it in a container, choose well-draining soil and a container with drainage holes.
Temperature: ×Graptoveria 'Citrina' prefers cooler temperatures, but it is not a cold-hardy plant. Its primary growth occurs during spring and fall while slowing considerably during winter. It grows best in USDA Plant Hardiness Zones 10a to 11b, with average minimum winter temperatures ranging from 30 to 50 °F (-1.1 to 10 °C).
Watering: Instead of giving the plant little splashes of water here and there, soak the soil until water runs out of the drainage holes. After that, wait for the soil to dry out completely before watering again. Water the plant sparingly during the winter, only enough to keep it from shriveling.
Fertilizing: To promote healthy growth and flower production, apply a water-soluble fertilizer diluted to half the recommended strength during the growing season.
Repotting: ×Graptoveria 'Citrina' does not require frequent repotting, but when it has outgrown its container, repot it in a new pot slightly larger than the old one. After that, give the plant at least a week to readjust before watering.
Propagation: The easiest way to get good-sized new plants is by taking stem cuttings, but this plant is also easy to propagate by leaves. Spring and summer are the best time to take cuttings.
Learn more at How to Grow and Care for Graptopetalum.
Toxicity of ×Graptoveria 'Citrina'
×Graptoveria 'Citrina' is considered non-toxic, so it is safe for growing around children and pets.
Links
Photo Gallery
Click on a photo to see a larger version.