Scientific Name
×Graptophytum 'Supreme Variegatum'
Scientific Classification
Family: Crassulaceae
Subfamily: Sempervivoideae
Tribe: Sedeae
Nothogenus: ×Graptophytum
Origin
This succulent is a form of ×Graptophytum 'Supreme' selected for its variegated foliage.
Description
×Graptophytum 'Supreme Variegatum' is a beautiful succulent shrublet with variegated, spearhead-shaped leaves that cluster in rosettes at the end of erect stems. While some growths are stable, others tend to revert to normal growth. The rosettes can reach up to 8 inches (20 cm) in diameter. The thick, fleshy leaves are green to purplish-green with irregular cream-colored markings and a whitish powdery coating. When stressed by intense sunlight and cooler temperatures, they blush to shades of pink.
In late winter and early spring, clusters of pale yellow flowers with pink markings appear on branched stalks that grow up to 12 inches (30 cm) long. The flower stalks are covered with bracts the same color as the leaves.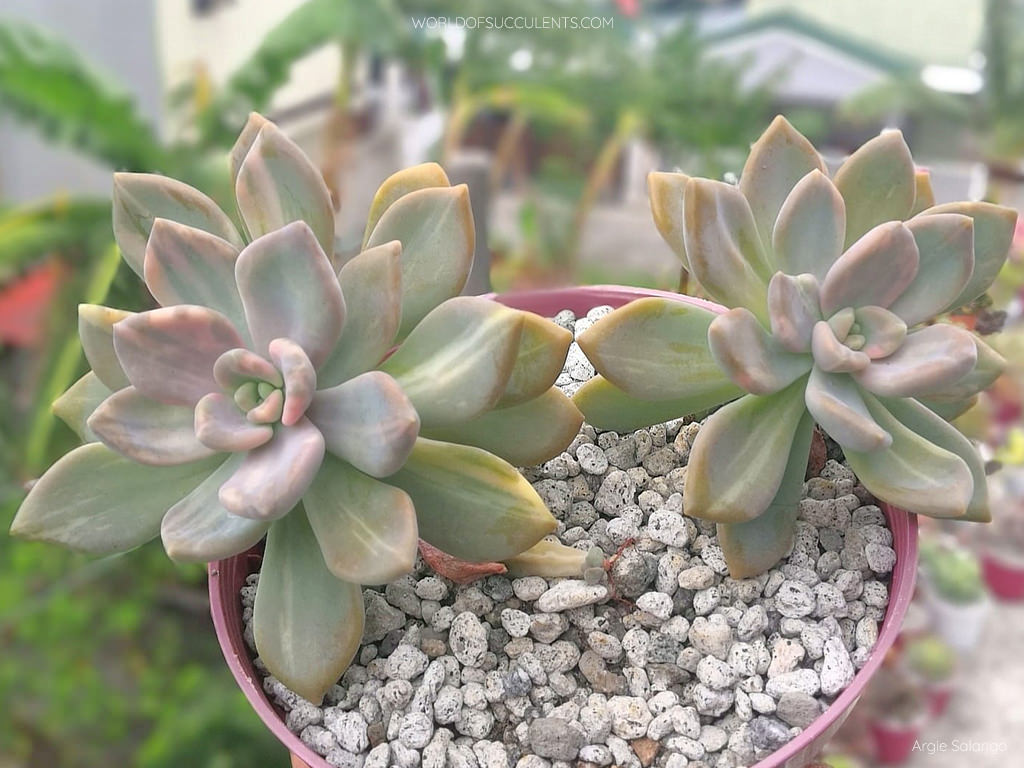 How to Grow and Care for ×Graptophytum 'Supreme Variegatum'
Light: For optimal growth, choose a location where it will receive full sun. It will also grow in partial shade but with slightly rangy results. Indoors, keep it near a sunny window.
Soil: ×Graptophytum 'Supreme Variegatum' needs good drainage to maintain a healthy root system. Choose a well-draining soil and a pot with drainage holes for container growing.
Temperature: This plant will do well in summer weather, but its most active growth occurs in spring and fall. ×Graptophytum 'Supreme Variegatum' can withstand temperatures as low as 30 °F (-1.1 °C). USDA Plant Hardiness Zones 10a to 11b, 30 to 50 °F (-1.1 to 10 °C).
Watering: Outdoors, growing in full sun, will appreciate a weekly watering in summer. However, cut back on watering to about every 10 to 14 days when the weather cools down in spring and fall. Rather than giving the potted plant little splashes of water here and there, give it a good soaking until water runs out the drainage holes, then wait for the soil to dry out completely before watering again. In winter, water the plant just enough to keep the leaves from shriveling.
Fertilizing: Apply fertilizer during the active growing season to promote healthy growth, including flower production. A water-soluble fertilizer diluted to half the recommended strength is suitable and commonly used.
Repotting: ×Graptophytum 'Supreme Variegatum' do not need frequent repotting. When it has outgrown its container, repot it in fresh well-draining soil in a new pot slightly larger than the old one. Give it a week or so to readjust before you water.
Propagation: You can propagate this plant by taking stem cuttings in spring and summer.
Learn more at How to Grow and Care for Graptopetalum.
Toxicity of ×Graptophytum 'Supreme Variegatum'
×Graptophytum 'Supreme Variegatum' is generally non-toxic to humans and animals.
Links
Photo Gallery
Click on a photo to see a larger version.