Scientific Name
Faucaria subintegra L.Bolus
Synonym(s)

Faucaria subindurata
Scientific Classification
Family: Aizoaceae
Subfamily: Ruschioideae
Tribe: Ruschieae
Genus: Faucaria
Origin
This species is native to South Africa. It occurs in the most south-central part of the Eastern Cape, growing in full sun on top of north-facing river banks and cavities in rock plates in sandstone rocks.
Description
Faucaria subintegra is a small, clump-forming succulent with 4 to 8 very thick, crowded leaves with margins having very short, conical (sometimes absent) teeth with short bristles that disappear in older leaves. It develops short stems with age. Leaves are ovate-rhomboid, up to 1.4 inches (3.5 cm) long, up to 0.6 inches (1.5 cm) wide, and bluntly keeled at the top. They are glaucous, often shiny, with tiny white dots and sometimes a violet hue. The margins and keels are indistinctly whitish.
The yellow, daisy-like flowers are up to 1.8 inches (4.5 cm) in diameter, with 80 to 92 linear petals and 150 to 180 stamens. They appear in the fall. Fruits are capsules tightly attached to the plant and contain dark brown seeds. They are up to 0.4 inches (1 cm) long and 0.5 inches (1.2 cm) in diameter.
Etymology
The specific epithet "subintegra (sub-in-TEG-ruh)" means "almost entire" and refers to the nearly toothless margins of the leaves compared to other species in the genus that have strongly toothed leaves.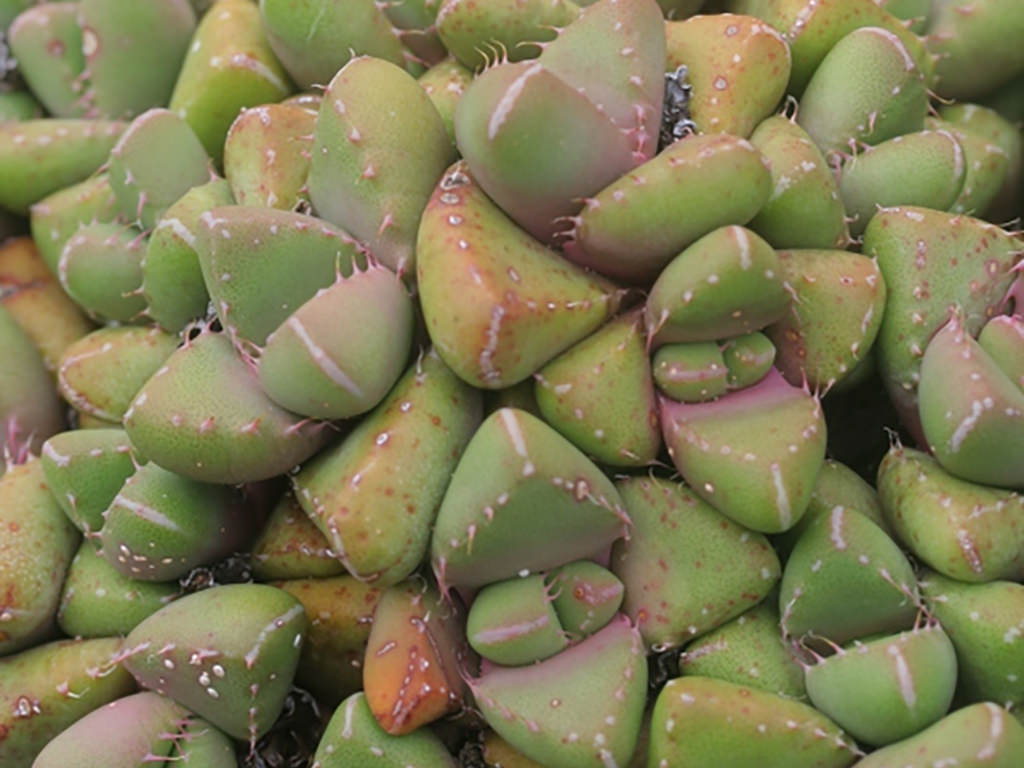 How to Grow and Care for Faucaria subintegra
Light: For optimal growth of your F. subintegra, ensure it receives at least six hours of direct sunlight daily. A sunny windowsill is a great spot to grow it indoors. However, moving it outside during the growing season (spring to fall) will provide the required light.
Soil: Use commercial succulent soils or make your own well-draining soil to ensure your F. subintegra thrives.
Temperature: This plant enjoys higher temperatures during the summer and will even survive a light frost. F. subintegra can withstand temperatures as low as 25 °F (-3.9 °C). USDA Plant Hardiness Zones 9b to 11b, 25 to 50 °F (-3.9 to 10 °C).
Watering: For optimal growth, water deeply and allow the soil to dry out before watering again. F. subintegra requires little or no water during the winter dormancy period. If you notice wrinkled leaves, it is a sign that your plant needs water.
Fertilizing: To support healthy plant growth, fertilize once or twice during the active growing season with a water-soluble fertilizer diluted to half the recommended strength. Do not fertilize in winter.
Repotting: F. subintegra does not require frequent repotting. Repot only when it has outgrown its container, approximately every two years. The best time to repot is early spring, just before the plant's growing season starts.
Propagation: This plant propagates easily from seeds and cuttings. Sow the seeds in well-draining soil in spring. If you prefer to use cuttings, the best time is late spring or early summer.
Learn more at How to Grow and Care for Faucaria.
Toxicity of Faucaria subintegra
F. subintegra is non-toxic to humans and pets.
Links
Photo Gallery
Click on a photo to see a larger version.