Scientific Name
Fouquieria splendens Engelm.
Common Names
Ocotillo, Coachwhip, Candlewood, Slimwood, Desert Coral, Jacob's Staff, Jacob Cactus, Vine Cactus
Synonyms
Fouquieria spinosa, Fouquieria splendens f. micrantha, Fouquieria splendens f. albiflora, Idria columnaria
Scientific Classification
Family: Fouquieriaceae
Genus: Fouquieria
Description
Fouquieria splendens is an unusual, spiny, drought-deciduous shrub that grows up to 33 feet (10 m) tall. For much of the year, it appears to be an arrangement of long, spiny dead sticks. With rainfall, the plant quickly becomes lush with ovate, up to 1.6 inches (4 cm) long leaves. The stems are up to 2 inches (5 cm) in diameter at the base. The plant branches very heavily at its base, but above that, the branches are pole-like and rarely divide further. The plants in cultivation may not exhibit any secondary branches. The flowers are orange-red to red (rarely pinkish, creamy-white, or white) and appear especially after rainfall in spring, summer, and occasionally fall. They are clustered indeterminately at the tips of each mature stem.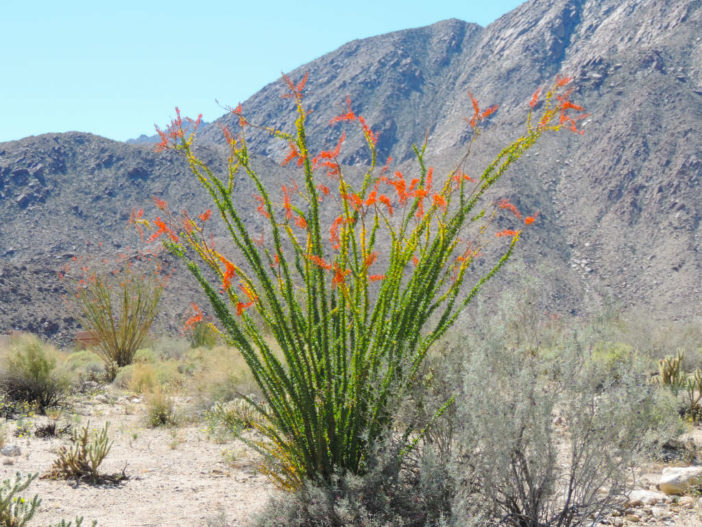 Hardiness
USDA hardiness zones 8a to 11b: from 10 °F (−12.2 °C) to 50 °F (+10 °C).
How to Grow and Care
Ocotillo is a semi-succulent with good drought tolerance once established and cold hardiness of 10 °F (-12  °C). This plant requires well-draining soil and full sun. It tends to lose its leaves when exposed to extreme drought but leaf out in spring and summer rains.
The plant may be difficult to locate at a nursery. Ocotillo is protected, which means it is illegal to harvest it from the desert. In the home landscape, plant Ocotillo in a shallow container as a stunning desert display.
Ocotillo has few pests and no known diseases, but watch for scale and sucking insects, which you can zap with insecticidal soap.
Origin
Fouquieria splendens is native to the Sonoran Desert and the Chihuahuan Desert in the southwestern United States and northern Mexico.
Links
Photo Gallery