Scientific Name
Euphorbia canariensis L.
Common Name(s)
Canary Candelabra Spurge, Canary Island Spurge, Hercules Club
Synonym(s)
Euphorbia canariensis f. viridis, Euphorbia canariensis var. spiralis, Euphorbia tribuloides, Tithymalus canariensis, Torfasadis canariensis
Scientific Classification
Family: Euphorbiaceae
Subfamily: Euphorbioideae
Tribe: Euphorbieae
Subtribe: Euphorbiinae
Genus: Euphorbia
Origin
The native range of this species is the archipelago of the Canary Islands. It is one of the most iconic species of the Canarian flora and occurs in the chain on a narrow coastal belt from sea level up to 3,600 feet (1,100 m) on dry lava formations along the shores, sea cliffs, and the south-facing mountain slopes.
Description
Euphorbia canariensis is a succulent shrub with many upright, usually 4-angled (rarely 5 or 6) branches with edges lined with pairs of fused short reddish spines laterally spreading or in the shape of cow horns. It grows up to 13.1 feet (4 m) tall, branching profusely from the base to form attractive clumps with up to 150 branches. The branches are up to 2 inches (5 cm) across. They vary in color from gray-green and deep green to reddish or brownish. Flowers are small, reddish-green to dark red, and appear near the spine axils in spring. Fruits are maroon red capsules that contain one seed in each of the three locules.
E. canariensis is one of the two (the second one is Euphorbia handiensis) cactus-like species of Euphorbia in the Canary Islands.
Etymology
The specific epithet "canariensis (kuh-nair-ee-EN-sis)" means "of or from the Canaries," and refers to the Canary Islands, also known as the Canaries, a Spanish Autonomous Community, and archipelago in the Atlantic Ocean.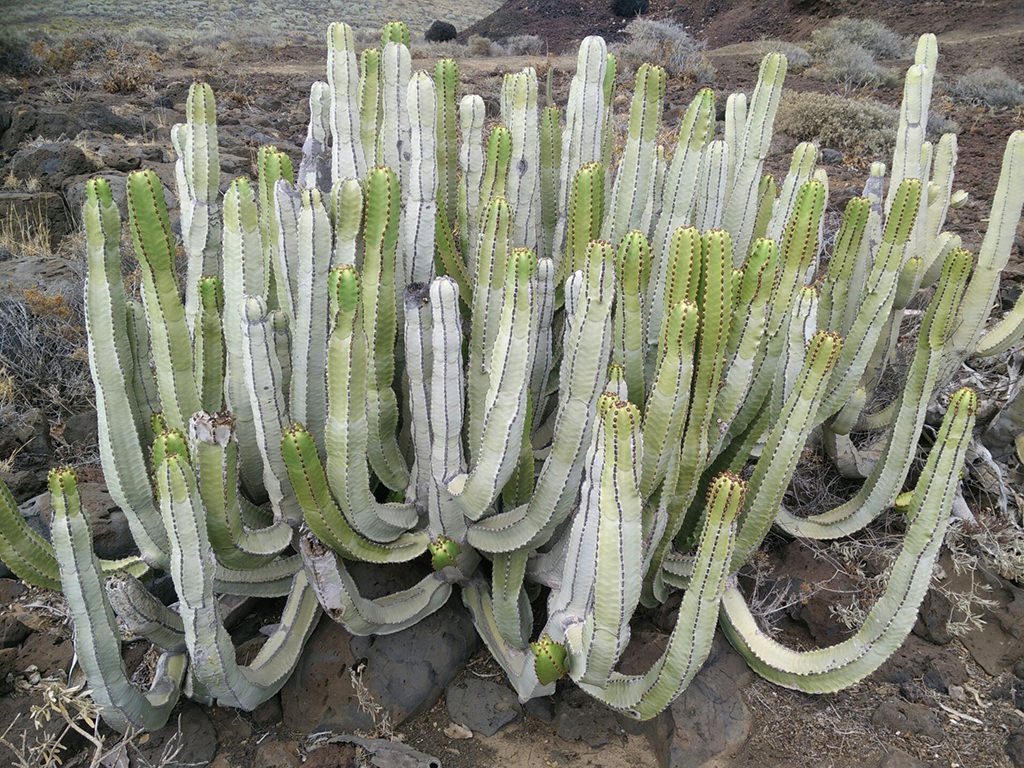 How to Grow and Care for Euphorbia canariensis
Light: This succulent is a sun lover. Place your indoor E. canariensis in a sunny window. You may place the pot on the balcony or in the garden from spring to fall. Increase sun exposure gradually to prevent sunburn.
Soil: E. canariensis requires well-drained soil. Use a commercial potting mix formulated for succulents, or make your own.
Temperature: High summer temperatures are not a problem, but low winter temperatures can damage or kill your plant. E. canariensis can withstand temperatures as low as 25 °F (-3.9 °C). USDA Plant Hardiness Zones 9b to 11b, 25 to 50 °F (-3.9 to 10 °C).
Watering: From spring to fall, water when the top inch (2.5 cm) of soil feels dry. Reduce watering in winter. Give it just enough water to prevent wilting. The best time of the day to water your E. canariensis in the warm season is the evening.
Fertilizing: Plants in a pot need regular feeding. Apply a balanced fertilizer in a 10-10-10 NPK formulation, diluted to 1/4 strength once a week during the growing season.
Repotting: E. canariensis will benefit from repotting, but it does not need to be repotted every year. When your plant is outgrowing its pot, it is time to repot it in a larger pot and give it a fresh potting mix. The repotting is best done in early spring, at the beginning of the growing season. Wear gloves, protective clothing, and appropriate eye protection when repotting this succulent.
Propagation: The easiest and fastest propagation method for this plant is by using stem cuttings. It can also be grown from seeds, but it can be difficult for seeds to germinate. The best time to take cuttings is in spring or summer. Sow the seeds in spring.
Learn more at How to Grow and Care for Euphorbia.
Toxicity of Euphorbia canariensis
E. canariensis produces a toxic white milky sap that can cause irritation to the skin and eyes. Therefore, it is best to keep your plant away from children and pets.
Links
Photo Gallery
Click on a photo to see a larger version.