Scientific Name
Euphorbia bussei Pax
Common Name(s)
Balsam Spurge
Synonym(s)
Euphorbia bussei var. bussei
Scientific Classification
Family: Euphorbiaceae
Subfamily: Euphorbioideae
Tribe: Euphorbieae
Subtribe: Euphorbiinae
Genus: Euphorbia
Origin
This species is native to eastern Tanzania and Kenya. It grows on rocky slopes and in sandy soils in deciduous forests at elevations from 1,150 to 3,280 feet (350 to 1000 m)
Description
Euphorbia bussei is a succulent tree with a cylindrical naked trunk and curved ascending branches that form a rounded crown. It grows up to 50 feet (15 m) tall. The trunk is thick, up to 12 inches (30 cm) in diameter, with grey fissured bark marked with usually six vertical rows of persistent spines and scars from fallen branches. The branches are 3– to 4-angled, up to 16.4 feet (5 m) long, deeply winged, and constricted into ovate to subcircular segments. The rudimentary leaves are ovate and scale-like. Spine shields with a pair of robust spines form a continuous horny margin along the angles. The spines are up to 0.8 inches (2 cm) long.
Cyathia are up to 0.4 inches (1 cm) in diameter, with cup-shaped involucres and golden yellow glands, and appear 3 to 8 crowded together, forming a cyme on a stout peduncle from winter to summer.
Etymology
The specific epithet "bussei (BUS-see-eye)" honors Walter Carl Otto Busse (1868–1933), a German botanist whose primary scholarly focus was on German agriculture and the plants, fungi, and lichen of Africa.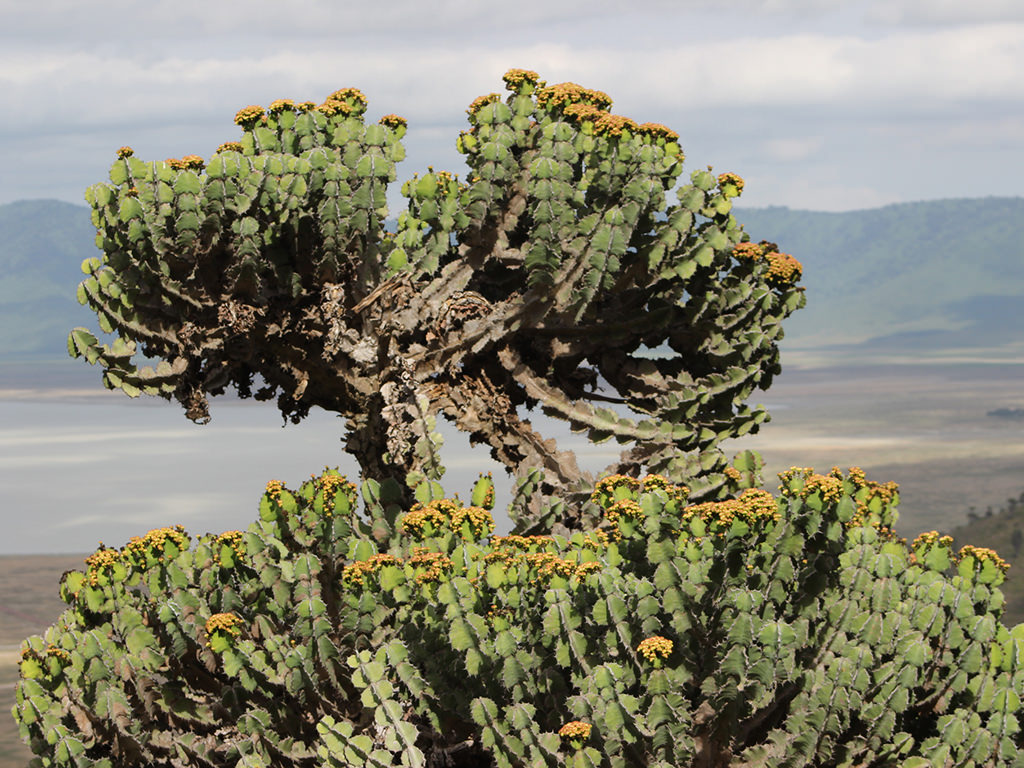 How to Grow and Care for Euphorbia bussei
Light: This succulent is a sun lover. Place your indoor E. bussei in a sunny window. You may place the pot on the balcony or in the garden from spring to fall. Increase sun exposure gradually to prevent sunburn.
Soil: E. bussei requires well-drained soil. Use a commercial potting mix formulated for succulents, or make your own.
Temperature: High summer temperatures are not a problem, but low winter temperatures can damage or kill your plant. E. bussei can withstand temperatures as low as 30 °F (-1.1 °C). USDA Plant Hardiness Zones 10a to 11b, 30 to 50 °F (-1.1 to 10 °C).
Watering: From spring to fall, water when the top inch (2.5 cm) of soil feels dry. Reduce watering in winter. Give it just enough water to prevent wilting. The best time of the day to water your E. bussei in the warm season is the evening.
Fertilizing: Plants in a pot need regular feeding. Apply a balanced fertilizer in a 10-10-10 NPK formulation, diluted to 1/4 strength once a week during the growing season.
Repotting: E. bussei will benefit from repotting, but it does not need to be repotted every year. When your plant is outgrowing its pot, it is time to repot it in a larger pot and give it a fresh potting mix. The repotting is best done in early spring, at the beginning of the growing season. Wear gloves, protective clothing, and appropriate eye protection when repotting this succulent.
Propagation: The easiest and fastest propagation method for this plant is by stem cuttings. It can also be grown from seeds, but it can be difficult for seeds to germinate. The best time to take cuttings is in spring or summer. Sow the seeds in spring.
Learn more at How to Grow and Care for Euphorbia.
Toxicity of Euphorbia bussei
E. bussei produces a toxic white milky sap that may cause burns or irritation if in contact with the skin or eyes. Therefore, it is best to keep this plant away from children and pets.
Links
Photo Gallery
Click on a photo to see a larger version.