Scientific Name
Echinopsis 'Blaze'
Synonym(s)
Lobivia 'Blaze'
Scientific Classification
Family: Cactaceae
Subfamily: Cactoideae
Tribe: Trichocereeae
Genus: Echinopsis
Description
Echinopsis 'Blaze', formerly known as Lobivia 'Blaze', is a small cactus that forms dense clumps of spherical or slightly elongated stems with 10 to 15 deep ribs lined with wooly areoles that bear clusters of long spines. It offsets and blooms profusely. Stems grow up to 4 inches (10 cm) tall and 3 inches (7.5 cm) in diameter.
The beautiful flowers are cup-shaped, up to 3 inches (7.5 cm) in diameter, and appear in summer. Inner petals are bright red to red salmon frosted white and some white in a circle near the base of the throat. The outer petals are yellow-green.
Origin
Echinopsis 'Blaze' is a part of the Paramount series of hybrids created by Harry Johnson in the 1930s and 1940s in California, United States. They are a quite well-known series, consisting of 26 hybrids offered for sale in the 1950s and 1960s.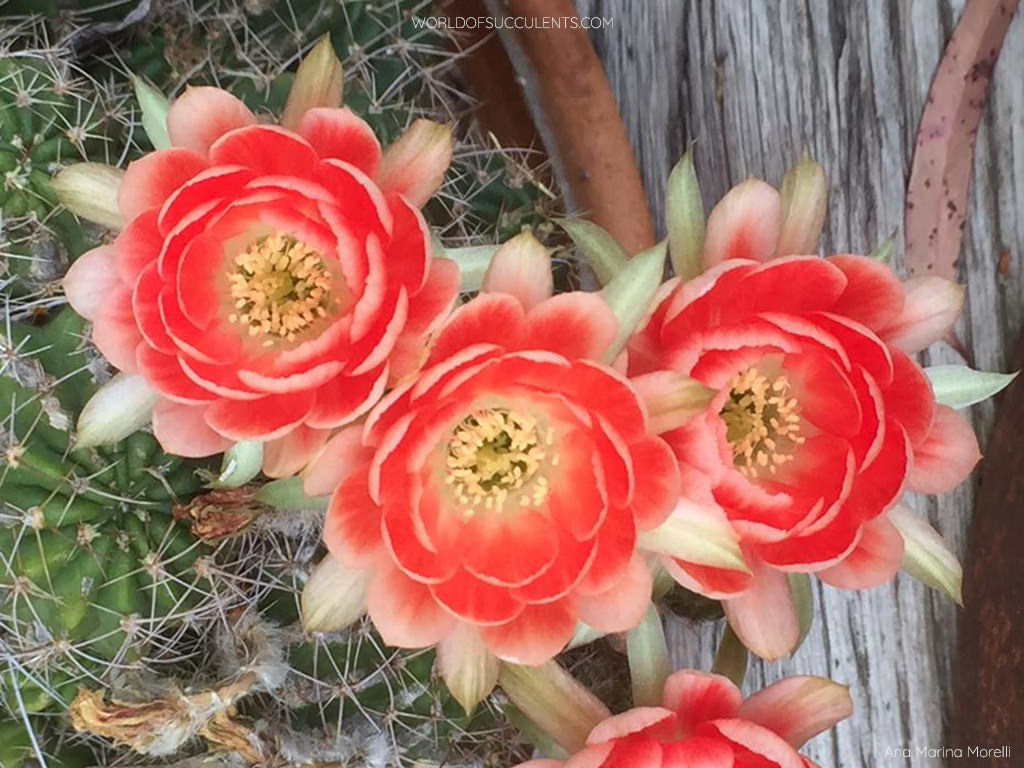 How to Grow and Care for Echinopsis 'Blaze'
Light: E. 'Blaze' appreciate intense sunlight during the growing season. Therefore, it thrives in full sun to partial shade. Indoors, a window with access to sunlight for 6 hours a day is the perfect place. In spring, move the plant outdoors if possible, but acclimate to direct sunlight slowly to prevent sunburn.
Soil: This cactus prefers sandy or gritty soil, but it can tolerate other soil types as long as there is good drainage. Use a commercial cactus potting soil mix, or create your own.
Temperature: Extremely tolerant of high temperatures, this cactus prefers cooler temperatures in winter, ideally between 41 to 50 °F (5 to 10 °C). However, E. 'Blaze' can withstand temperatures as low as 20 °F (-6.7 °C). USDA Plant Hardiness Zones 9a to 11b, 20 to 50 °F (-6.7 to 10 °C).
Watering: During the growing season, water thoroughly but let the soil dry out completely before watering again. Never let the container sit in a saucer of water. Suspend watering in winter.
Fertilizing: E. 'Blaze' will benefit from fertilization during the growing season. Apply a water-soluble fertilizer. Suspend feeding during the winter when the plant goes dormant.
Repotting: Repot as needed, preferably in late winter or early spring. Choose a slightly larger container with drainage holes at the bottom. Make sure the soil is dry before repotting.
Propagation: This cactus can be easily propagated from offsets that cluster around the base of the stems. The best time to remove the offsets is early summer.
Learn more at How to Grow and Care for Echinopsis.
Toxicity of Echinopsis 'Blaze'
E. 'Blaze' is non-toxic to humans or pets. However, keep it away from pets and children as it has sharp spines.
Links
Photo Gallery
Click on a photo to see a larger version.