Cylindropuntia tesajo is a spreading cactus endemic to the Baja California peninsula in northwestern Mexico.
Scientific Name
Cylindropuntia tesajo (Engelm. ex Coult.) F.M.Knuth
Common Name(s)
Pencil Cholla, Tesajo Cactus, Tesajo Cholla
Synonym(s)
Grusonia tesajo, Opuntia tesajo
Scientific Classification
Family: Cactaceae
Subfamily: Opuntioideae
Tribe: Cylindropuntieae
Genus: Cylindropuntia
Description
Cylindropuntia tesajo is a shrubby cactus with slender, segmented, densely branched stems with small, inconspicuous tubercles and tufts of glochids. It can grow up to 32 inches (80 cm) tall and branches very low to the ground. The stem segments are cylindrical and can reach up to 6 inches (15 cm) in length and 0.5 inches (1.2 cm) in diameter. They are light green to brownish green and often have a purple tinge. The easily detached glochids are yellow to reddish brown and 0.15 inches (0.4 cm) long. One long central and two short radial spines may only be present on upper areoles. The central spine is yellow to orange and up to 0.8 inches (2 cm) long, while the radial spines are dark brown to grey and 0.12 inches (0.3 cm) long.
During the late spring and early summer, the plant produces yellow to greenish-yellow flowers up to 1.5 inches (3.8 cm) in diameter. The flowers appear at the tips of the upper stem segments. The fruits are spinless, initially fleshy, green and red, and turn yellow-brown when ripe. They are barrel-shaped or pear-shaped, up to 1 inch (2.5 cm) long and 0.6 inches (1.5 cm) in diameter.
Origin
Cylindropuntia tesajo is native to Mexico. It grows in gravelly flats, sandy areas, and alluvial fans in dry scrubland in Baja California.
Etymology
The specific epithet "tesajo (TES-uh-ho)" is a vernacular name for the Cylindropuntia plants in Baja California.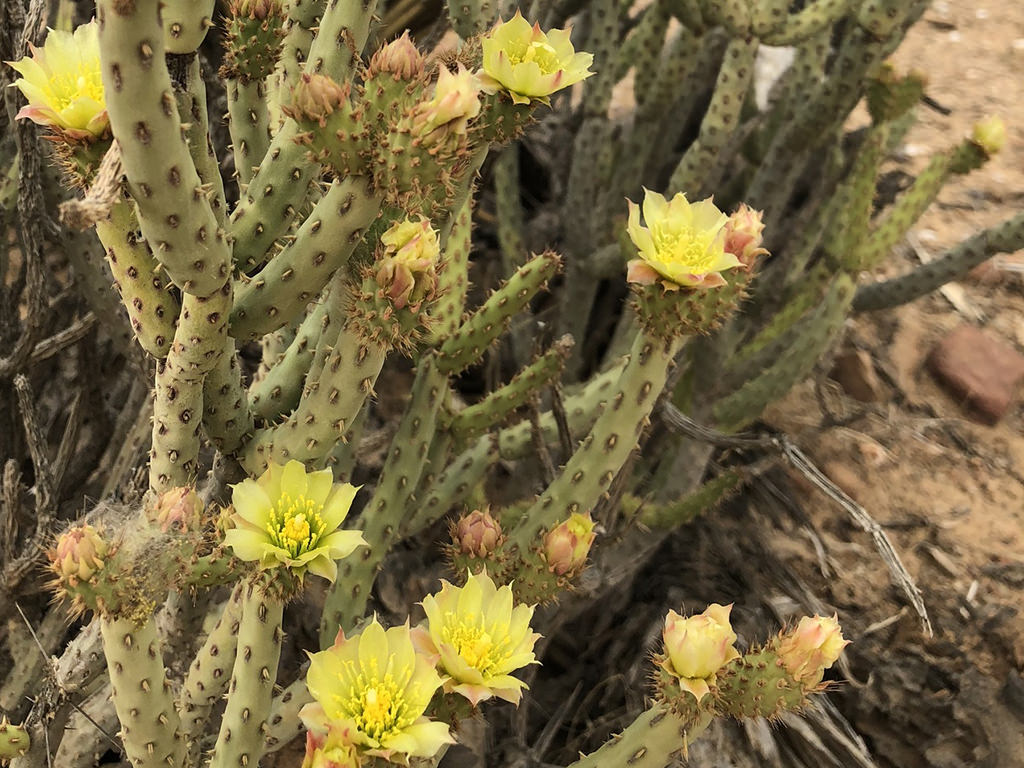 How to Grow and Care for Cylindropuntia tesajo
Light: Cylindropuntia tesajo thrives in full sun, but some shade during midday and afternoon can prevent sunburn in very hot climates. A window that receives sunlight 6 hours a day works best when grown indoors.
Soil: This cactus requires a soil mix that drains well. So, use a commercial cactus potting mix or create your own.
Temperature: Extremely tolerant of high temperatures, Cylindropuntia tesajo prefers cooler temperatures in winter. It grows best in USDA Plant Hardiness Zones 8a to 10b, with average minimum winter temperatures ranging from 10 to 40 °F (-12.2 to 4.4 °C).
Watering: From spring to fall, water moderately and let the soil dry out completely before watering again. In most areas, rainfall will be enough for established plants. If potted, never let the container sit in water. During the winter, suspend the watering.
Fertilizing: Cylindropuntia tesajo does not need fertilizer when planted in the ground. However, in a container, the plant will benefit from fertilization during the growing season. Apply a water-soluble fertilizer. Suspend feeding during the winter when the plant goes dormant.
Repotting: Repot only when the cactus becomes potbound or is too large and unstable in its container. Choose a slightly larger container with drainage holes at the bottom. The best time for repotting is late winter or early spring.
Propagation: You can propagate Cylindropuntia tesajo by stem segments or seeds. Using stem segments is the easiest method and yields faster results. For best results, take stem segments in early summer. Sow the seeds in late spring.
Learn more at How to Grow and Care for Opuntia.
Toxicity of Cylindropuntia tesajo
Cylindropuntia tesajo is not toxic to humans or pets. However, keep the plant away from pets and children as it has harmful spines and glochids that may cause skin irritation.
Links
Photo Gallery
Click on a photo to see a larger version.