Scientific Name
Cotyledon velutina Hook.fil.
Common Name(s)
Velvet Cotyledon, Pig's Ears, Velvet Pig's Ears
Synonym(s)
Cotyledon beckeri, Cotyledon mollis, Cotyledon velutina var. beckeri
Scientific Classification
Family: Crassulaceae
Subfamily: Kalanchoideae
Genus: Cotyledon
Origin
This species is native to South Africa. It occurs from Willowmore in Eastern Cape to southern KwaZulu-Natal, growing in stony soils, usually in association with larger scrub communities.
Description
Cotyledon velutina is a little branched succulent shrub with erect to erectly spreading branches with opposite, smooth to more or less hairy leaves. It grows up to 10 feet (3 m) tall and appears to be the largest species in the genus. Branches are woody at the base, up to 1.8 inches (4.5 cm) in diameter, with purplish-brown bark peeling in older plants. Leaves are oblanceolate, rarely obovate, up to 5.4 inches (13.5 cm) long and 3.2 inches (8 cm) wide. They are green to greyish-brown, sometimes with reddish margins towards the apex.
The attractive nodding flowers are tubular with five spreading to recurved terminal lobes, copper-colored or orange, often with yellow margins, and appear in clusters on up to 2 feet (60 cm) tall stalks in mid-summer. The tube is bottle-shaped to almost cylindrical and up to 0.7 inches (1.7 cm) long.
Etymology
The specific epithet "velutina (vel-oo-TEE-nuh) means "velvety" and refers to the sometimes velvety surface of the leaves.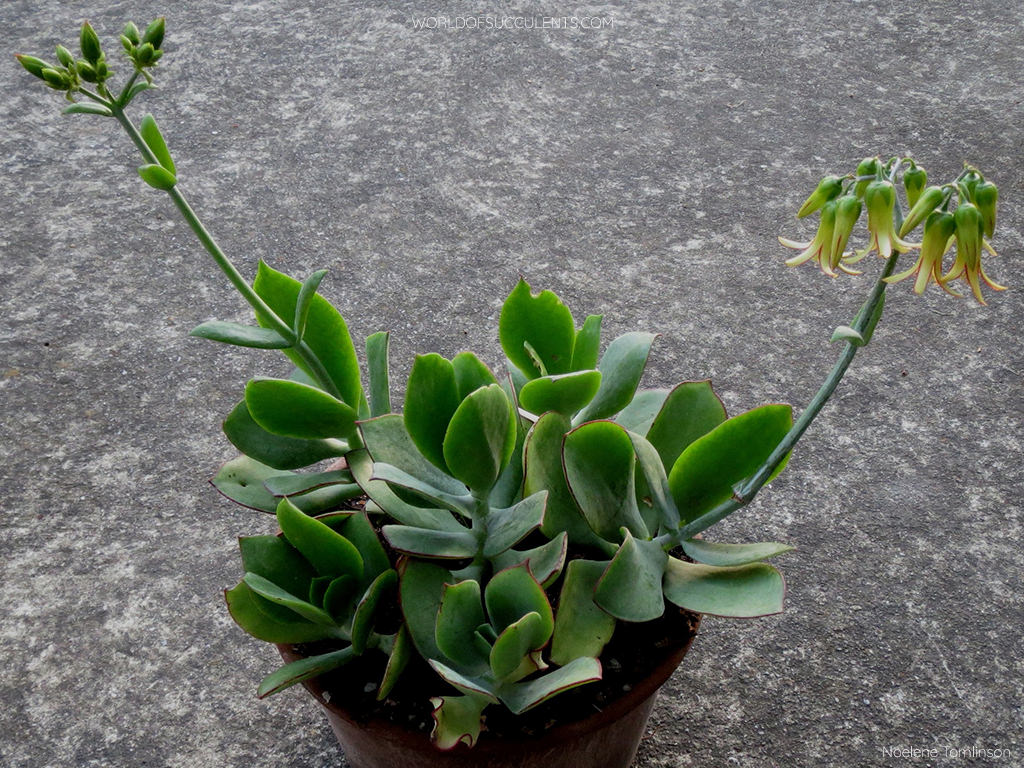 How to Grow and Care for Cotyledon velutina
Light: This succulent is somewhat flexible but grows and blooms best in full sun. Indoors, keep it near a sunny window or under a grow light.
Soil: A well-draining soil mix is key to a healthy C. velutina. Poor drainage and overwatering cause root rot in both indoor and outdoor plants. Use a commercial soil mix for succulents, or make your own.
Temperature: Like all Cotyledon, this plant is highly tolerant when it comes to high temperatures and tolerant of cool, frost-free conditions during the winter if kept dry. C. velutina can withstand temperatures as low as 20 °F (-6.7 °C). USDA Plant Hardiness Zones 9a to 11b, 20 to 50 °F (-6.7 to 10 °C).
Watering: Follow general succulent watering procedures. During the growing season, water deeply enough for the water to run out of drainage holes, then wait for the soil to completely dry before watering again. Reduce watering during winter.
Fertilizing: Feed once or twice during the growing season with a fertilizer for succulents diluted to half the strength recommended on the label.
Repotting: You do not need to repot this plant often. Repot when you see that the pot becomes too small or shallow. Use pots with at least one drainage hole at the bottom.
Propagation: C. velutina can be propagated by stem cuttings, mature leaves, or seeds. Sow the seeds in fall and winter. The best time for taking cuttings is fall.
Learn more at How to Grow and Care for Cotyledon.
Toxicity of Cotyledon velutina
C. velutina is toxic if consumed. Therefore, keep it away from children, pets, and livestock.
Links
Photo Gallery
Click on a photo to see a larger version.