Cotyledon pendens and Cotyledon woodii are closely related but have different growth habits. Cotyledon pendens is a trailing plant, while Cotyledon woodii grows as an erect, up to 3.3 feet (1 m) tall shrub.
Scientific Name
Cotyledon pendens van Jaarsv.
Common Name(s)
Cliff Cotyledon
Scientific Classification
Family: Crassulaceae
Subfamily: Kalanchoideae
Genus: Cotyledon
Etymology
The specific epithet "pendens (PEN-denz) means "pending, hanging down" and refers to the pendent growth habit of the species.
Origin
Cotyledon pendens is native to South Africa. It grows in sheer cliff faces along the Mbashe River in the Eastern Cape province.
Description
Cotyledon pendens is a much-branched succulent shrublet with teardrop-shaped leaves crowded on dense, trailing, curtain-forming stems that continuously branch from nodes. The stems are slender and can grow up to 2 feet (60 cm) long. As they age, the fleshy, whitish-green stems become more woody with a brownish, peeling bark. The leaves are highly succulent, green with reddish margins, and have a powdery coating, giving them a whitish-green appearance. They are pendent, attached to the stem with a short petiole, and measure up to 1 inch (2.5 cm) long, 0.6 inches (1.5 cm) wide, and 0.4 inches (1 cm) thick. The stem and leaves are initially sparsely covered with glandular hairs but become hairless as they age.
During the summer, the plant produces orange-red flowers that dangle from slender stalks reaching up to 1.6 inches (4 cm) in length at the ends of the branches. The flowers are bell-shaped with a cylindrical tube and spreading petals, measuring up to 1.8 inches (4.5 cm) long and 0.5 inches (1.3 cm) in diameter. They appear either solitary or in clusters of 2 to 4.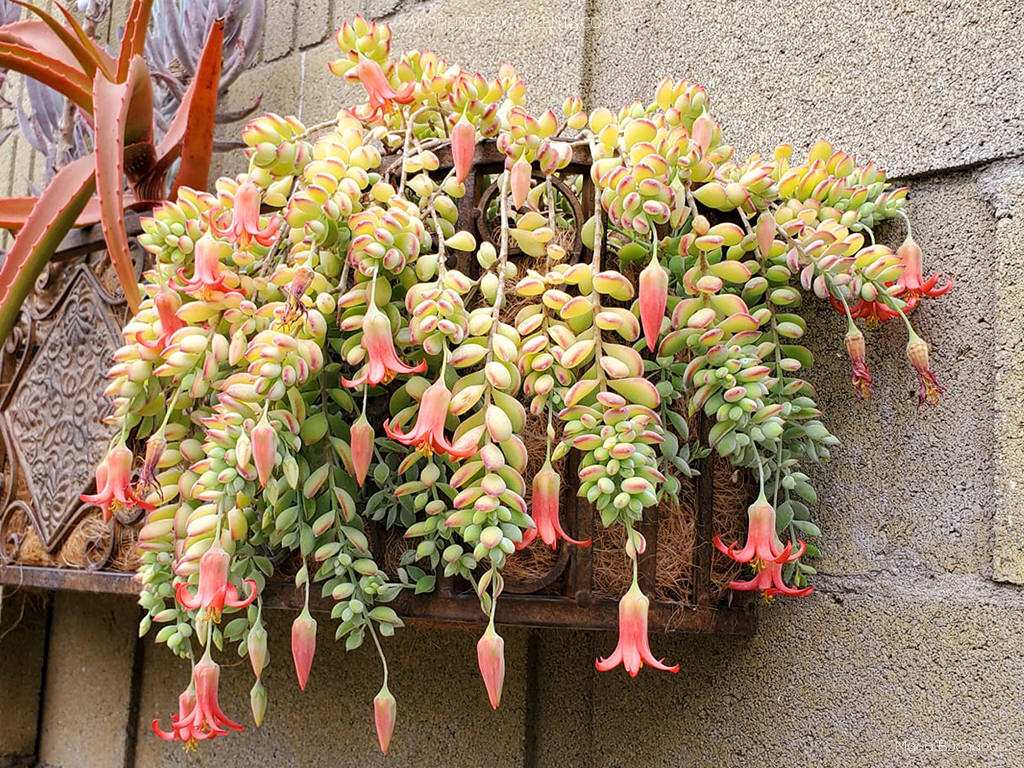 How to Grow and Care for Cotyledon pendens
Light: Cotyledon pendens is a plant that needs plenty of sunlight to thrive. While it can be somewhat flexible, it grows and blooms at its best when exposed to full sun. If you are growing it Indoors, it is best to keep it near a sunny window or under a grow light.
Soil: To keep your plant healthy, it is important to use well-draining soil. Overwatering and poor drainage can cause root rot. You can use a commercial soil mix for succulents or make your own.
Temperature: This plant can withstand high temperatures and cool, frost-free conditions during the winter if kept dry. Cotyledon pendens grows best in USDA Plant Hardiness Zones 9b to 11b, with average minimum winter temperatures ranging from 25 to 50 °F (-3.9 to 10 °C).
Watering: To properly care for this plant, follow general watering procedures for succulents. During the growing season, water it deeply enough for the excess water to flow out through the drainage holes, and then allow the soil to completely dry out before watering again. In the winter, reduce watering.
Fertilizing: To ensure optimum growth, it is recommended to feed your plant with a water-soluble fertilizer, but only during the growing season.
Repotting: It is not necessary to repot this plant frequently. Only repot it when the pot is becoming too small or shallow. Choose a pot with at least one drainage hole at the bottom.
Propagation: To propagate Cotyledon pendens, you can use stem cuttings, mature leaves, or seeds. For best results, take cuttings during the fall. If you prefer seeds, the fall and winter is the ideal time to sow the seeds.
Learn more at How to Grow and Care for Cotyledon.
Toxicity of Cotyledon pendens
Cotyledon pendens is considered toxic. Therefore, keeping it away from children, pets, and livestock is best.
Links
Photo Gallery
Click on a photo to see a larger version.