Scientific Name
Aeonium urbicum (Chr. Sm. ex Hornem.) Webb & Berth.
Common Name(s)
Saucer Plant, Salad Bowl
Synonym(s)
Aeonium urbicum subsp. urbicum, Aeonium pseudurbicum, Sempervivum retusum, Sempervivum urbicum, Sempervivum urbicum var. retusum
Scientific Classification
Family: Crassulaceae
Subfamily: Sempervivoideae
Tribe: Aeonieae
Genus: Aeonium
Origin
This species is endemic to Tenerife, the largest and most populous island of the Canary Islands. It grows in the northern part of the island from Macizo de Anaga to Punta de Teno at elevations between 165 and 3,280 feet (50 and 1,000 m).
Description
Aeonium urbicum is a tall succulent that forms a large rosette of spoon-shaped leaves at the top of an unbranched or rarely few-branched stem. It grows up to 6.6 feet (2 m) tall. The rosette is rather flattish and up to 12.8 inches (32 cm) in diameter. Leaves are smooth, yellowish-green to dark green, and often reddish along the margins with straight cilia. They are thick and fleshy, up to 8.8 inches (22 cm) long and 2.2 inches (5.5 cm) wide. After several years the plant produces hundreds of flowers packed in a spectacular inflorescence. Flowers are star-shaped, 8- to 10-merous, greenish-white or pinkish-white, occasionally reddish, and appear in summer. The dome-shaped inflorescence is up to 30 inches (75 cm) tall and 18 inches (45 cm) in diameter. Unfortunately, the plant is monocarpic and dies after flowering.
Many plants sold in nurseries as A. urbicum are hybrids of this species or something else entirely different, as they are often stemless or branching and tend to flower at a height of only a few inches. None of these characteristics are consistent with this species.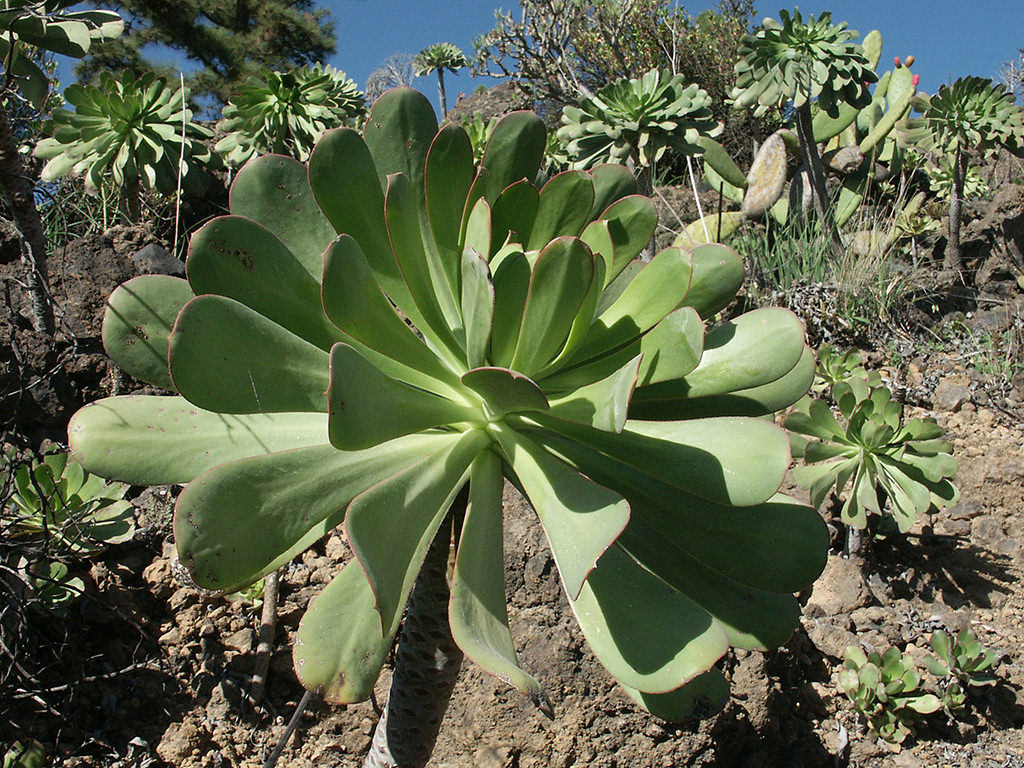 Hardiness
USDA hardiness zones 9b to 11b: from 25 °F (−3.9 °C) to 50 °F (+10 °C).
How to Grow and Care
Aeoniums do not like hot or dry weather. Therefore, they may go dormant in summer and do not require any water except in arid conditions. In extreme heat, their leaves will curl to prevent excessive water loss. Growing them in moist shade will keep them growing, but their true growth season is winter to spring, when temperatures are cool, 65 to 75 °F  (18 to 24 °C), and damp. In the winter, water whenever the soil has dried out. Test by poking your finger down into the soil an inch or 2 (2.5 to 5 cm). Too much moisture or allowing them to sit in wet soil will cause root rot.
A sandy loam or regular potting mix is better than a mix specifically for cacti and succulents since Aeoniums need some moisture. If you are growing them in containers, repot them every 2 to 3 years with fresh potting soil.
Feed during the growing season with a half-strength balanced fertilizer every month or so. Do not feed while dormant.
Learn more at How to Grow and Care for Aeonium.
Links
Photo Gallery
Click on a photo to see a larger version.