Scientific Name
Austrocylindropuntia subulata (Muehlenpf.) Backeb.
Common Names
Eve's Needle Cactus, Eve's Pin Cactus, Long Spine Cactus
Synonyms
Pereskia subulata (basionym),
Austrocylindropuntia exaltata, Opuntia exaltata, Cylindropuntia exaltata, Opuntia subulata, Cylindropuntia subulata
Scientific Classification
Family: Cactaceae
Subfamily: Opuntioideae
Tribe: Austrocylindropuntieae
Genus: Austrocylindropuntia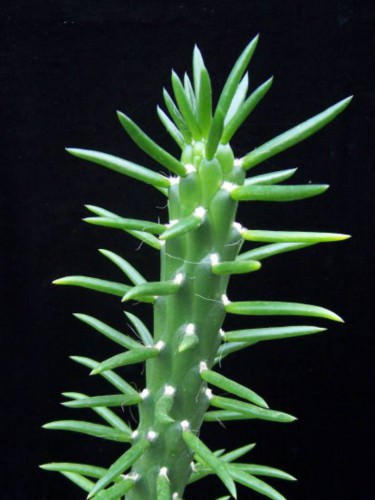 Description
Austrocylindropuntia subulata is a large tree-like cactus, up to 13 feet (4 m) tall with round cylindrical joints, up to 2 feet (60 cm) tall and 1.5 – 2.5 inches (4 – 6.5 cm) thick. The green leaves are nearly cylindrical, up to 5 inches (13 cm) long. The spines are light yellow, 1 – 2 per areole, up to 3 inches (8 cm) long. The flowers are red, 2 – 4 inches (5 – 10 cm) long, followed by reddish to red fruits up to 4 inches (10 cm) long.
Origin
Native to the higher elevations of Ecuador and Peru.
Links
GO TO the list of succulents in the genus Austrocylindropuntia;
BROWSE succulents by Genus, Family, Scientific Name, Common Name or Origin, and cacti by Genus;
or SHOP NOW at Amazon.com or CactusPlaza.
Photo Gallery