Scientific Name
Zygophyllum fabago L.
Common Name(s)
Syrian Bean Caper
Synonym(s)
Zygophyllum fabagineum, Zygophyllum fabago subsp. fabago, Zygophyllum fabago subsp. brachycarpum, Fabago alata, Fabago major, Zygophyllum fabago subsp. dolichocarpum, Zygophyllum fabago subsp. orientale, Zygophyllum fabago var. brachycarpum, Zygophyllum micronatum, Zygophyllum typicum
Show more
Scientific Classification
Family: Zygophyllaceae
Subfamily: Zygophylloideae
Genus: Zygophyllum
Origin
This species is native to the Mediterranean and Central Asia. It grows in open, rocky areas and gravelly soils.
Description
Zygophyllum fabago is a shrubby plant with much-branched, spreading stems bearing green, somewhat succulent leaves with two leaflets. It grows up to 3.3 feet (1 m) tall, branching from the thickened woody base and forming colonies. This plant is a perennial that acts as an annual in regions with cold winters. The leaflets are obovate, up to 1.3 inches (3.3 cm) long, and up to 0.8 inches (2 cm) wide.
Flowers have five petals varying in color from salmon to yellow or white with pinkish veins. They are up to 0.3 inches (0.7 cm) in diameter and appear on up to 0.4 inches (1 cm) long stalks in summer. Fruits are capsules that contain five seeds. They are oblong to cylindric, up to 1.4 inches (3.5 cm) long and 0.25 inches (0.6 cm) in diameter.
This plant has invasive potential because of its long taproot that, even if fragmented, can produce a new plant. Also, its leaves have a hardy wax coating that protects it from herbicides. As a result, it is considered a noxious weed of economic importance in much of the western United States.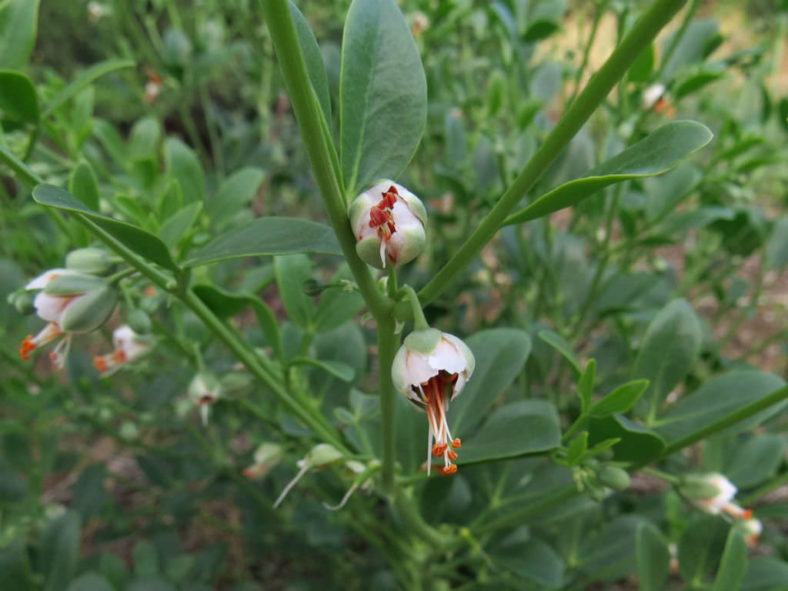 Hardiness
USDA hardiness zone 7a to 10b: from 0 °F (−17.8 °C) to 40 °F (+4.4 °C).
How to Grow and Care
Zygophyllum is found in many deserts and semi-deserts of the world, including some of the aridest habitats where plant life is possible. The species are found in various habitats along hill slopes, dry rivers, ridges, and road verges, in coarse sandy soil, calcareous sand, and brackish soil.
Species of Zygophyllum are usually not found in cultivation. However, some are very attractive with yellow, delicate petals and interesting fruits and will undoubtedly be suitable for growing in gardens.
Propagation can be done from seed or by taking cuttings in spring.
See more at Growing and Using Zygophyllum.
Links
Photo Gallery
Click on a photo to see a larger version.